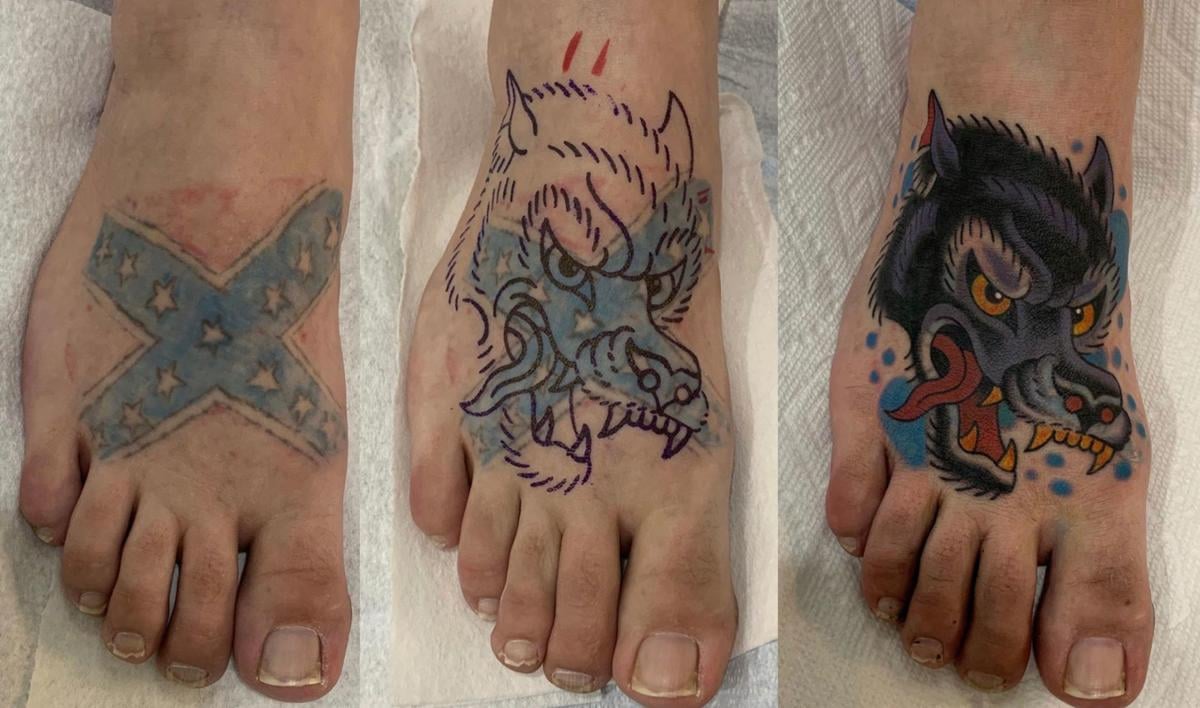 Jeremiah Hirsch, who owns and operates Electric Pair O' Dice Tattoo in Fredericksburg, said the business's new "Erase the Hate" campaign to replace racially offensive tattoos for free started with a photo.
"A gentlemen sent us a picture of a tattoo he'd gotten back in high school of a Confederate flag," said Hirsch, who's been in the tattoo business for years in the region, previously under the name Golden Monkey.
"We talked by phone and he said that now, when he goes to the beach or other places with his family and children, he's embarrassed if people see the flag tattoo, especially if his family and children are with him," said Hirsch.
Hirsch said his shop covered the flag tattoo with one depicting a colorful wolf, with the much-relieved customer tipping the artist at Electric Pair O' Dice $300 for the work.
"It inspired us to begin a campaign here where we're offering to cover up racially insensitive or offensive tattoos for free," said the business owner.
He was moved by Black Lives Matters protests and the calls for justice from those involved. "And we decided as part of this to donate any tips to the local chapter of the NAACP.
The tattoo artist and businessman noted that reaction came quickly after putting word of the campaign out on social media.
"Oh, my God, we have been overwhelmed with emails and messages from dozens of people whose feelings have changed about tattoos they got long ago," he said. "And we're feeling really good about the chance to do something good locally for our own community."
He said the message that most affected him came from a white man who said he got a tattoo of a Confederate flag when he was 16.
"The man told me that as he got older and understood how offensive that image can be to people of color, he also started dating a young woman who was black," said Hirsch. "They got married and he said his children began to ask him what the flag was and what it means. He's now embarrassed by it and doesn't want to be connected to it or to have it offend anyone anymore."
Hirsch said that customer is coming in to get another tattoo superimposed over the rebel flag image.
The business owner said Electric Pair O' Dice is asking those who want to take advantage of the free offer to get in touch via email at electricpairodice@yahoo.com or social media about their interest, and to send an image of the tattoo they want covered up. That will allow artists at the business to find an image that what will work.
Hirsch has been in the industry for 17 years, and has covered up his share of racist tattoos showing swastikas, KKK images and Confederate flags.
"But not in the numbers we're seeing of people who want to replace them right now," he said. "I think right now a lot of people might want to do this, but because of COVID-19, money may be too tight to pay for it."
Hirsch said he wanted to make one thing clear about the free offer.
"What we're offering for free is to cover up tattoos that are racially offensive," he said. "This offer doesn't apply to people who have profanity in tattoos they want to cover up or other things that don't fall under racial insensitivity."
Hirsch and his staff are booking the Erase the Hate work around their paid schedules.
"The word really went viral once we shared what we were doing," said Hirsch.