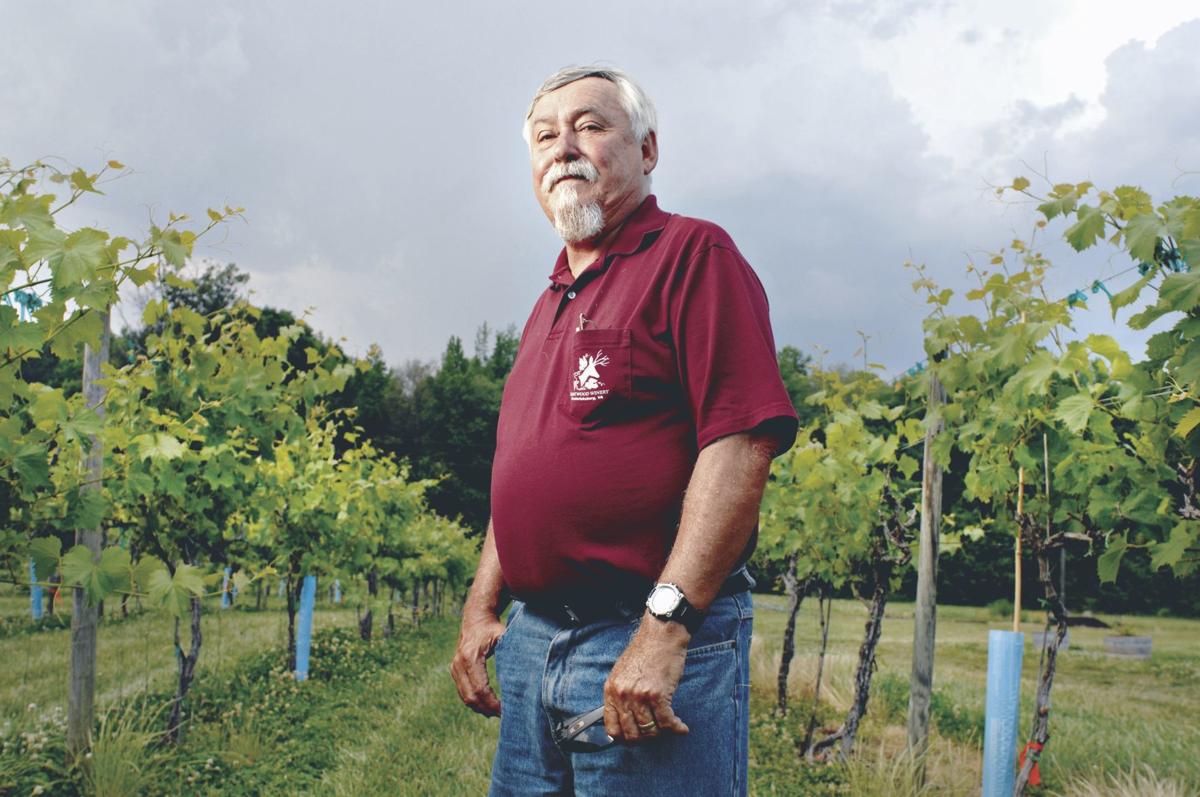 Jim Livingston didn't have corporate backing or a European vintner when he started Stafford County's first commercial vineyard in 1981 and Hartwood Winery in 1989.
Back then, there were fewer than 30 wineries in the state. There are more than 300 today. Livingston, who died Nov. 29 at Mary Washington Hospital at age 73, was a school librarian in Prince William County.
"He was very dedicated to Virginia wines," said Doug Flemer, proprietor of Ingleside Vineyards in Westmoreland County. "It was really his passion, since it wasn't his full-time job. All his weekends and non-work hours were devoted to growing grapes and making wine. He was always willing to share his experiences in making wine. He enjoyed interacting with people."
Flemer met Livingston before Livingston started growing grapes, and remembers how he would stop by to discuss various varieties. Ingleside, he said, probably sold Livingston his first vines.
"He had a very good sense of humor. That's what I enjoyed the most about him," Flemer said. "He'd laugh and joke about anything that came along. He was easy to get along with, and someone most anybody could find something in common with."
Livingston, who'd eventually retire from teaching and begin a second career operating Hartwood Winery, got involved in the Virginia wine industry at a time when it was emerging after a long, dry spell following Prohibition. The state had just passed the Virginia Farm Winery Act, which allowed wineries to self-distribute, and there were a number of people who wanted to take advantage of it.
Among them was Lucie Morton, a fellow member of the Virginia Vineyards and Winery Association who went on to become a renowned winery consultant. When she announced during an association meeting that she wanted to start one of Virginia's first wineries, Livingston, who'd made wine in his dorm bathtub at East Tennessee State University, jumped at the chance to volunteer.
"This was a group of people who really wanted to know how to grow grapes in Virginia, and I wanted to be a part of it," he was quoted as saying in an article that ran in The Free Lance–Star when Hartwood celebrated its 20th anniversary in 2009.
Virginia Tech wouldn't hire Tony Wolf as its first viticulturist until 1984, so Livingston learned the business not only through the hard work of planting vines for others, but also by taking classes from Jacques Recht, Ingleside's Belgian winemaker, and reading everything he could find.
Lee Reeder, who owns Burnley Vineyard in Barboursville, said that he can't remember how many years Livingston helped out with harvesting, bottling and other operations at Burnley. In return, he helped Livingston as he was getting Hartwood started.
"Up until I met him, we were growing chardonnay, cabernet sauvignon and reisling," Reeder said. "Jim introduced us to the hybrids: vidal blanc, chambourcin and seyval blanc. He knew a lot about growing grapes. He was definitely instrumental in Virginia grape growing."
Reeder said that Livingston also helped a lot of vineyards that were popping up from Stafford all the way down the Northern Neck. But he could also be a jokester.
Once, when he was helping bottle some of Burnley's wines, he asked where the bottles came from. When Reeder said they were from Mexico, Livingston turned one of the bottles upside down and said they were full of cockroaches.
"Of course, he was joking," Reeder said. "He always tried to make situations a lot easier with his sense of humor. Once he got one over on you, he'll shoot you that Cheshire cat grin. That's one thing I'll always remember—his grin."
Jim Heidig said his parents, Ann and Bill Heidig, considered forming a partnership with Livingston when they were starting Lake Anna Winery in Spotsylvania. That didn't pan out, but Livingston became a mentor to the Heidigs.
"Over the years, he was a good source to run things by," Heidig said. "A super nice fellow. He'll certainly be missed."
Livingston's legacy also lives on in the Fredericksburg Area Wine Festival, which he helped found in the early 1990s as Virginia's wine industry was trying to get established. It's been held every year since in October, although the venue has changed a number of times. He also helped start the Grape and Grains Trail, which includes Hartwood, Lake Anna Winery, Mattaponi Winery, Potomac Point Winery, Rogers Ford Winery and A. Smith Bowman Distillery.
"He certainly was a giant in our close field in what we're trying to do, and having a voice of reason that you could talk to," Heidig said.
The family will receive friends from 1–3 p.m. Tuesday at Mullins & Thompson Funeral Service. It will be followed by the funeral service at 3 p.m.