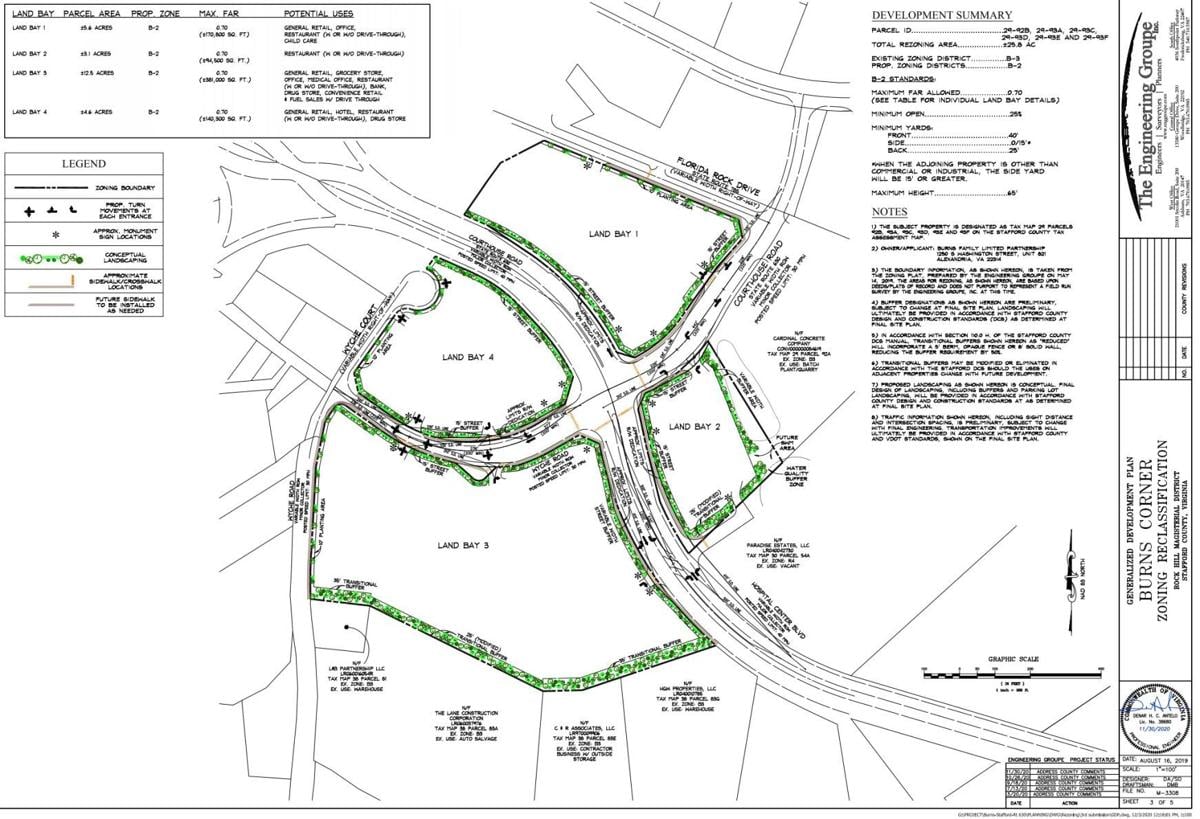 A large helping of retail shops, a hotel and restaurants will soon overtake the once-rural area of Stafford's Courthouse Road near the Interstate 95 interchange.
Earlier this month, Stafford County supervisors voted unanimously to rezone and reclassify just over two dozen acres of wooded property near the bustling interchange to make way for the new development, dubbed Burns Corner.
Hartwood Supervisor Gary Snellings, whose district the project falls into, was absent from the Dec. 15 meeting.
Burns Corner will be constructed within four separate quadrants that, combined, make up 26 acres in the vicinity of Hospital Center Boulevard and Courthouse and Wyche roads. About 214,000 square feet of commercial development space will be constructed to host drive-thru and sit-down restaurants, commercial retail stores, medical offices, a day care center, office buildings and a Sheetz convenience store, including a canopied fueling station with 14 pumps. A new hotel, drug store and supermarket are also planned for the sprawling development.
Jonelle Cameron, the attorney representing the project's applicant, Daniel H. Borinsky of the Burns Family Limited Partnership in Alexandria, told supervisors an economic fiscal impact study on the new project revealed tax revenue for the county for five years could net nearly $1.5 million. Cameron also said the project could bring in about 700 new jobs to the county.
Jeff Harvey, planning and zoning director, told supervisors preparations for public utility connections, as well as land clearing and grading, is underway to level the site and install concrete pads in anticipation of the development.
Although traffic improvements in the area will include additional turn lanes and through lanes, as well as sidewalks to accommodate pedestrian traffic, vehicular traffic is expected to increase by 24,000 trips per day in and around the already-congested area.
But adding turn lanes doesn't seem to completely solve the traffic congestion problem. Harvey told supervisors the level of service in the area would decline from its current C grade to a D.
"Overall, the level of service would be degraded, even with all these improvements," said Harvey. "There are some turning movements that get better and some get worse, but overall, the level of service does decline."
Harvey also told supervisors the planned roadway expansion adjacent to the county courthouse is another project in the works that should help improve traffic flow through the area.
Beginning in the spring, the county will begin widening U.S. 1 by adding additional turn lanes to keep the traffic moving between Bells Hill and Hope roads and Stafford Hospital. Several buildings have already been demolished in the area to prepare for the work, and several businesses have closed as a result of the upcoming construction.
As it's configured now, the stretch of U.S. 1 adjacent to the county courthouse is a four–lane undivided highway, but county officials said the road will eventually be developed into a four–lane divided highway. Dedicated turn lanes and a centerline concrete median will also be installed. Turn lanes will be added on U.S. 1 at Bells Hill and Hope roads, along with improvements at the Courthouse Road and U.S. 1 intersection.
Harvey told supervisors the overall scheme of the Burns Corner project aligns with the county's Downtown Stafford plan, which will lie adjacent to Courthouse Road, east of Stafford's Fire Station 2 at 305 Jason Mooney Drive.
Harvey said developers will adhere to county neighborhood design standards during the design and construction of the new structures to blend with the downtown project, including limiting building elevations, incorporating subtle earth tones into building exteriors and varying façade depths and roof levels.
In February, John Holden, director of economic development, told supervisors Downtown Stafford will have fewer brick-and-mortar retail outlets on its 28 acres. Instead, Holden said, shoppers can expect a retail experience, such as augmented reality clothing stores with holographic technology to allow customers to try on different outfits.
In August, supervisors narrowly agreed to proceed with a public–private partnership with Fredericksburg-based Jarrell Properties Inc., to purchase 6 acres of land at the corner of Courthouse Road and U.S. 1. That parcel will be known as Fountain Park, which is expected to serve as the gateway from U.S. 1 for future visitors to Downtown Stafford.
James Scott Baron:
540/374-5438