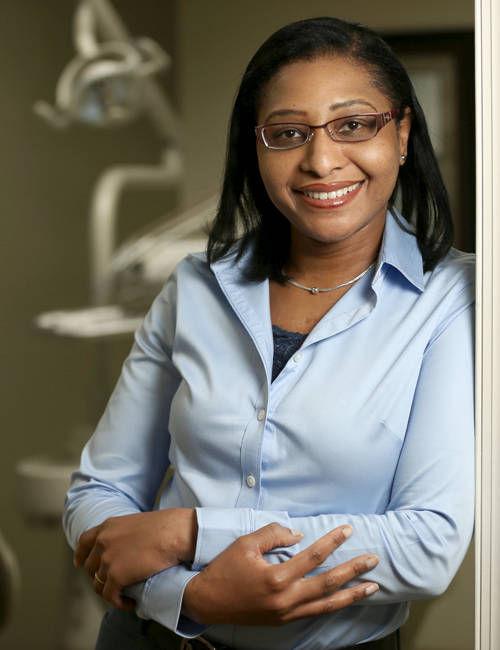 It has been a long road from her childhood in Cameroon to practicing dentistry in Fredericksburg, but Adelaine Yuh is ready to put down local roots.
Yuh had never been to Fredericksburg before visiting John Rose's prosthodontics practice in the Chatham Square Office Park last year.
She said she knew the local practice was a good fit right away.
"Dr. Rose and I have same philosophy of treatment," she said. "I love taking more time with patients and working on more comprehensive care of the full mouth."
Yuh recently purchased the Rose's practice.
She most recently taught dentistry at West Virginia University, where she also spent three years studying to specialize in prosthodontics.
Yuh lives in Tysons Corner with her husband, another native Cameroonian who works for the government, but is relocating to Fredericksburg.
Yuh lived in Cameroon for the first 19 years of her life. She finished high school and the first year of college there before going to France for dental school.
After completing school there, she said she had a choice: either move back to Cameroon or emigrate to the United States. Being so used to a western way of life, she chose in 1999 to come to the America and enroll in dental school at the University of Southern California.
At the time, Yuh spoke only French. She learned English while completing dental school for the second time.
She said Dr. Rose's staff, some of whom have been with the practice for more than 20 years, made the office a good fit.
Yuh has nearly a decade of higher education in dentistry and prosthodontics.
A prosthodontist specializes in esthetic restoration and replacement of teeth. Procedures include crowns, bridges, veneers and implant dentistry, and structural or jaw joint work.
The Health Resources and Services Administration reported last year that every state has a shortage of dentists, which is expected to intensify over the next 10 years. With additional training required beyond dental school, highly skilled specialists such as Yuh are becoming increasingly rare.
In West Virginia, she did prosthodontic work for rural people without access to dental care.
"They were so nice, they would bring me produce from their gardens," she said. "I didn't want to lose that personal connection with patients."
She said she wanted to purchase an established prosthodontics practice and found the same kind of welcoming people here in Fredericksburg.
"Dr. Rose took us downtown, and I thought, 'I want to be here,'" she said. "The people are so nice."
​Lindley Estes: 540.735-1976