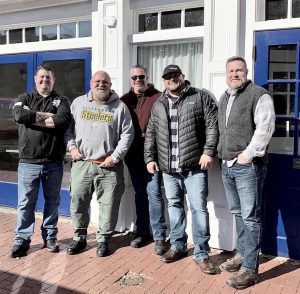 A popular bourbon-focused bar and restaurant in Washington will open a location this spring in downtown Fredericksburg.
Rebellion Fredericksburg is expected to open in April at 309 William St., the former location of The Confident Rabbit and Bistro Bethem. It will serve burgers, wings and salads; and diners will have their choice of more than 150 types of bourbon and whiskey as well as a selection of cocktails, wine and beer.
The small chain's name was inspired by the Whiskey Rebellion of 1794, and "was created to celebrate American history and this country's favorite pastime of enjoying great food and drinks," according to a news release.
It began in 2014 with the opening of Rebellion DC on 18th Street NW in Washington. The Bourbon Review named it as one of America's Best Bourbon Bars in 2019.
Rebellion expanded into Wilmington, N.C., in 2018, and Arlington in 2019. The Fredericksburg location is one of two it will open this year. The other is in Leesburg.
"Fredericksburg and Leesburg were the perfect fit for Rebellion's expansion as two areas that have been able to balance the growth of the region while remaining true to their historical significance," according to the news release.
Rebellion Fredericksburg is a partnership between PROOFhospitality Management Company, the owner of the original Rebellion locations, and Fold Three Hospitality—which is a venture of Joel Griffin and Brent McCaslin.
"As a resident of the Fredericksburg region and a whiskey lover myself, I'm looking forward to seeing the value Rebellion will bring to the area," Griffin said in the news release.