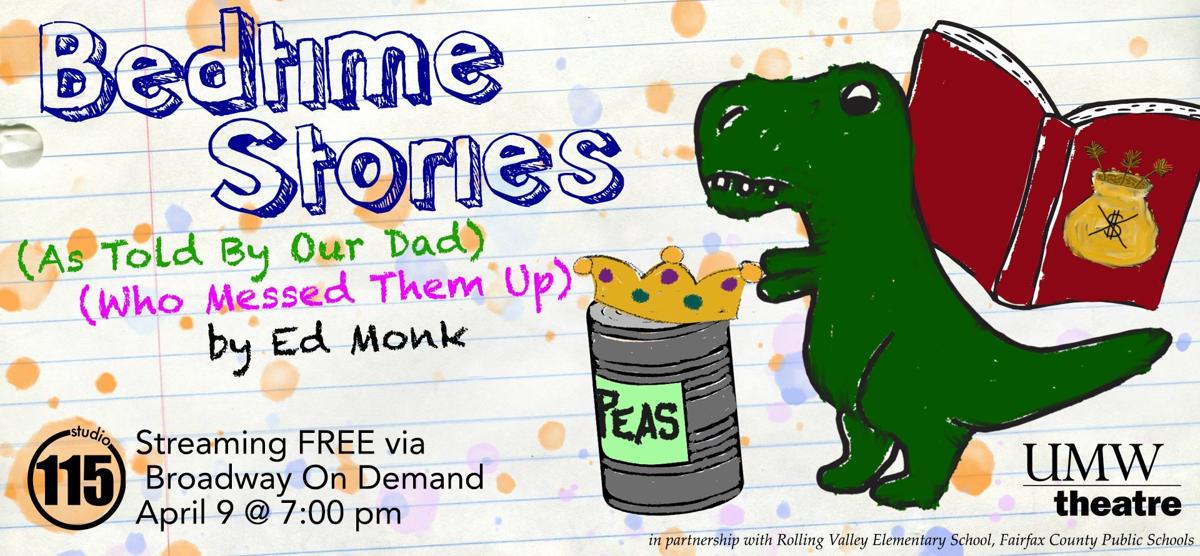 The University of Mary Washington's latest virtual show is larger than life. It's colorful. In fact, the play, "Bedtime Stories (As Told By Her Dad) (Who Messed Them Up)," seems to explode off the screen.
Family-friendly and uproariously funny, the show is free and airs one-time only, this Friday at 7 p.m. through streaming site Broadway On Demand.
Playwright Ed Monk wrote "Bedtime Stories" when he had young children, and the script speaks to parents as much as the younger demographic. The show follows a father telling his kids bedtime stories, but he doesn't quite remember the tales, and invents twists, turns and endings on the fly.
Junior theater majors Oscar Leon and Cate Puglia are co-directing the piece. And while they'd prefer to perform in person, the experience—like a bedtime story—has taught them valuable lessons.
They started the process of pre-production in January and held auditions for their cast of 10 at the end of February, all over Zoom. The Friday production will be pre-recorded and edited by Leon and Puglia.
The remote process, though, also has advantages, they said. For the finished pre-recorded product, the directors filmed as many takes as they needed. And the cast, which are double or triple casted, had ample time for costume changes between scenes.
And pre-recording allows the crew to avoid technical issues during the opening. This week they completed reshoots, filmed the curtain call and finished editing through the application StreamYard.
The show is fully captioned, meaning its accessible to all viewers, too. And the virtual format makes it equitable in terms of accessibility to families because of cost or simple logistics. It's often difficult to coordinate an outing with multiple children, and a lot easier to watch a streamed performance from the comfort of one's own home.
Creating a cohesive final production was a challenge for a show like this, which lends itself to in-person performance because the interaction between actors is important, and so is the comic timing.
Leon said it was difficult to make the show interesting without corporeal movement: "Live theater can convey a lot through body movement."
Props handed off between cast members were another hurdle. Puglia said they had multiple versions of each. When one actor hands their prop toward the camera, another pretends to take it from that same point. Continuity is also created through green screens in each actor's background, providing the same set in a dozen locations.
For some students, this was the first time they dipped into theater for young audiences. Marketing director for UMW's theater department Jon Reynolds said, "The students have done incredible work and have been dedicated to making this happen."
It's produced by Studio 115, UMW's student-run black-box theater, which is an important part of the theater ecosystem there. Since the pandemic has hindered the ability of students to put on shows, Reynolds said the department is encouraging student-run virtual performances like this one.
"It allows them to take what they're learning in class and put it into practice," he said.
But they're not just teaching for when live theater comes back. He said the virtual format still provides meaningful learning experiences for students. Shooting video and editing itself is a necessary skill for today's theater professionals. Student actors continue to work on craft. Costumers and set designers have to be even more creative. And directors have a new kind of stage to oversee: many separate living rooms.
The project was created with Fairfax County Public Schools, which in an effort to provide entertainment and artistic enrichment to young students, contacted UMW. The show has been promoted to elementary students there and throughout the Fredericksburg region.
Puglia said since this is a family-friendly show, it can provide kids and parents alike with something light while things are still heavy in the world.
Even though she's been through reshoots and editing, seeing the material many times, "I still find the jokes funny and we're still excited for people to see it."