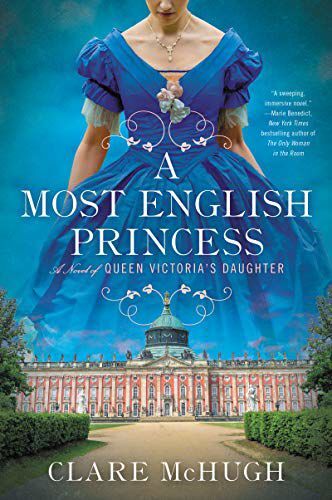 Few people are as famous throughout British history as Queen Victoria, who reigned from 1837 until her death in 1901.
The English queen's lengthy rule ushered in an era of cultural, political and industrial achievements. Her marriage to Prince Albert resulted in a large family raised on strict moral principles. Indeed, the Victorian era is one of the brightest in the history of Great Britain. Yet, what of the queen's family? Have they been forgotten when compared with this formidable monarch?
In Clare McHugh's novel, "A Most English Princess," the author recounts the story of Queen Victoria's eldest child, also named Victoria. Originally titled Princess Royal, she later married into the Prussian royal family, where she became the empress of Germany and queen of Prussia.
As a child, Victoria is inquisitive and headstrong. She reveres her father, who teaches his oldest child the art of politics and encourages her liberal political view. To them, the constitutional monarchy of Great Britain is the best form of government, the model that must be championed during their politically unstable European age. Victoria follows her heart and marries Prince Friedrich, the heir to the kingdom of Prussia. Although a love match, Victoria and her father hope to foster and expand their liberal views into this autocratic and militaristic court, with the ultimate goal of establishing a similar constitutional monarchy. Yet the princess royal is seemingly undermined at every turn.
Victoria is seen as the English agent of the British monarchy, trying to subvert the absolute power of the Prussian throne. Her position and viewpoints are marginalized, with only her equally repressed husband to support her. Yet she continues to navigate among the treacherous Prussian court, quietly waiting until she and her husband become the rulers of the land and can dictate their own policies.
The novel travels from Windsor to Berlin, and a multitude of other magnificent places across Europe. For lovers of history, an expansive cast of characters is encountered, from the domineering Otto von Bismark to the decadent and pleasure-loving Emperor Napoleon III of France, to the successors of Queen Victoria, Edward VII and his beautiful Alexandra of Denmark. This novel is a wonderful introduction to another Queen Victoria, who was important and influential in her own right.
David Arndt, a former Fredericksburg resident, lives in Hawaii.
Stay up-to-date on what's happening
Receive the latest in local entertainment news in your inbox weekly!