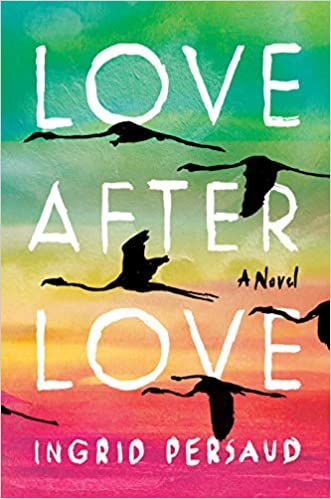 I thought I know what to expect from Ingrid Persaud's début novel, "Love After Love."
Going in, I had a few basic facts about the plot. Set in contemporary Trinidad, it tells the story of the relationship between a widow, her son, and their lodger, a gay man who, because of the social and political climate, is afraid to reveal his sexuality to anyone. Based on this knowledge, I thought I knew where Persaud was going to take me. And she fulfills these expectations, but she does so much more. I expected to like this book. I did not expect to be completely captivated,
"Love After Love" begins as a charming tale. Betty, her son, Solo, and the boarder, Mr. Chetan, are fast friends. The connection quickly deepens until Betty, unaware of Mr. Chetan's sexuality, hopes for a romantic relationship, and Solo sees Mr. Chetan as a father figure. And while a lot of authors would end the story there, Persaud's novel is only just beginning. Things seem idyllic when one night Betty, thinking she is alone with Mr. Chetan, reveals a terrible secret, a secret which upends everything Solo thought about his life up to that point. And this little family, once so solid, fractures. As soon as he is able, Solo leaves to live with his uncle in America and Mr. Chetan, now involved in a romantic relationship with another man, moves to his own apartment. These events form the springboard from which Persaud launches this monumental work, which is part coming-of-age novel, part immigrant narrative, part Trinidadian anthem, and part redemption story, all without appearing to break a sweat.
"Love After Love" is as warm and witty as it is heartbreaking. There are plenty of comedic moments, but readers should be warned that both domestic violence and self-harm are key parts of the plot, and this novel strikes a precarious balance between despair and all-encompassing love.
Charming but unsentimental, and dark but never brooding, this complex, multifaceted novel will take you on a journey that is sometimes challenging, but well worth the ride. And while I did not want the novel to end the way it did, Persaud manages to make the ending feel both unpredictable and inevitable. "Love After Love" feels as timeless as any well-trodden classic, and these characters will stay with you well after the final page is turned.
Ashley Riggleson is a freelance writer from Rappahannock County.
Stay up-to-date on what's happening
Receive the latest in local entertainment news in your inbox weekly!