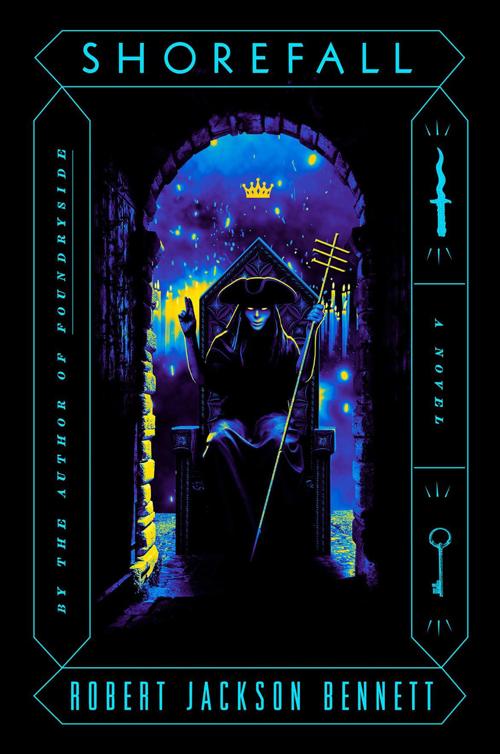 It is a sadly common occurrence that in any trilogy, the second book tends to be the weakest of the bunch. So I was excited, yet somewhat anxious, when I started "Shorefall," Robert Jackson Bennett's much-anticipated follow-up to 2018's fantasy "Foundryside."
About three chapters in, I knew that my worries were for nothing, for Bennett spins a gripping tale that continues the story of the world of Trevanne.
Picking up three years after the events that ended "Foundryside," Sancia and her friends are still trying to give more power to the people of Trevanne, a city ruled by four powerful houses (called campos) that control the power of "scriving," the ability of convincing objects and reality to behave differently through engraving plates. At the end of "Foundryside," Sancia, along with friends Gregor, Orso and Bernice, were able to take down the Candiano house before one of its founders was able to complete her plan to kill everyone and take on godlike power. Now the friends are turning their attention to the other three campos.
"Shorefall" is decidedly darker in tone than its predecessor. While "Foundryside" told horrifying backstories and featured some powerful villains, there was still an underlining lightness to it. In this installment, things start falling apart right way. The author delivers a much grislier plot as the main characters face an entity whose goal is to kill everyone in order to cleanse the world of humanity's corruption.
I can't say much else about the plot because to do so would give away key points of the story. Almost every chapter contains a new revelation or secret that keeps readers on edge trying to figure out what will happen next. If this book had an overarching theme throughout, it would be that sometimes there are no good choices to be found in a situation and you just have to go with what your gut is telling you might be the lesser of two evils.
Bennett's fantasy series weaves a compelling tale of survival and friendship. One thing is for certain: The world of Trevanne will never be the same.
Amanda Montag is a designer and editor at The Free Lance–Star.