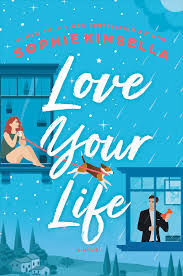 Sophie Kinsella is not afraid to tackle the big questions in life, and she does it again with her latest book, "Love your Life."
You may ask, "Who am I? Where did I come from? What happens after I die?" Close. It's more like, "Can a vacation fling ever really work out?" and "Can opposites really stay together?" If we're honest, we've probably spent more time thinking about the second group of questions than the first.
Our main character is Ava, who despite being a vegetarian with eclectic tastes in furnishings and an endearing penchant for used items (she "rescues" books), still bears a resemblance to Becky Bloomwood of Shopaholic fame. Impulsive, perhaps slightly ditzy, and prone to mishaps. But that's OK; we like that character.
In one of her many pursuits-of-the-moment, Ava embarks upon a writer's retreat at a monastery in Italy, where she meets Matt, who joins the group when his martial arts retreat is canceled. After a week complete with cliff diving, adrenaline and lots of chemistry, the two discover that they both live in London and attempt to take the relationship into the real world.
Matt fulfills the chick-lit requirement of being rich, and works in the family business. Back in London, Ava discovers that the carefree guy she met on vacation is stressed out and unhappy in his work and family environment. Meanwhile, Ava's indulged beagle Harold and meat-free existence present some problems for Matt. The two must navigate one of the most divisive issues in a relationship: What happens when one person likes to sleep on a hard mattress in a cold room and the other prefers a softer mattress in a warmer room? It's a legitimate question—how many trivial differences can you have before the sum total is no longer trivial?
The many supporting characters in the book add to the charm, including Ava's quirky friends and Matt's mother and ex-girlfriend, who take on the role of the antagonists. Kinsella's best job of characterization probably comes with Matt's roommates—she captures well that strange world that is created when a bunch of guys, each one of whom is bit odd and very into his own thing, live together.
Certain aspects of the end, where characters who were missing something find it in each other, or self-actualize, reminded me of what I like about Maeve Binchy novels. In the end, Kinsella makes you laugh, and that's always worth a read.
Wendy Migdal is a freelance writer in Fredericksburg.
Stay up-to-date on what's happening
Receive the latest in local entertainment news in your inbox weekly!