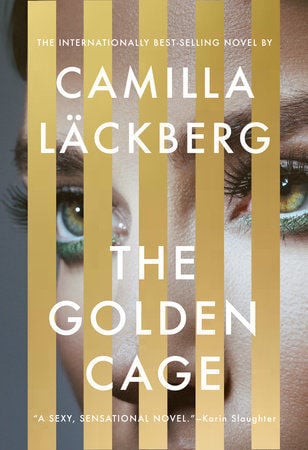 Swedish crime novels have become catnip for readers and publishers alike. Even Fredericksburg's own Paul Metzger, writing as Erik Mauritzson, has dipped his toes into the fjords of Scandinavian fiction. Some of the stories in this genre tend to be potboilers with a bit of sex and carnage to keep the pages turning. In "The Golden Cage" (translated from the Swedish by Noel Smith), Camilla Läckberg proves again that she is a master of her craft.
The novel's protagonist, Faye, arrives in Stockholm with a desire to keep her past hidden and do whatever it takes to ensure a high-profile future. It helps that Faye is incredibly bright, incredibly attractive, and willing to take her toned belly up to the bar to drink with the handsome and wealthy future movers and shakers of Stockholm. Any character not sporting rippling muscles under black T-shirts and bosoms that you could perform Shakespeare off of need not apply for this novel. If you want depth in your beach reading, then swim out beyond the breakers and read while floating on your back.
What Läckberg trades for character development and nuance, though, is an intriguing plot that she builds upon a shaky foundation that takes nearly half the novel to support. Faye has gotten into one of Stockholm's finest business schools and finds the man of her dreams, in a bar of course, who whisks her away for a weekend in Barcelona where they fall into bed (often) and in love. Jack is the future she has always dreamed of, as long as she can suppress her past and any semblance of herself which Jack sees as a threat to his masculine image of himself.
Faye conceives of a business plan to make Jack and his partner, Henrik, incredibly wealthy and all she has to do is stand aside, look pretty, depress any prior friendships or ambitions, and try not to think about what Jack might be doing with his young secretaries on business trips while she raises their daughter. Easy peasy lemon squeezy. Until she walks in on Jack with the younger version of herself and, even then, she's willing to forgive and forget, but Jack shoves Faye from their ivory tower and even smacks her ever-expanding bottom with a rock solid prenup that gives her nada as she is tossed out the door. (OK, so he doesn't literally hit her in the butt with the prenup, but I was waist-deep into the metaphor.)
Faye, nearly penniless, sells off her Stella McCartney wardrobe and conceives a new business plan and company called Revenge. Readers are reminded to please keep your hands, arms, feet and legs inside the ride vehicle at all times. Roller coasters are not nearly as much fun as the plot of "The Golden Cage."
Drew Gallagher is a freelance writer in Spotsylvania.