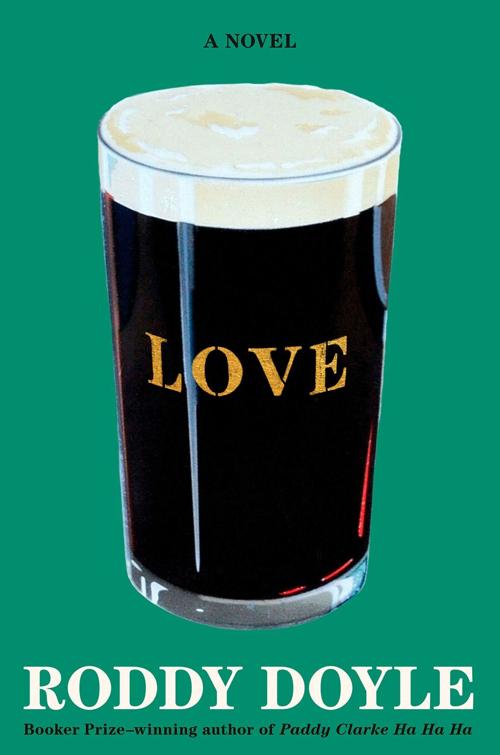 Oh, Roddy Doyle, you had me at the cover art.
Doyle, author of the Booker Prize-winning "Paddy Clarke Ha Ha Ha," is one of Ireland's wittiest and greatest writers, so even if his latest book had a brown paper bag for a cover, I'd buy it. Put a pint of Guinness on the cover with the title "Love" writ large and, well, you've touched a wellspring of memories before I reach page one.
The presentation of "Love" is unusual in that it is nothing more than a dialogue between two old friends having a pint, or 10, at a bar in Dublin. (Think Didi and Gogo drinking beer and reminiscing about that time on the park bench 40 years ago where they waited for that no-show Godot.) With apologies to James Joyce, the construct as dialogue works because no one writes dialogue like Roddy Doyle. And as the night wears on and Davy and Joe get deeper into their cups, the dialogue transforms with their inebriation. One of the crowning achievements of the Irish is their ability to recognize the infinite possibilities of the F-word. Joe and Davy, both approaching 60, use the F-word as punctuation in their bar musings but somehow it's endearing in the hands of Doyle.
The Love of the title takes many forms including the love of friends, spouses and parents. Without appearing to accomplish much (again, I'm looking at you, Samuel Beckett), over the course of a drunken evening we are provided insight into the lives of Davy and Joe even though neither of them seem especially forthcoming about their lives and their fears. Joe has left his wife for a woman they both had a crush on nearly 40 years ago but struggles to explain to Davy that it is more than a cliché or a late, late, midlife crisis. Davy's trying to figure out aging.
"I hated this getting old, the surprises. The quick indignities. It was supposed to be a slowing down, but it wasn't; it was a series of shocks. I'd been told my hearing wasn't great in one ear. I'd been told that I had low blood pressure, high cholesterol. I'd been told that I had a blocked artery, coronary artery disease. I'd been told that I had a cataract on my left eye—a small one, a growing one. All in less than two years. From man to old man. Dying man."
The end of "Love" takes an unexpected turn and the novel's conclusion is imbued with pathos. Even after a night of Guinness, life remains daunting. It is less so with Roddy Doyle as our guide.
Drew Gallagher is a freelance writer in Spotsylvania.