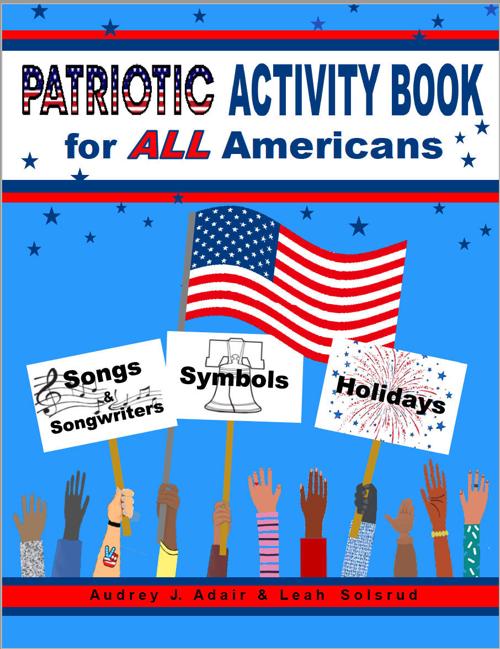 Connection to Fredericksburg region: For 10 years, I was a music teacher and teacher at Hugh Mercer Elementary in Fredericksburg.
I was inspired to write a book: I was inspired to sow unity after the 9/11 attacks. I conceived writing an activity book to educate and inspire Americans. Together with my mother, also an educator and graphic artist, we developed a patriotic guidebook designed to create interest and teach Americans about the symbols, holidays and music that distinguishes USA. The book's journey to publication was shaped by two distinct periods in American history. After we pitched the book in early 2002, a publisher offered us a contract, with the release date three years away. Disenchanted with the long wait to see the book in print, we set the manuscript aside and pursued other writing projects. Yet, 18 years later, in 2020, when I found myself homebound during theCOVID-19 pandemic, I was reminded of my goals of creating "Patriotic Activity Book for All Americans." Witnessing how America's democracy was being challenged inspired me to return to this project, updating the material to celebrate an array of American experiences.
Favorite time/place to write: If I'm not composing, I'm always working on a writing project. Now homebound, I spend most of my time in my office, which also serves as my library and recording studio. I ask Alexa to remind me to stand up every hour because I can sit and write or work on my music for hours on end.
Future plans as an author: This spring, I have another book called "My Pet Sitter: An Essential Manual for the Pet Owner," and the first in a series of songbooks with solos, called "9 Sacred Songs for Special Days," both to be released on Amazon. I have many more books and songbooks in the wing.
What I learned from the writing/publishing process: Self-publishing is nothing I would have imagined doing years ago when my first book was published by Parker Publishing Co., a Prentice Hall subsidiary, but many opportunities are available now. One needs to be open to learning new technology and new skills. I'm fortunate to hand my finished manuscript over to my partner, Walter D. Lazear, who is the technical project manager. He prepares the book for Kindle Direct Publishing, where we self-publish all my books.
My advice for those trying to write a book: Read books in your genre and learn what your reader expects. Have a clear understanding of who your audience will be. If you have a passion for writing, then spend time at it every day.
Book title: "Patriotic Activity Book for All Americans"
Summary: With its single-topic pages and engaging activities, the book teaches its readers about a diverse collection of American traditions, values and democracy. The pages are downloadable. Besides three units focusing on national symbols, patriotic music and U.S. holidays, many extras are included, such as award badges, patriotic quotes, naturalization test questions with answers and more.
Publication date: Jan. 25, 2021
Who should read my book? Parents of homeschoolers, teachers, leaders of organizations and community outreach programs, families, gift-givers, immigrants planning to become U.S. citizens, kids who need a break from the computer and TV, music teachers,
assembly organizers, special education teachers, substitute teachers, Sunday school teachers and U.S. travelers.