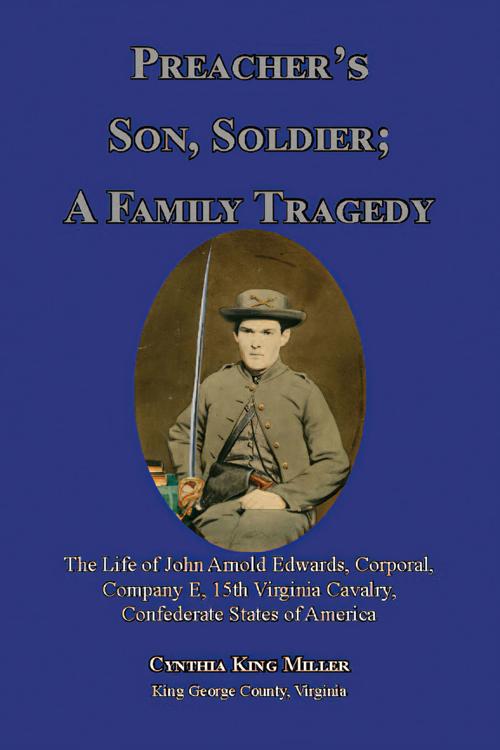 Connection Fredericksburg region: I was born in Fredericksburg but grew up and live in King George. I have 40 plus years of publishing experience. Prior to retirement from civil service in 2002, I wrote and edited numerous technical reports for the Naval Surface Warfare Center Dahlgren Division and the Joint Warfare Analysis Center, Dahlgren. I'm also a retired technical writer for Northrop Grumman Defense Mission Systems. I was co-editor of the book "Dahlgren," published in 1977. I serve as a writer and historian for Shiloh Baptist Church in King George. I wrote and published the book, "The First 150 Years: A History of Shiloh Baptist Church from 1856 to 2006." I hold a bachelor's degree in English Literature from the University of Mary Washington.
I was inspired to write a book: To figure out why in the world my great-great grandfather joined the Confederate Army when he was born and raised in the north and why he died at the Linwood House instead of Chimborazo Hospital in Richmond. I was inspired by my late aunt, Nancy Louise Edwards Harris, who wrote about the Edwards Family and King George County in general.
Favorite time/place to write: At my desktop computer, in my home office, in the evenings.
What I learned from the writing/publishing process: It is always difficult, and I'm always relearning the process. I rewrite all the time and edit endlessly until I press "send" to the printer.
My advice to those trying to write a book: Have a focus. Do the table of contents first; it becomes your outline; try to stick with it but revise as newly found information appears. Get the words, thoughts and facts down on paper while they are fresh. Edit later. Research everything; use extensive and trusty source material; verify references, and obtain permissions to use the material, in accordance with copyright laws. Discover all the wonderful material in the public domain.
Book title: "Preacher's Son, Soldier; A Family Tragedy: The Life of John Arnold Edwards, Corporal, Company E, 15th Virginia Cavalry, Confederate States of America, King George County, Virginia"
Plot summary: This book is written not to glorify the North or the South during the divisive Civil War, but simply to reach an understanding of why John Arnold Edwards, the author's great-great grandfather, served in the Confederate Army, specifically Company E, 15th Virginia Cavalry. He was born in Pennsylvania and grew up in Methodist parsonages throughout Pennsylvania, Baltimore and Washington, D.C. He was the second of nine children of the Rev. Dr. William Balthrop Edwards and Elizabeth Alexander Sommerville Edwards. William Balthrop was born in King George County, and was a Methodist minister for 57 years, under appointment to the Baltimore Conference of the Methodist Episcopal Church. It is through the Minutes of the Annual Conferences of the Methodist Episcopal Church and letters William Balthrop penned to his wife that we learn of William Balthrop's antislavery and anti-Southern stances. Despite that, John Arnold joined the Confederacy while his parents and siblings stayed north and prospered. This book includes much about his father's ministry, division within the Methodist–Episcopal Church, and conflicts over slavery. John Arnold attended Edwards Academy, later called Piedmont Academy in Fauquier. It was there that he received his formal education under his uncle, Francis Marion Edwards, principal of Edwards Academy. When the Civil War broke out, most of the students there joined the Confederacy. John Arnold's first cousin, Waite Sommerville, joined the Union Army. Both lives ended tragically. Prior to the Civil War, John Arnold married his second cousin, Rose Emma Edwards, in King George, moved there, and was schoolmaster at Mt. Hope, which became his family homeplace. He was wounded during the Bristoe Campaign at Brandy Station, near Culpeper, on Oct. 11, 1863, and died from those wounds in the Linwood House in Richmond on Jan. 17, 1864. The proprietor of the Linwood House was John Arnold's friend, Malcolm "Mac" Wallingsford, a clerk for the Confederate Army and a spy. John Arnold was survived by two children, Maggie and George, who remained in King George. Many of their offspring live there now. Interestingly, in 1865, John Arnold's father was one of five members of the Methodist denomination who planned a D.C. memorial service for President Abraham Lincoln.
Publisher: Self-published (printed by Conquest Graphics, Richmond)
Publication date: Feb. 29, 2020
Who should read my book? Anybody interested in how family life, education, religion and slavery influenced a young person before and during the Civil War and the impact upon future generations.
You can buy my book: Amazon