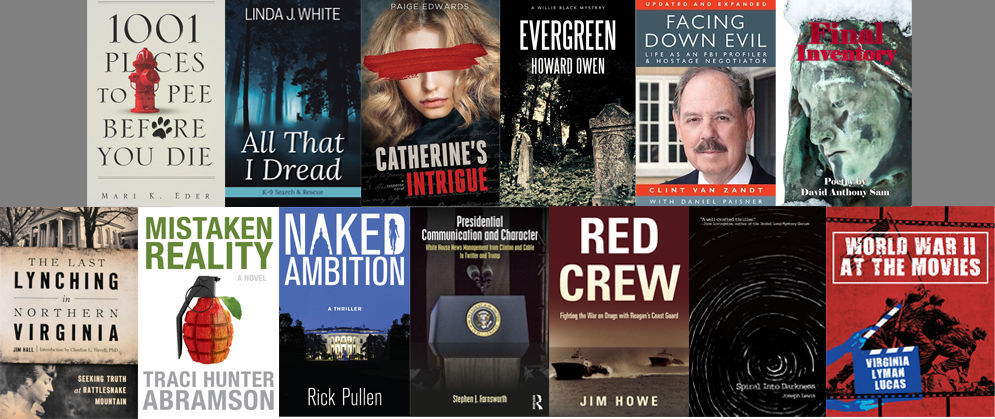 Looking for a unique, local gift for the holidays? Consider giving books written by local residents.
The Fredericksburg region is full of authors, including some who have written bestsellers.
Members of the Edit Sober Secret Society, a group of about 20 local authors who have been published conventionally or by independent presses, have recommended books they feel will make ideal holiday gifts. All are available to order through Barnes & Noble,
Books-a-Million, local independent bookstores, online and from Amazon. Here are 13 of the group's recommendations:
Mistaken Reality
Author: Traci Hunter Abramson, Stafford
Abramson, a North Stafford High School swim coach, needed to name a character. One of her swimmers, Hadley Baker, offered hers. Thus was born the protagonist for "Mistaken Reality."
Summary: It's a tale of romantic suspense centered in Stafford County and the surrounding area. The protagonist is a schoolteacher (inspired by the real Hadley's ambition to study elementary education). The real Hadley even named her fictional counterpart's cat in the book.
1001 Places to Pee Before You Die
Author: Mari Eder, Prince William County
Summary: OK, let's remember. Benson is a dog, no matter what he thinks you ought to think. A Miniature Schnauzer with the same goofy haircut all of his kin seem to affect. He's a ladies' man—with papers—and retains all his original issue equipment (and attitude). And, he "writes" letters to his grandparents, his North Carolina breeders. Whimsical, autobiographical, filled with fantasy, wonder and the reality of life as a geographically circumscribed housedog.
Catherine's Intrigue
Author: Paige Edwards, Stafford County
Edwards is a romantic suspense author and president of the Fredericksburg Interfaith Community Council.
Summary: Someone wants to inherit 3.6 million euros and Catherine Pressley–Coombes stands in the way. Set in British high society, the fast-paced plot includes numerous twists and toe-curling romance. It has a strong female protagonist with Christian values, a hunky British aristocrat and a love-to-hate villainess. (Also online at Deseret Books and Seagull Books.)
Presidential Communication and Character: White House News Management from Clinton and Cable to Twitter and Trump
Author: Stephen Farnsworth, Fredericksburg
Farnsworth is a professor of political science and director of the University of Mary Washington's Center for Leadership and Media Studies.
Summary: This book traces the past two decades' evolution of White House news management during America's changing media environment. It compares communication strategies of Bill Clinton, George W. Bush, Barack Obama and Donald Trump, and demonstrates the difficulty all presidents have in controlling their messages despite a seemingly endless array of new media outlets and the great advantages bestowed on the office. Great for the political junkies on your holiday list.
The Last Lynching in Northern Virginia: Seeking Truth at Rattlesnake Mountain
Author: Jim Hall, Fredericksburg
Summary: "The Last Lynching in Northern Virginia" is a nonfiction account of the 1932 murder of Shedrick Thompson in Fauquier County. A must for both American and Virginia history lovers, as well as those interested in the history of lynching and race relations.Hall, a former Free Lance-Star reporter, is working on new book about the 1880 lynching of Arthur Jordan.
Red Crew: Fighting the War on Drugs with Reagan's Coast Guard
Author: Jim Howe, Fredericksburg
Howe served 27 years in the U.S. Coast Guard, sailing on five cutters and retiring at the rank of captain.
Summary: "Red Crew" is a first-person, nonfiction account of service aboard high-speed, high-tech Coast Guard cutters in the early days of the war on drugs. Follow the Red Crew as they chase smugglers and face a bevy of unforgettable life-and-death situations. This is the perfect gift for lovers of real-life action, adventure, suspense and human drama.
World War II at the Movies
Author: Virginia Lyman Lucas, Spotsylvania County
Lucas is dedicated to raising World War II IQ through her entertaining, informative books and lectures. She is working on a sequel.
Summary: "World War II at the Movies" includes commentaries on 48 popular films chronicling the major events of WWII, from "The Mortal Storm" (Hitler's rise to power) to the "Battle of the Bulge." And from "Tora! Tora! Tora!" (Pearl Harbor) to "Above and Beyond" (development and delivery of the atomic bomb) in the Pacific. She explores how accurately these movies portrayed war, pointing out various gaffs and where they got it right. This is a must-read for movie fans and history buffs alike.
Spiral Into Darkness
Genre: Psychological Thriller
Author: Joseph Lewis, Stafford County
Lewis is a Stafford high school administrator by day and writer by night.
Summary: Is a serial killer born or is there a trigger that causes one to become one? If you like psychological thrillers in the vein of James Patterson or John Sandford, you'll love this book. A TopShelf Book Award Nominee.
Evergreen
Genre: Mystery, Detective Fiction
Author: Howard Owen, Richmond, formerly of Fredericksburg
Owen, a retired journalist, is the author of 18 published novels, including "Oregon Hill," the first Willie Black mystery and winner of the Dashiell Hammett Prize.
Summary: In "Evergreen," the eighth Willie Black mystery (all set in Richmond), hard-nosed, hard-drinking night cops reporter Willie Black delves into the long-ago death of the father he barely remembers. Before his search is over, Willie will learn more about Artie Lee's demise than he ever wanted to know.
A great holiday gift for anyone who loves mysteries and family stories.
(Also available as an audio book.)
Naked Ambition
Genre: Thriller, Detective Fiction
Author: Rick Pullen, Fredericksburg
Pullen, a retired magazine editor and investigative reporter, worked at The Free Lance–Star in the 1980s. He is currently writing a mystery focusing on racial injustice. "Naked Ambition" shot to No. 1 in thrillers on Amazon just 17 days after publication. The sequel, "Naked Truth," was a finalist for the Silver Falchion Award.
Summary: When investigative reporter Beck Rikki receives an unsolicited call sending him off to investigate a presidential candidate, he finds nothing is quite as it appears—not his sources, not his curious new love interest and especially not the story he's pursuing. And with only days before the election, just when he thinks he's solved the riddle, he realizes he hasn't.
Final Inventory
Author: David Anthony Sam, Orange
Summary: "Final Inventory" is a book of deeply personal poetry written as the author's mother was dying and in the years following. Sam celebrates his mother's life and her impact on him, grapples with her dying and his helplessness to ease her from this life. He also mourns her by "mothering himself a new life" absent her powerful presence.
Facing Down Evil: Life as an FBI Profiler and Hostage Negotiator (Updated Edition)
Author: Clint Van Zandt, Fredericksburg. (With Daniel Paisner)
Van Zandt was the FBI's chief hostage negotiator and a supervisor in the Behavioral Science Unit. He is the president of Van Zandt Associates, an international threat and risk assessment group.
Summary: The book deals with the role of the hostage negotiator trying to defuse major crises. It covers the training and formation of a hostage negotiator and his role during the Waco siege in 1993, Oklahoma City bomber Timothy McVeigh in 1995, and the 1996 Unabomber case. It also discusses survival strategies for hostages and other emerging issues facing FBI Special Agents.
In this updated and expanded edition, Van Zandt calls upon his experience as an FBI Criminal Profiler as he examines modern-day home invasions, the workings of electronic sextortion, new ways to spot pedophiles and some of the new methods used to recruit future suicide bombers. He provides readers with critical tips to avoid and/or survive crimes against their homes, their families and themselves.
All That I Dread
Author: Linda J. White, Fauquier County
White, a former Free Lance–Star editor, writes "white-knuckle fiction" mystery/suspense that is designed to keep you up at night. She is hard at work on her next novel.
Summary: A young woman adopts a rowdy German shepherd and joins a K9 search-and-rescue group. Helping the FBI hunt for a serial killer brings her face-to-face with her worst fears—and the past she thought she'd left behind. This novel highlights the love between Jessica Chamberlain and her dog, along with her courage as she works with the FBI following a series of murders. A thread of faith makes this a perfect Christmas gift.
Stay up-to-date on what's happening
Receive the latest in local entertainment news in your inbox weekly!