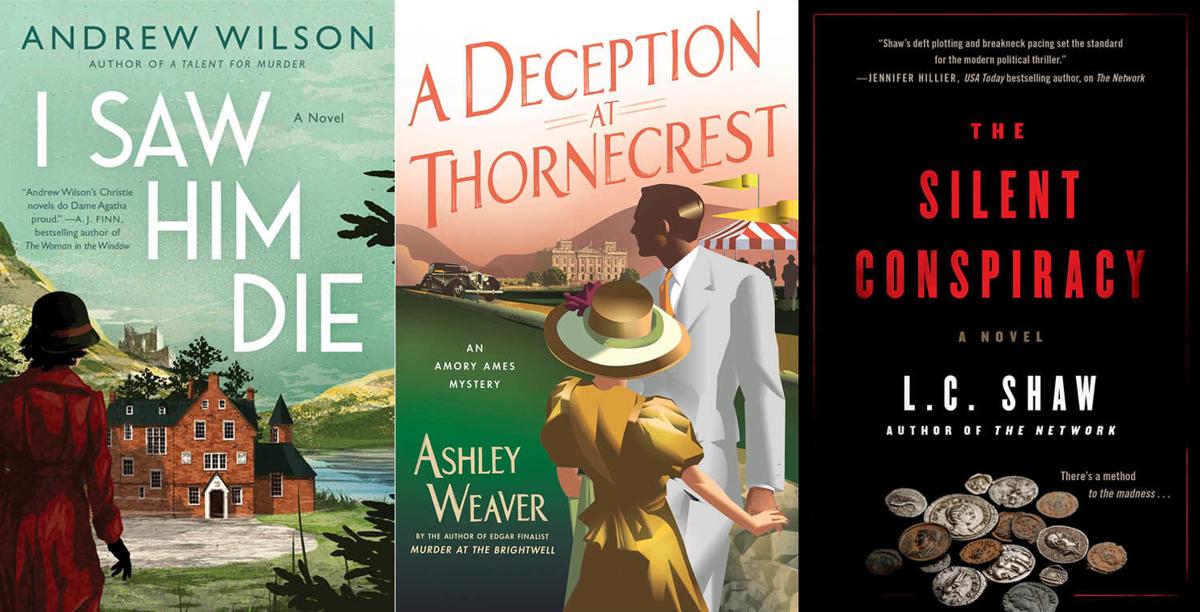 Nearly a half century after her death, Agatha Christie remains the best-selling novelist of all time, acquiring new fans and prompting talented authors to pay homage to her and her legacy.
Among the latter is British biographer, novelist and journalist Andrew Wilson, who portrays Christie as an amateur sleuth who partners with John Davison of the United Kingdom's Secret Intelligence Service.
The fourth installment in his series—"I Saw Him Die" (Washington Square Press, $17, 400 pages)—finds the duo on Scotland's Isle of Skye, assigned to safeguard former SIS agent Robin Kinmuir, whose life has been threatened and who has turned his family home, Dallach Lodge, into an upscale hotel.
Christie and Davison have barely arrived when Kinmuir collapses in death after being shot by his nephew and heir, James Kinmuir, who with a friend was hunting grouse.
But when the cause of death is revealed as poison, not gunfire, everyone at the lodge becomes a suspect, including but not limited to an actress, a botanist, a shipping company executive and two sisters who write romance novels.
Wilson draws on Christie's legacy—the novel contains numerous echoes of her canon—as well as his own talents to devise a classic whodunit worthy of the muse herself.
He does so by melding Christie traditions—a slew of twists and clues, an atmospheric setting and richly envisaged characters—with his own confident imagination and adroit execution.
Endlessly entertaining, smart and stylish, "I Saw Her Die"—like its predecessors—displays Christie as appealing as a character as she is as an author.
AMORY AND MILO AMES RETURN
The acclaim given to "Upstairs, Downstairs" in the 1970s, reaffirmed by the adoration bestowed on "Downton Abbey" in the past decade, proved that American audiences cherish tales of life among upper-crust Brits.
Add death—especially murder—and the esteem escalates. Which brings us to "A Deception at Thornecrest" (Minotaur, $27.99, 288 pages), the seventh entry in Ashley Weaver's series featuring Amory and Milo Ames.
As the story begins, heavily pregnant Amory is resting at the couple's country home, Thornecrest, when Imogen Prescott arrives and claims that she is married to Milo.
But the cad who has seduced her with a promise of wedded bliss is actually Milo's lookalike half brother, Darien, of whose existence neither Milo nor Amory was aware.
Darien's subsequent interest in Marena Hodges incites Marena's former boyfriend, Bertie Phipps, to punch him, prompting Darien to vow: "I'll kill you for this."
When Bertie is found dead, his head bashed in, Darien becomes the prime suspect. But a second murder casts doubt on Darien's guilt while raising the likelihood of other possible killers.
Weaver's latest effort sports a pleasing puzzle, an array of plausible characters and the stimulating interplay between equally strong-willed Amory and Milo.
Amusing and artful, charming and clever, "A Deception at Thornecrest" offers fans of mysteries set in English villages a pleasurable evening of matching wits with Weaver as she leads to an unanticipated but perfectly logical conclusion.
RISING STAKES AND SUSPENSE
Evil genius seeks world domination and destruction.
Earnest media members hope to stop him.
Sound enticing and familiar? It should. "The Silent Conspiracy" (Harper, $16.99, 336 pages) represents the second cliffhanger in L.C. Shaw's series.
In last year's "The Network," Damon Crosse, with his manipulative Institute ravaged, faked his death. As the sequel begins, Jack Logan and Taylor Parks don't know he's alive.
Investigative reporter Logan is looking into a series of bizarre murder–suicides. Television producer Parks is working on a program about Jefferson Health Care, an insurer known for low premiums but stingy coverage.
Crosse has disguised himself as Crosby Wheeler, the sinister head of UBC, the network for which Parks works.
The stakes rise as Shaw spins a thriller that includes characters such as Leonard Reed, the greedy CEO of Jefferson Health Care, and corrupt Vice President Brody Hamilton, elevated from his Senate seat since "The Network."
In the two years that have passed since the first installment, Logan and Parks have married and are raising her toddler son, Evan. But when his ex-wife asks Logan for help, his relationship with Parks is strained.
But worse lies ahead, as the search for 30 coins with a monstrous history leads to another white-knuckle conclusion.
Shaw creates nearly unbearable tension as the bodies pile up, the cabal seizes the advantage and Logan and Parks struggle for survival.
Jay Strafford, a retired Virginia journalist, now lives in Florida.
Stay up-to-date on what's happening
Receive the latest in local entertainment news in your inbox weekly!