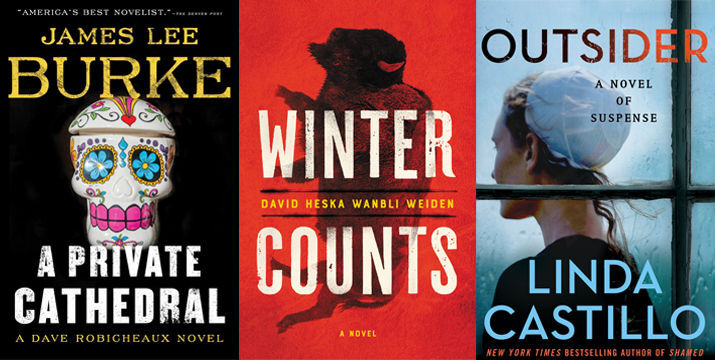 In Louisiana, gentility walks hand in hand with greed, innocence with iniquity, charity with cruelty.
James Lee Burke devotes much of his authorial prowess to describing the state's bipolarity; he does so again in "A Private Cathedral" (Simon & Schuster, $28, 384 pages), the 23rd novel in his series featuring sometime cop, sometime private eye Dave Robicheaux.
Set in the late 20th century—out of sequence for the series, an indication that one of Burke's subjects will be the nature of time—the novel opens with a long-running feud between two families, the Shondells and the Balangies.
Teenagers Johnny Shondell and Isolde Balangie are musicians in love, and Dave and best friend Clete Purcel suspect that Isolde's parents, Adonis and Penelope, have sold her into sexual slavery to Johnny's uncle, Mark.
But this is no ordinary investigation. Both detectives dream of stormy seas, galleons and chained convicts, and both must face Gideon Richetti, an apparent time traveler from the 17th century who embodies a curious fusion of conscience and malevolence. And the symphony of unbound violence that ensues forces Dave to confront his own demons.
Burke's excellence of plot, character and prose have long established him as a premier practitioner of literary crime fiction.
His fresh and fertile imagination permeates "A Private Cathedral." Although he has teased readers with supernatural themes in previous installments, he now brings that flirtation to fruition. And he does so with depth and power in this incandescently brilliant novel.
'WINTER COUNTS'
Let us count the ways in which American society has wronged its indigenous people.
It has slaughtered them, stolen their land, forced them onto reservations far from their homes and introduced them to alcohol—all of which have resulted in a toxic epidemic of drug abuse.
Which brings us to "Winter Counts" (Ecco, $27.99, 336 pages), a début thriller by David Heska Wambli Weiden, an enrolled citizen of the Sicangu Lakota Nation who directs the Native American Studies Program at Metropolitan State University of Denver.
On the Rosebud Indian Reservation in South Dakota, recovering alcoholic Virgil Wounded Horse works as a private vigilante. Victims ignored by tribal or federal law enforcement hire Virgil to inflict pain on miscreants. In private life, he's raising his 14-year-old nephew, Nathan.
When tribal councilman Ben Short Bear enlists his help in locating heroin dealer Rick Crow, Virgil's public and family interests intersect. Accompanying him in the search is his ex-girlfriend, Marie Short Bear, who also had a relationship with Rick.
But that job goes on the back burner when Nathan overdoses on heroin and opioid pills are found in his school locker—and the novel's pace and violence escalate.
With knife-sharp narrative skills, Weiden creates a shrewd and serpentine plot. And while he entertains, he simultaneously educates about past and present Native American life.
"Winter Counts" troubles the mind, hurts the heart—and evokes profound admiration for author and subject.
'OUTSIDER'
Most folks have a friend or colleague with whom they've lost touch after the bonds frayed.
Seldom is the relationship reborn. And only rarely amid danger.
But that's what happens in "Outsider" (Minotaur, $27.99, 320 pages), the 12th installment in Linda Castillo's addictive series featuring Police Chief Kate Burkholder of fictional Painters Mill, Ohio.
After leaving her Amish family and their religion, Kate, as a rookie with the Columbus police, partnered with Gina Colorosa. Ten years later, in the middle of a Midwest blizzard, Gina needs Kate's help.
Gina claims to know of corruption and murder in the Columbus police department. But she's hardly as pure as the snow that makes travel treacherous in Holmes County, the real-life locality that includes Painters Mill.
Having run her car into a ditch while fleeing from Columbus, Gina is rescued by Amish farmer Adam Lengacher, a widower with three young children, who agrees to shelter Gina—and Kate—when the storm worsens.
Aided by her lover, Ohio Bureau of Investigation agent John Tomasetti, Kate tries to discover the truth. The dirty Columbus cops will stop at nothing to prevent her success. But on whose side does Gina stand?
A tale with multiple twists—or are they?—"Outsider" offers another tense and enticing look at issues of friendship, trust and betrayal, while simultaneously portraying sweet scenes of Amish farm life.
With panache and perception, Castillo again melds light and darkness in equal measures in a stellar thriller.
Jay Strafford, a retired Virginia journalist, now lives in Florida.