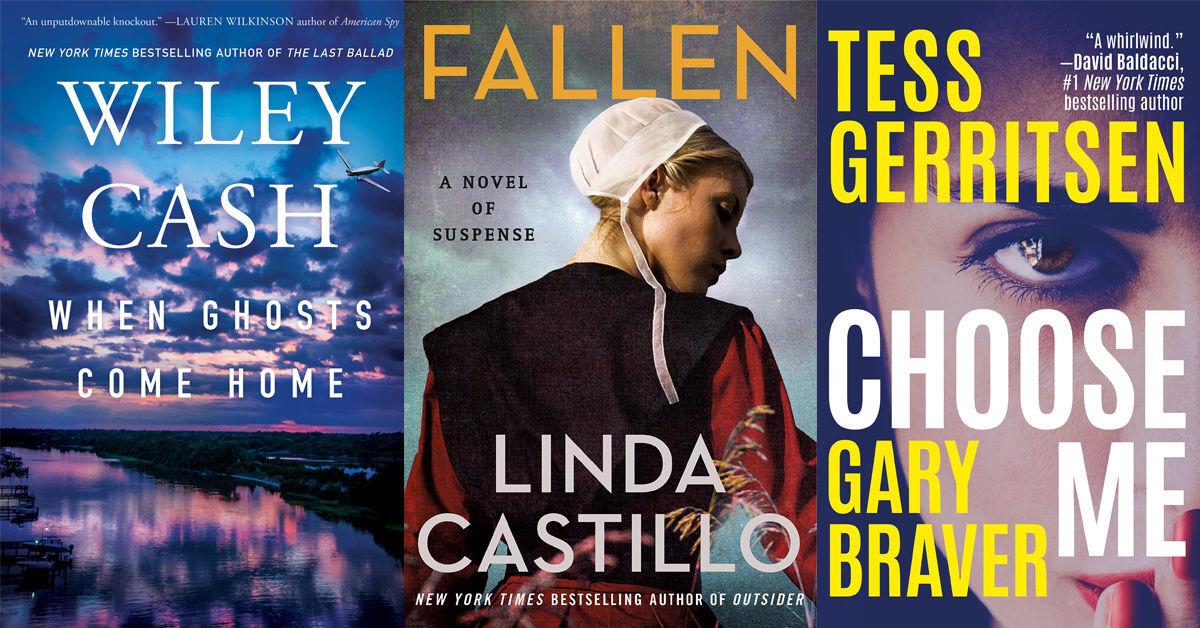 For the Barnes family of coastal Oak Island, N.C., life is no frolic on the beach.
Winston Barnes, the sheriff of Brunswick County, faces a tough reelection campaign. Wife Marie is fighting cancer. Daughter Colleen has returned to Oak Island after leaving—at least temporarily—her husband in Dallas after the stillbirth of their first child.
And when Barnes is awakened by a low-flying plane, he finds it empty at the island airport and a murdered man nearby.
Wiley Cash begins his fourth novel—"When Ghosts Come Home" (William Morrow, $28.99, 304 pages), set in 1984—in high gear and never downshifts.
The victim is Rodney Bellamy, an African American and a former high school classmate of Colleen's. Barnes believes the plane had been used to transport drugs.
His opponent for reelection is Bradley Frye, a virulent racist who leads a terrorism campaign against African American residents, including Bellamy's brother-in-law, 14-year-old Jay, sent by his parents in Atlanta to live with Bellamy, wife Janelle and their infant son after having been caught shoplifting.
All of Cash's novels are set in North Carolina and examine evil in its many forms—in his latest, murder, bigotry and greed. He juggles the primary plot and several subplots with adroit assurance, creates unforgettable characters, balances his prose between toughness and tenderness and forges a conclusion at once satisfying and shattering.
An eloquent evocation of the bad old days, "When Ghosts Come Home" haunts the heart and stresses the soul.
STORYTELLING WITH PURPOSE
If you drive the back roads through northeastern Ohio's lovely rural areas in spring, you're likely to see the Amish working their fields, traveling in their buggies and living a life of faith and peace.
But even the Amish, just like some people of every faith or belief system, fall into sin and conflict.
And Linda Castillo does not ignore those failings in her series featuring Police Chief Kate Burkholder of fictional Painters Mill in real-life Holmes County, Ohio, and particularly in the 13th installment, "Fallen" (Minotaur, $27.99, 320 pages).
Twelve years ago, free spirit Rachael Schwartz, resenting the restrictions of her traditional Amish parents, left Painters Mill, eventually opening a restaurant with roommate and friend Andrea June Matson in Cleveland and living beyond her means.
But when the 30-year-old returns to Painters Mill for a secret meeting at a motel, she's beaten to death with a baseball bat, and Kate—also formerly Amish—must investigate.
As she works the case, Kate interviews Rachael's parents and friends, as well as a bartender and the bishop of an Amish cult of which the mainstream Amish disapprove.
Castillo uses her Ohio background and knowledge to superb effect. She conceives and creates fully fleshed characters, devises an intricate and twisty plot and examines complex issues of religion and morality.
A series of literary weight, Castillo's work appeals to connoisseurs of crime fiction who expect powerful purpose as well as serious storytelling.
LOVE, RAGE AND MURDER
Love can produce fervor and passion that can last a lifetime.
And it can breed lethal peril, a possibility that Tess Gerritsen and Gary Braver examine in "Choose Me" (Thomas & Mercer; $24.95 hardcover, $15.95 paperback; 334 pages), a first-time collaboration between the two authors.
When brilliant, beautiful Taryn Moore, a senior and English major at Boston's Commonwealth University, is found dead after plunging from her fifth-story apartment balcony, police Detective Frances "Frankie" Loomis initially suspects suicide. But when Taryn's cellphone can't be found, she decides the case needs further investigation.
And if suicide is ruled out, who might have killed her?
Jack Dorian, a married professor in whose "Star-Crossed Lovers" course Taryn is the enrolled? That the two seem attracted to each other puts Dorian in the No. 1 spot.
Liam Reilly, Taryn's high school sweetheart from Maine and fellow Commonwealth student, a privileged youth who recently ended their relationship?
Elizabeth "Libby" Whaley, Liam's new girlfriend?
Cody Atwood, a chubby, homely fellow student who moons after Taryn with little success?
Or even Maggie Dorian, a physician and Jack's wife?
Gerritsen, a veteran mysteries writer, and Braver, an author of science thrillers, concoct a twist-laden plot in which love and rage meld into a toxin that spurs multiple upheavals in their characters' lives. With equal focus on the perspectives of male and female members of the cast, the authors strike a welcome balance.
Jay Strafford, a retired Virginia journalist, now lives in Florida.