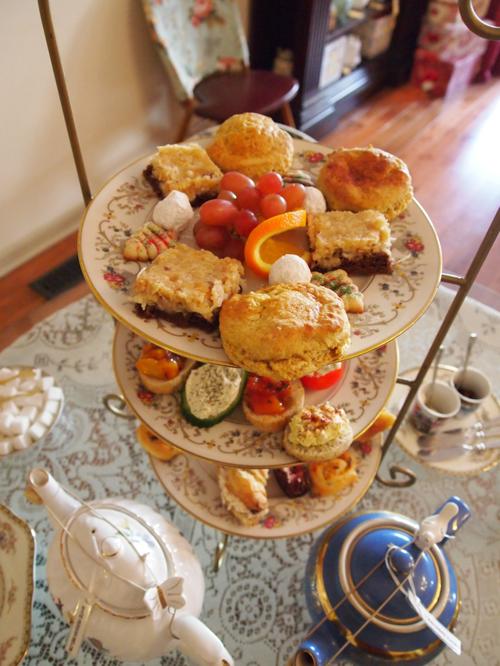 THE FREE LANCE-STARThe concept was a simple one: My wife and I would be taking a Sunday road trip to review Miss Minerva's, a highly rated tearoom in Culpeper. And it would have been an easy story to tell, except for one thing: We'd invited along my mother-in-law (or "MIL" as she likes to be called) who, let me just say up front, is a very lovely person. How was I supposed to know she'd turn it into a story about herself—and coffee?!
A tearoom seemed the perfect place to take my MIL, an Anglophile who'd be right at home in a Jane Austen novel. Besides, my wife enjoys sipping tea and gossiping with her girlfriends at tearooms, before bringing home bags of loose tea that all smell exactly the same.
What can I say? Tea has never been my cup of tea. Noel Coward once said it would be dreadful to live in a country that didn't serve tea. Well, I wouldn't last a minute anywhere that didn't feature Starbucks. Yet here we were, heading to a venue sure to make me feel like a bull in a china shop. I mean, isn't going to a tearoom, with its highly formalized etiquette—including no tea-slurping, spoon-clinking, cup-swirling or scone-dunking—like choosing to visit a spinster aunt with whom you've got to be on your best behavior?
And we were going with my MIL, a woman I'd always been a bit nervous around. I sometimes feel like there's little room for me in her world, populated as it is with dried flowers, Yankee Candles and mini Christmas villages. In fact, spending time at my MIL's house isn't a whole lot different, I found out, than visiting a tearoom.
Once we were on the road, MIL got busy multitasking, engaging in all three of her favorite activities—shopping, playing with her smartphone and acting on the counsel of her TV advisers.
In no time at all, she'd phoned all the GNC stores in the area in order to track down what was proving to be the elusive green coffee-bean extract Dr. Oz recommended as a surefire weight-loss supplement. Upon learning the Culpeper store stocked it, she informed the clerk she'd be there directly, after taking her tea.
All concerns regarding etiquette turned out to be a tempest in a teapot once we'd been warmly greeted at Miss Minerva's, which Tea Map.com recently ranked No. 2 out of 63 tearooms in the Old Dominion. (Hey, I didn't even know there was a competition!)
The first order of business was the ceremonial sniffing of tea samples, so we might make informed choices. My wife picked "Florence," a black tea with complex notes of chocolate and hazelnut, while I went with the nicely balanced Kashmiri chai and MIL selected the fruity, cloying White Persian Melon, which she couldn't stop raving about.
We each ordered the Full English Tea, which included tea sandwiches, savories, scones and desserts served on a three-tiered platter, along with the pots of tea and a couple of items whose names—clotted cream and jam—were more suggestive of medical conditions than condiments.
Having been assured by our server we'd be breaking no rules by mixing-and-matching between the various tiers, we dug indiscriminately into the creamy chicken and egg salads, smoky bacon-and-cheddar pinwheels, mango salsa crostini, artichoke-stuffed tomatoes, and of course the pumpkin scones, Mexican wedding cookies and, my personal favorite, the chocolate–coconut bars.
Everything was so delectable, delightful and de-lovely that I could easily imagine Miss Minerva's—were it to add some pub grub to its menu and suspend a few flat-screens from the ceiling—becoming my new favorite hangout.
Not one to pass up a shopping opportunity, MIL bought a bag of White Persian Melon loose tea before saying goodbye to Miss Minerva's and hello to GNC, from which she returned all smiles. "I got the last one!" she said hugging the coffee-bean extract to her chest. It had been a splendid day, she said, one she wouldn't trade for anything. Not for all the tea in Persia.
What: Miss Minerva's Tea Room & Gifts
Address: 167 E.  Davis St., Culpeper
Hours:  11 a.m. to 4 p.m., Tuesday–Saturday
Prices: Full tea: $20 Lite tea: $14 Tween tea: $13 Wee tea: $11
The Scoop: Good service, good food, on-street parking, kid-friendly and even guy-friendly!
Payment: Major credit cards accepted.