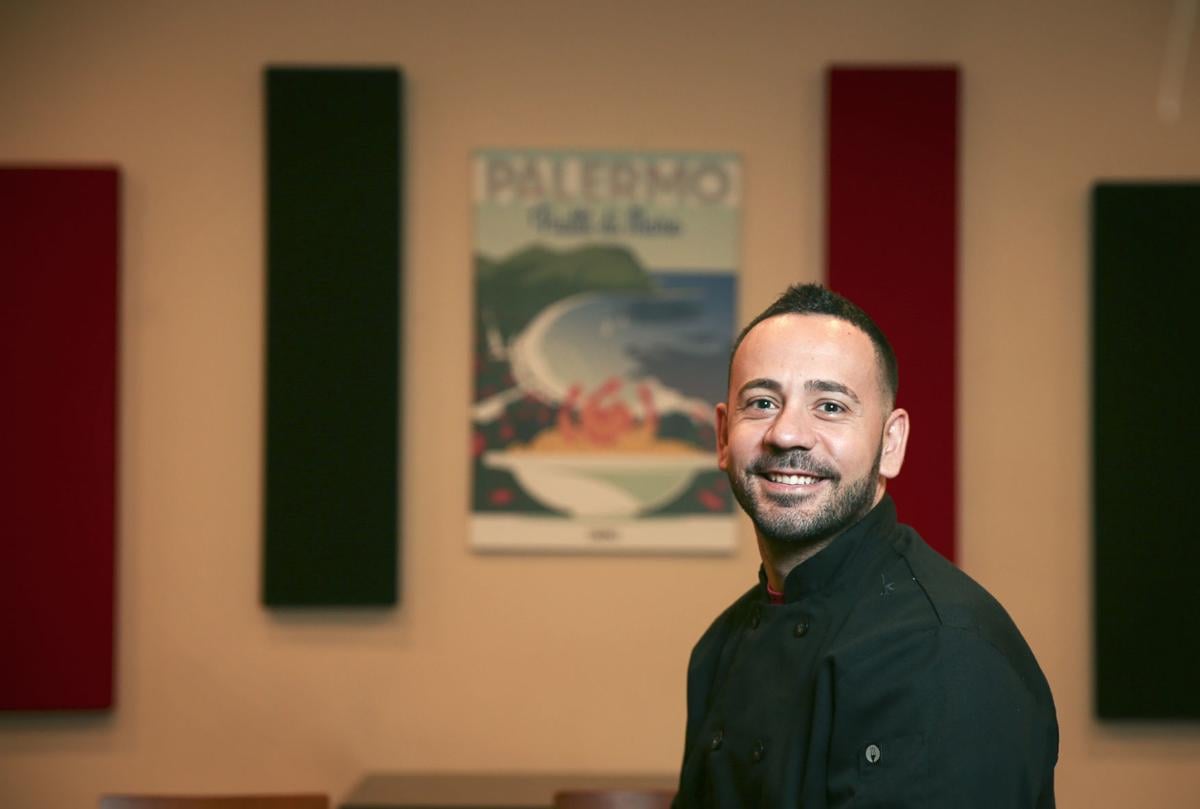 For road warriors making the trek between New York and Florida, Fredericksburg can be a popular pit stop.
Earlier this year, an Italian–American family made such a stop at Orofino restaurant at 1006 Caroline St., in the city's downtown.
Orofino's menu comes with a map of Italy's 20 regions. Each dish and featured wine bears the number of one of the labeled regions on the map, so that diners can learn about the country's diverse cuisines as they eat. Orofino rotates its specials menu to feature different regions at different times of year.
At the time of this particular family's visit, the menu highlighted the southern region of Calabria, at the toe of the Italian boot.
"This man, his father was from Abruzzo and his mother was from Calabria," said owner Danilo Orofino. "He told my manager, 'I don't know if you knew my mom or my grandmother, but that's exactly what I used to eat growing up.' He lit up. He was excited to tell this story about his grandmother and his mom who made this dish and his childhood memories of eating this dish."
For Danilo Orofino, that's what food's about.
The mission he describes again and again as he talks about his restaurant in the Italian-accented English he's learned over the past eight years of interacting with American customers is to forcibly remove people from the distraction and stress of a smartphone-tethered life, to make sure they connect with their dining companions over a relaxed meal and to teach them along the way about authentic Italian food.
From football to food
Orofino grew up in Palermo, Sicily, with dreams of being a professional soccer player.
A blown knee forced a change of course. He went to culinary school in Palermo, where he learned food could be a powerful vehicle for creative expression, and for promoting personal relationships.
His views on food are heavily influenced by the role it plays in Italian life. When he talks about the experience he wants to create for his customers, he goes back to Sundays in Sicily, where families and friends would spend hours at the table together, eating course after course, drinking wine and—most importantly—building close relationships.
"There's nothing more satisfying to me than hanging out with friends and family, in a deep and direct way around the table with a meal and a glass of wine," he said. "You open up your emotions and you get real and vulnerable. That's so important to me, because you get to know a person on a really personal level."
Orofino launched his first business venture, a café in Palermo, at age 19.
If you think Yelp reviews are harsh, try making Italian food for a bunch of Italians who've been cooking it all their lives.
"You know you are going to have so many judges, because you're doing something that is from there, that everyone can make. Unless it's special, nobody's going to come eat it," Orofino said.
They did come, but as the Sicilian economy suffered, Orofino had to close his business. He took two months to regroup, and visited a friend in New York City for what was to be a 10-day trip in 2010.
Opportunity
in America
Soon after arriving in New York, Orofino met a fellow Sicilian while exploring the city. The man owned a market and restaurant in Brooklyn, and offered Orofino a chance to help out during the days, when his friend would be at work.
"The fact that this man who didn't really know me gave me this kind of opportunity, it made me realize, there is a lot of opportunity here in America," he said.
On his fourth day in New York, he'd made a decision.
"I called my mom and said sell my car, sell my stuff, I don't think I'm coming back."
He and the shop owner worked to get him the necessary permits to work full-time at the restaurant.
As he interacted with customers at the restaurant, Orofino started to regret skipping English classes during his school days to go play soccer. He committed himself to learning the language, and sought out opportunities to interact with customers, so that he could learn familiar expressions, as well as American tastes and dining habits.
As he worked, he began to realize that the American conception of Italian food is very different from what real Italians eat.
He left the Brooklyn café and went to work at Eataly in Manhattan, a giant food hall, market and cooking school whose ownership includes Italian cooking celebrities Lidia Bastianich and Mario Batali.
Orofino said working at Eataly changed his life, not only because he saw a greater opportunity to expose Americans to authentic Italian food, but also because he met his wife, Alona, on the job.
The couple were married in Sicily in 2013. When they returned to New York, they met the owner of Fredericksburg's Basilico restaurant and deli, who offered Orofino the opportunity to manage what was then a new Fredericksburg eatery.
Fredericksburg becomes home
The Orofinos moved to Fredericksburg, where Danilo learned that not all Americans live the fast-paced city life of New York. He honed his business and management skills as Basilico built a strong following for its food, gelato and baked goods.
But always in the back of his mind was a desire to build his own business, to pursue his own vision for introducing Americans to Italian culture and cuisine.
He and Alona opened Orofino in August 2016. In addition to the restaurant, Orofino hosts cooking classes and has an Italian coffee bar and market.
Danilo and Alona have been investing in work to improve the design and acoustics of some of their dining rooms, and plan to open a brick-oven pizzeria within the restaurant later this year. The pizzas—which Danilo Orofino says will be made to represent the regional pizza styles of Italy—will be an addition, not a replacement, to the full menu.
For Orofino, it's all part of trying to share the larger tradition of Italian-style eating, to provide a pause during people's busy lives, and to force them to stop and savor.