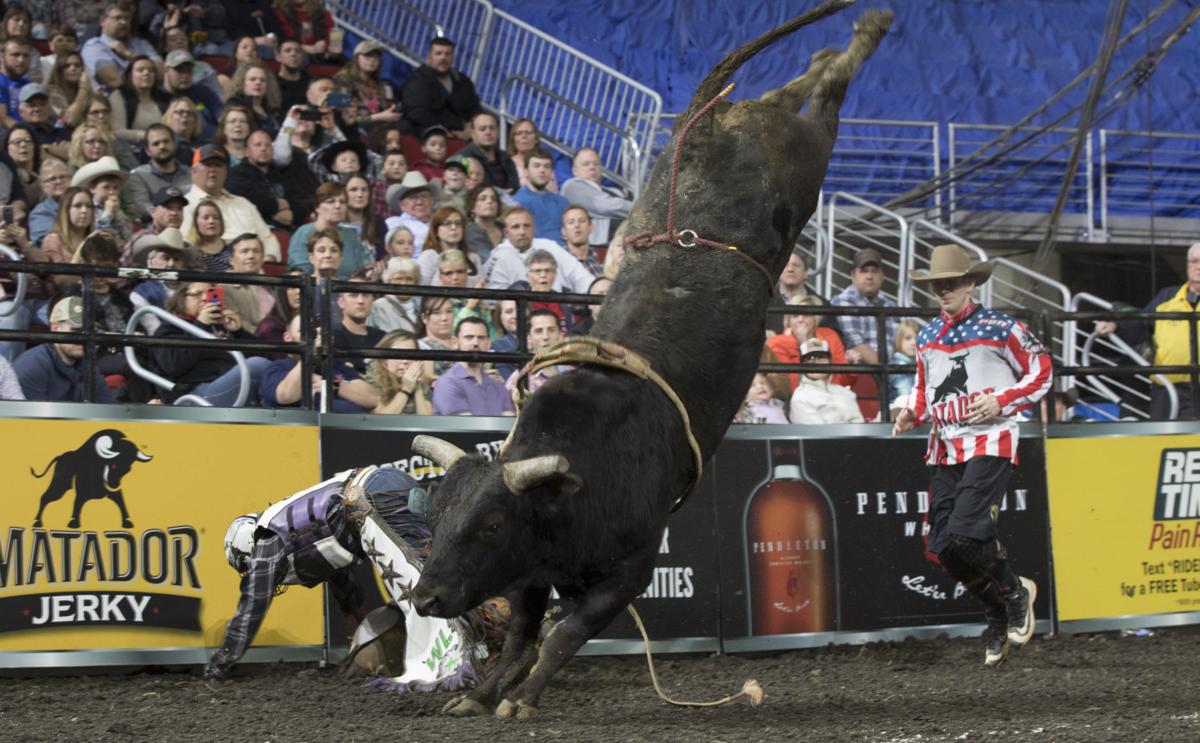 Justin Cornwell, stock contractor for PBR, owns Cornwell Bucking Bulls and is based in Lima, Ohio. He took a few moments with Weekender to address the "behind the scenes" of professional bull riding.
Please describe for the unfamiliar person, what you do.
"I provide the bulls for the PBR events throughout the year. And my job is to take care for and maintain the bulls. The day-to-day care consists of exercising. We jog the bulls, and then we feed them twice a day a special grain mix that helps provide lean muscle as well as vitamins and minerals. That's the daily routine. And then we also trim their hooves three times a year, vaccinate and worm, and I have a chiropractor that comes and works on them as well."
Obviously the bulls are dynamite on legs when the riders are on them. How are they during the rest of the week? Can you pet them? Do you view them as pets or as ornery athletes?
"They all have different personalities. I have some that you can pet, and some that you always keep a 10-foot buffer between you and them.
They are definitely an animal athlete, but as strange as it sounds, you do get attached to them just as a person would their dog."
What's your favorite bull in PBR right now, and why?
"There are so many good bulls it's hard to narrow it down. Of my bulls, probably Peep Show and Sugar Boom Boom, just because they always try and buck every time, I can really count them."
What's one thing that most audience members don't know about the bulls?
"Probably that they are not as mean as everybody thinks. They definitely know when they go into that alley that it's game time. But when they are home, they relax out in the pastures."
Can you address the charge that the bulls are hurt to make them mad and buck?
"There is nothing that you can do to make a bull buck. They are genetically bred to do it. I can't just go buy a bull from a farm or a ranch and turn him into a bucking bull. The flank strap is a soft cotton rope. It goes around the bull about where your belt would go on your waist. Despite the myths, which are not true, it does not constrain their genitals. The arena pens and chutes are also designed with the safety of both human and animal athlete in mind. "
We know the riders can be thrown and risk other injury from this sport. Is it risky for the folks raising and tending them?
"It definitely can be, you just make sure you're handling the animals in a safe manner for both you and them. You just have to pay attention to what you're doing."
The names of the bulls are usually awesome. Who names them?
"Some of them come with names, some of the names pertain to their breeding, possibly a play on their dad's name, and a lot of times it has to do with something popular, like someone in a movie or something that's on TV. The bull that I have that went to the Finals last year, Peep Show, his dad was Night Show and that is how we gave him the name he has. Another bull I had named Slim To None was a Panhandle Slim son."