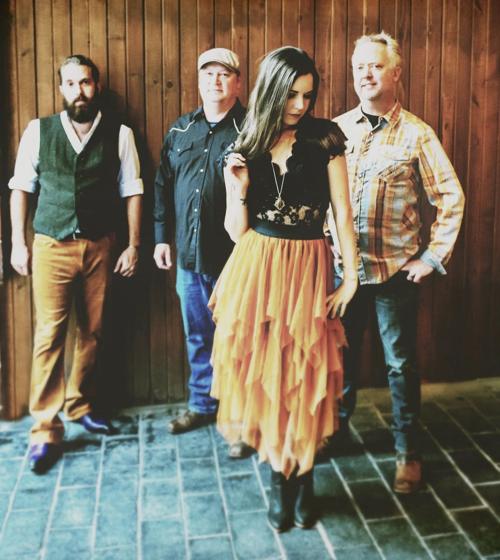 Since her first album in 2014, Karen Jonas has been one of the most prolific musicians in Fredericksburg, releasing five full-length albums and several EPs and singles. Her latest EP, "Summer Songs," was released along with her first book of poems, titled "Gumballs." The book is a personal reflection on Jonas' childhood, relationships and career. The Weekender spoke to her about both of her new projects.
You opened up many personal thoughts in "Gumballs."
I really shared a lot in that, it felt really good, though. I didn't really mean to write it. I really wrote it all in about five days. I became a little obsessed with digging through my brain and my anxieties and all these weird little things I had piled up somewhere and just splattering them into my iPhone notes and they took the shape of these little vignette poems. I definitely didn't write it with the intention that I would share it, which I think is important to how it turned out. It was really a therapeutic act for me. Then after having completed all these and collected them, I had well over 60 of them. Looking at them collectively I guess I've done an art thing, and as far as I know the purpose of doing art things is to share them. So that's what I did.
The poems are very different from your songs, which often tell the stories of characters you create, or less direct experiences.
Thinking about it after, I wonder if this was a little reactionary that some of my songwriting has been more imaginative and character-based and creative in an outside-of-myself sense—more empathetic writing than self-focused writing. I felt the need to make this bigger connection to myself and my story.
How did you decide to make a book of poems?
My very best friend since high school was Andie Burke. I had been sending her bits and pieces as I was writing. I had a shared iPhone notes so she would see when I wrote new stuff in it. She's a writer and an avid reader so she was giving feedback on them and what she thought. After the collection was completed we talked vaguely about, maybe this is a project that could be released. So I posted a few of them on my Patreon page where I like to post things that I'm working on and some less-completed or rougher edits of things for the people that support us. Pete Morelewicz of Print Jazz is one of my Patreon followers so he had commented. He's worked on a lot of my album art. He commented on my poetry post: "let me know when you want to make a book." He's a graphic designer and has the capacity to make books. That got my head turning that I could actually make this into a book, which may not have occurred to me if the means and the ways weren't right there in front of me. With Andie to help me go through and edit and polish and put the poems together in a way that I thought was very artful, and Pete to help me really turn it into a work of art in a physical way with the photos and textures to give it a mood and a vibe. Between the two of them, I suddenly felt I had the means to make a book.
How did you decide to cover Don Henley's 1984 hit "The Boys of Summer" on your new EP?
We had added that to our live repertoire recently, maybe within a year. I just loved it. It's so fun and the vocal is so big on it. It has all the nostalgia for me. Then I got stuck on these summer songs, and it all just made sense—like things sometimes do—to add "Boys of Summer" to the pile.
Were the other three songs already written?
Most of these songs were incomplete, but in my notebooks from years past. As I was writing the poetry project, a lot of them thematically went with some of the relationship disasters that I chronicled in "Gumballs." Some of them had started to exist in my brain again. They're still back there somewhere, even though they were never quite finished or performed. I did a lot of editing for those two. I added new choruses and bridges and changed a lot of words, but the skeletons were there from years ago.
The poem "Gumballs" seems to describe the entire project.
That is why that became the title poem. That was the goal of this whole thing, to take all these packed-in thoughts and anxieties and put them somewhere. And to stop carrying them around, and to encourage other people to do that, too—to be real with yourself in order to be real with other people. I guess that's part of the purpose of this, to show there's no harm in being transparent with people. There's something very freeing about writing it all down.
"Gumballs" is available for order online at karenjonasmusic.com, or at Agora Downtown Coffee Shop or Riverby Books in downtown Fredericksburg.