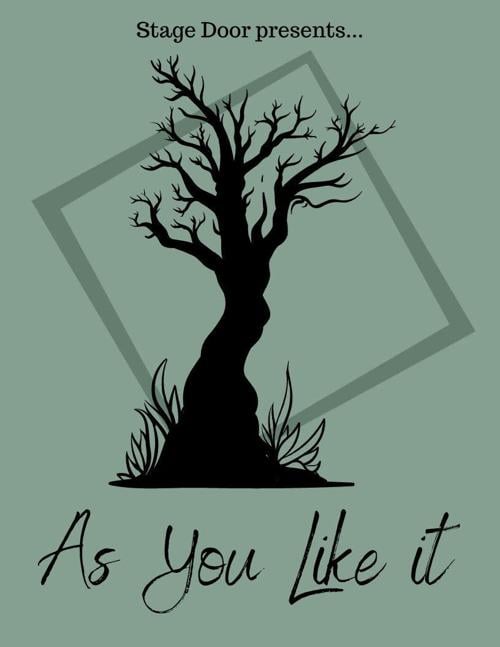 All the world's a stage. That old adage we all know is especially prescient in 2020, when the stage actually comes to audiences in their living rooms, offices or even curled up in bed—wherever they prefer to tune in.
Stage Door Productions is presenting a virtual performance of "As You Like It" on Nov. 19. For $10, anyone can experience one of Shakespeare's most loved comedies from the safety of their own home.
According to Stage Door spokeswoman Alyssa McSween, the group puts on one Shakespeare play per season. The classic pieces are favorites of both the actors and viewers, and she said functions as a particular comfort during the pandemic. "As You Like It" has endured so long because of its approach to love, to gender as the characters conceal identity, to the injustices against the main characters—and ultimately forgiveness.
"As You Like It" follows Rosalind as she and her cousin, Celia, flee court life and take to the Forest of Arden and conceal their identities. In the forest, they encounter a whole host of characters, fall in love and redeem themselves.
Austen Weathersby will play Rosalind in her second production at Stage Door. She starred as Jane in last fall's production of "Jane Eyre." Rosalind's love interest, Orlando, is being played by Jackson Miles. And Britt Suddreth has taken on the role of Celia, while Adam Winegarden is her match, Oliver.
While in the forest, they notably meet the dour Jaques, played by Marie Guthrie, whose observations give the play a special poignance, and who recites the famous "all the world's a stage" line. The story ends happily with four couples married: Orlando and Rosalind, Oliver and Celia, Silvius and Phebe, and Touchstone and Audrey.
The play is narrated by Ashley Anglin, and also includes performances by Wolfie Hammerbacker, Peyton Winegarden, Pedro Echevarria, David Schubert, Matthew Muggeridge, Jaeden Cain, Roy Jarnecke, Jolee Cohen and Rachel Cantwell.
The cast performed over Zoom video calls and the piece was edited by producer Javan Cousino. The video will be uploaded to YouTube on Nov. 19, and McSween said the link will remain live for a few weeks, as long as people are still buying tickets to view. One ticket gets unlimited views of the play while it's available.
Weathersby said preparing for a virtual production for a pandemic is like prepping for any other performance.
"For example, I always work on keeping my speaking voice healthy and making sure my lines sounded clear," she said. "The amount of character work is also quite similar—it's important for me to study the script and map out important moments, where to build tension, and figure out my character's motivations. With Shakespeare specifically, there is also a need to research certain words and look for all the jokes or double entendres that may not be as obvious to a modern audience."
But the technological aspect requires a different set of skills, such as a heightened awareness of facial expressions, how to make eye contact over video and most importantly, how to build chemistry between characters not physically in the same space.
McSween said it's a more modern retelling of Shakespeare than Stage Door usually produces, due to the nature of virtual acting. Costumes and setting are minimal, but are still artfully considered, and allow the performances and poetry to shine.
Stage Door Productions has been performing and offering educational theater programs and training locally since 1999. Each season includes three or four main stage plays, an original One Act Play Festival and two youth performances. Their goal is to preserve the art of live theater by inviting community members of all ages and backgrounds to become part of the theater scene.
That schedule is still going strong, according to McSween, and Stage Door still has productions of holiday-themed one-act plays coming up in 2020 to entertain locals and give them comfort during a difficult season.