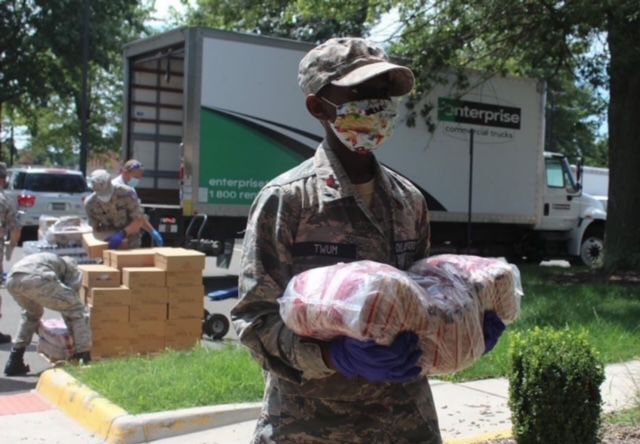 When the country shut down in March, the Fredericksburg Composite Squadron of the Civil Air Patrol quickly adapted to serve the community and the commonwealth. The unit's cadets and senior members have been regularly working alongside other squadrons at a centralized food and supply distribution warehouse to support community feeding and other COVID-19 relief efforts. To date, VA CAP volunteers have handled or delivered more than 750,000 pounds of food and supplies since June.
The determination of the Fredericksburg Composite Squadron to continue missions, regular weekly meetings and hold extra classes for new members was unwavering. Cadet 1st Lt. Annabelle Towles, the unit's cadet commander and a homeschooled sophomore, took over command at an exceedingly difficult time in April. Her focus was to ensure cadets stayed as active as possible, so she came up with foundational topics that would engage everyone. Towles shared, "I wanted to teach topics that are expected to be general knowledge but are not taught often enough: basic information such as uniform care or military customs and courtesies, for example." She also added, "My final reason was to help train our noncommissioned officers … who were enthusiastic and had a lot of leadership potential."
Since the unit moved to virtual meetings, more cadets have had the opportunity to teach. Towles feels that opportunities to grow public speaking and general communication skills are one of the most important aspects of being a cadet. These basic education and leadership classes have allowed everyone from cadet airman to cadet captain to teach and work on those skills. While they do have the opportunity to teach classes to the squadron during normal, in-person classes, in these virtual classes they are able to teach to any of the 1,000 cadets in the Virginia Wing.
When the National Weather Service predicted a higher than normal hurricane season, Towles shifted gears to focus on emergency services. Cadet Chief Master Sgt. Ian Van Dusen, a freshman at The Summit Academy, has been instrumental in both the basic/leadership classes and the emergency services classes. Van Dusen said he enjoys "assisting all cadets in emergency services so they can learn to serve and assist the greater cause."
When asked about virtual meetings, 2nd Lt. April Stephens, the unit's deputy commander for cadets, said "The virtual meetings have been a challenge. It's been tricky to try to engage the cadets." She had high praise for Towles, saying she was a fountain of ideas and great at keeping the cadets involved.
Civil Air Patrol has been responsible for saving the lives of 129 people so far this year. For more information or to join, visit fredericksburgcap.com.
Be the first to know
Get local news delivered to your inbox!