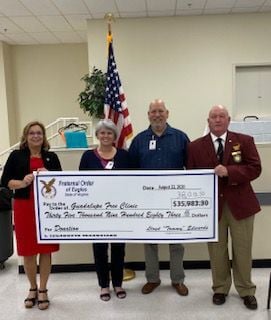 On Aug. 22, the Guadalupe Free Clinic in Colonial Beach received a donation of $38,013.30. Before the evening was over, another $1,140 was collected and given to Executive Director Lance Carrington, and his wife, Rosario Carrington, the administrative coordinator.
Lloyd "Tommy" Edwards, a local member of Colonial Beach Fraternal Order of Eagles No. 4315, served as the 2019–20 state worthy president, and he chose the clinic as the charity to be supported during his presidency. All of the Fraternal Order of Eagles in Virginia raised money for the clinic by holding various events during Edwards' presidency. And even with COVID-19, the clinic was still able to receive a generous donation.
Guadalupe Free Clinic serves the town of Colonial Beach and Westmoreland County. Once again, the Fraternal Order of Eagles does what it does best, People Helping People.
Be the first to know
Get local news delivered to your inbox!