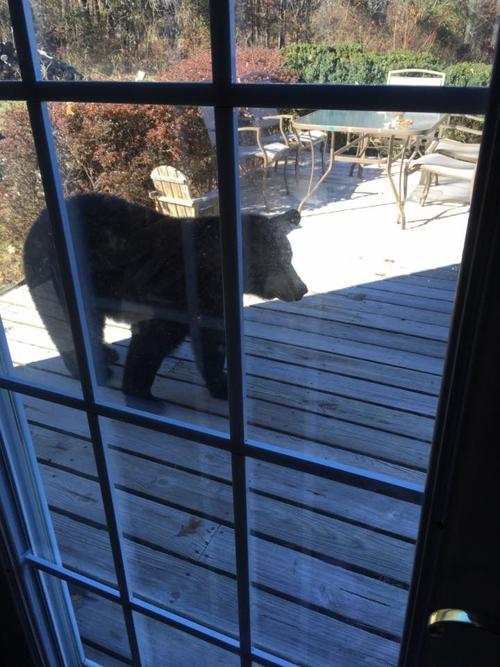 BEARS are omnivores, but generally these animals, especially black bears, limit their meat diet to insects and grubs.
Occasionally, however, black bears will develop a taste for blood, and then they become more than a nuisance.
We've had a bear in our neighborhood for several years. His range is rather limited—maybe a mile or so—and he makes his home in the woods behind a half-dozen houses.
This old boy, who displays little fear of humans, has shown up on decks and has been seen peering into one home through a basement door.
Aside from startling a few people from time to time, the only real problem we have had with this guy is his obsession with tearing down bird feeders.
As bears increase in numbers, they are coming into contact with humans more and more. Half a century ago, these creatures were found mostly in the mountains and swamps. But now, like deer, they are learning to coexist with people, sometimes, as with our bear, in populated neighborhoods.
But that coexistence isn't always harmonious, and sometimes these animals do real damage. Some years ago, for example, a bear began pulling the aluminum siding off a friend's cabin, so he could lick the glue on the underside. That necessitated some expensive repairs.
And bears are famous for destroying beehives because of their love of honey.
But as I said, black bears generally are not dangerous (although I wouldn't advise you to try to pet one or get between a mother and her cubs), but once in a while, there is a bruin who doesn't know the rules.
A lady several miles up the road recently had a more serious problem with a bear, which began killing her goats. The animal would come in at night and kill a nanny goat and her kids, dragging the animals down into a wooded area, where he would eat them.
Finally the woman called the Game Department and wardens came and shot the bear, which was heading for the goat pen to make another kill.
The animal grew so accustomed to the woman's habits that as soon as her truck pulled away from the goat area, the bruin, lying in wait among the trees and brush a few hundred yards away, started out on his nightly hunt. He was shot before he could get to the goats.
Why not trap the bear and relocate it? Generally, once a bear develops a taste for blood and learns to kill, he won't stop. Relocating this bear would only have moved trouble to another neighborhood.
Half a century ago, no one in the Piedmont area of Virginia or in the town and cities of the flatlands and Tidewater area would have believed that bears would be invading their suburban neighborhoods. But they are.
Why? Primarily because hunters are not keeping the bruin population under control. Hunting is not fashionable these days. That's one reason.
But a second reason is that even if sportsmen wanted to hunt, there are so many homes and subdivisions in our area that it isn't safe to fire a rifle in many areas.
Animals like bears and deer soon discover that subdivisions are sanctuaries that not only offer safety, but also food. Deer eat the shrubs and bears rummage through trash cans.
Then there are the coyotes that have proliferated in our area during the past 20 years and pose a constant threat to cats and small dogs.
Yes, even if you reside in a nice little neat subdivision, it is almost like living in a zoo these days. There are times when it is really cool to look out the window and see a bear strolling through the backyard, but when the destruction begins, the novelty wears off quickly.
Seldom do you hear of a black bear killing livestock like grizzlies, but occasionally it happens.
It did in my part of the country.
Be the first to know
Get local news delivered to your inbox!