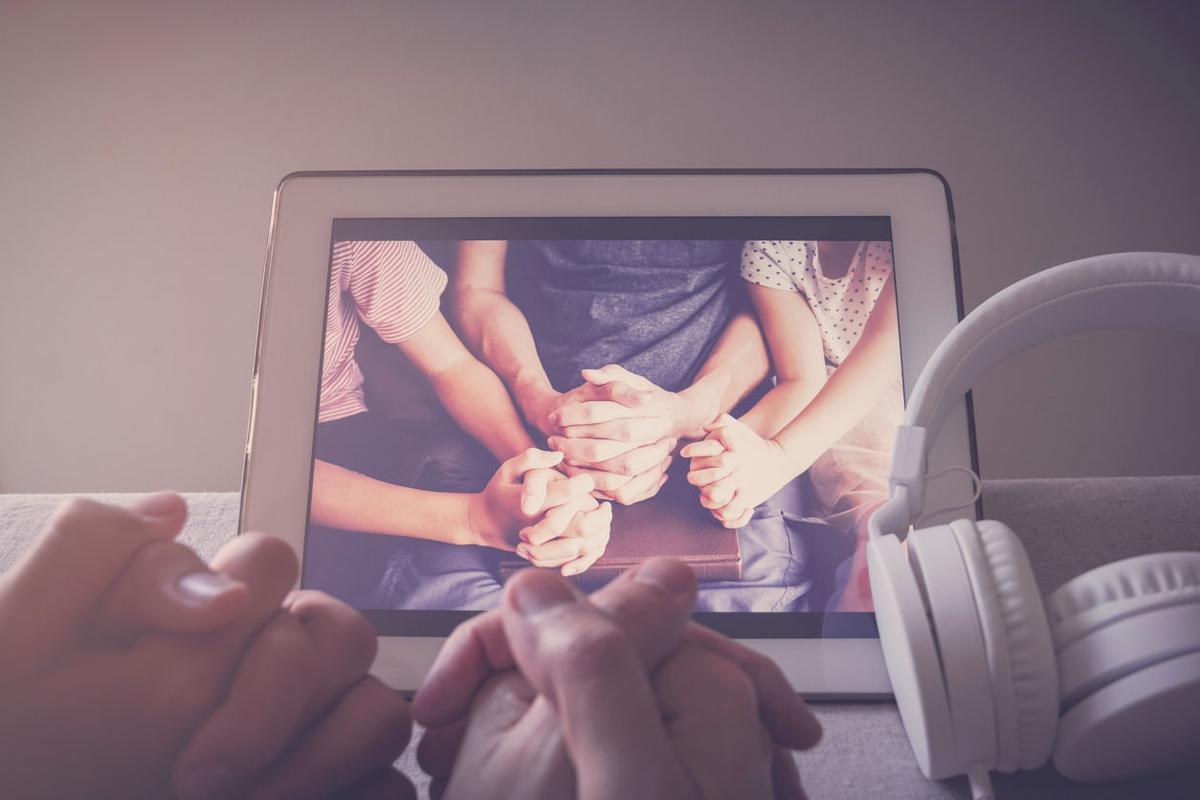 HER pitiful sobs echoed down the hallway. When I rushed to my 6-year-old's bedroom to find out what was wrong, I discovered her curled up in a ball on her bed weeping into a stuffed animal. "Honey, what's wrong?" I asked. My heart broke in two when she looked up at me with her big brown eyes and cried, "Will I ever get to see my friends again?"
"Sweetheart, you just saw your friends from the drama group on Zoom today," I replied. "No, I mean will I ever get to be in the same place as them again?" she entreated. "Of course!" I said. "But mom, will I have to wear a mask? I want to see their faces. Can I touch them? I want to give them a hug. If I can't do those things, it just isn't the same."
I was left speechless as I rocked my precious daughter who had just articulated the deeply ingrained need of each one of us—to know and to be known. While technology has made it easier for us to stay connected while we are apart, like my daughter said, it just isn't the same. The virtual world adds unnaturalness and awkwardness to our interactions with one another.
We were not meant to go through this life alone. Throughout the creation account found in the book of Genesis, God looks upon what He has made and pronounces it to be "good." That is until the creation of man on the sixth day, when He says, "It is not good that man should be alone" (Genesis 2:18, emphasis mine).
I can remember asking my high school teacher why God used plural pronouns such as we, us and our at the beginning of creation when He was by Himself. She explained that God has never been alone. He has always been in a relationship with the other two members, Jesus and the Holy Spirit, of what we call the Trinity.
Moses tells us in Genesis 1:27 that God created man in his own image. This doesn't mean that we literally look like God, but rather we resemble God in that we have a capacity for reason, morality, language and creativity. And like God, we were meant to be in relationships that are governed by love and commitment.
We need each other. We need to laugh, cry, tell stories, play games, eat, walk, talk or just sit in silence with one another. Unfortunately, due to the COVID-19 pandemic, those things that we once took for granted are not as easy as they used to be. The approach of the holiday season has caused me to realize in a new way all that this virus has taken from us.
Now more than ever, it is important that we intentionally cultivate good friendships because they are less likely to grow organically. The quantity of our friendships is not as important as the quality. We need to pursue friends who love us unconditionally, support us during our trials (Proverbs 17:17), rejoice for our successes and weep for our losses (Romans 12:15), and encourage and correct us when we have veered off track (Proverbs 27:5-6).
The key to finding a friend who does all of the above is to be a friend who does those things. Proverbs 18:24 reads, "A man that hath friends must shew himself friendly." I stumbled across a poem that shares the same sentiment in more modern language, "I went out to find a friend, but could not find one there, I went out to be a friend, and friends were everywhere!"
I challenge you to pick one person that you would like to invest in building a friendship with this week. Reach out and ask them how you can pray for them. Set up a time to chat with them on the phone or over FaceTime. If you are able, meet them at a coffee shop for some (socially distanced) coffee.
Like my young daughter, we have all been impacted by the isolation and distancing that have been required of us during these last few months. It is my prayer that this will all come to an end sooner rather than later. In the meantime, let us strive to be there for one another, "for two are better than one, because they have a good return for their labor. For if one falls down, his companion can lift him up; but pity the one who falls without another to help him up!" (Ecclesiastes 4:9-10).
Heather Ablondi is a women's ministry speaker and author who lives in Fredericksburg. You can contact her through her website, heatherablondi.com.