A hidden bedroom with a bookcase door. An indoor basketball court. A pond view. Multiple gourmet kitchens and laundry rooms on all three levels?
The estate at 355 Daingerfield Road in Tappahannock is now for sale. The four-bedroom, 2.5-bath home on 1.27 acres is listed at $924,900 with …
The four-bedroom, 3.5-bath estate with 6,699 square feet of living space has just hit the market. It's priced to sell at $685,000 with Denise …
There are homes with an upgrade or two that claim to "have it all."
Who is ready for the biggest wedding season ever once COVID-19 finally makes its grand exit?
The 15.75-acre green refuge currently known as Oak Crest Vineyard and Winery, located at 8215 Oak Crest Drive, is officially for sale. The pro…
Amid quarantined weeks and months of lockdown, many folks are starting to dream of what their next chapter may look like.
Could jellyfish replace the fish in your fish and chips?
This Italian staple will yield enough food to feed a crowd and can largely be prepped ahead of time. 
This fresh summer salad is topped with seared sweet scallops. It's perfect for a hot summer night. 
Learn how to cook fish — from selecting fresh, sustainable seafood to storing, preparing and marinating it at home.
These smoky beef and mushroom kebabs are absolutely smothered in a savory, satisfying spice blend of sweet and smoked paprika, cayenne and garlic. 
Wild salmon and local ingredients star in dishes from Mary and Lucas Goddard, the duo behind the Forest Fresh Alaska blog.
Instead of paying thousands up front or over the course of a multiyear contract to have dozens of devices installed by professionals, you can …
Window boxes show off the range of possibilities a few feet of soil can offer, so use these tips to create a floral creation of your own.
The world we live in today is more conscious than ever about germs, yet we aren't washing our dish towels often enough! Buzz60's Maria Mercede…
Take a step inside 1105 Princess Anne St. in downtown Fredericksburg and you can experience all the glory that a million-dollar restoration brings.
This four- to six-bedroom, four and a half-bath federal-style residence is seeking a new owner. It's listed for $1,950,000 with Janny Sims of …
I live in central New Hampshire, aka The Granite State. They don't call it that for nothing. My own house sits directly on top of one of the e…
Comment: In a recent column, you wrote that the power of attorney for financial matters and health care carry through death. But, in fact, pow…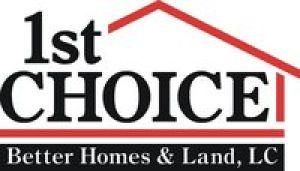 1st Choice Better Homes & Land LC