If you stand on the corner of Princess Anne and Hanover streets and look down toward Caroline, you will see a faint outline of a painted sign on the back of a building that reads "Hotel Maury." These types of signs are known as "ghost signs"—relics of the advertising of days gone by—and they have inspired local artist Pete Morelewicz to create a new font he's calling the FXBG font.
Yes, Fredericksburg just got its own baseball team, and now it has its own font.
"I realize fonts are kind of an esoteric subject," he said. "But they're a perfect combination of design, geometry, history and technology. And I'm only a dabbler. There are people much further into this who know far more than I do."
The Fredericksburg font features large, rounded letters with faded lines running through them that mimic the fading that occurs on old brick buildings as the paint flakes off the mortar. A second style he offers omits the fading. The artist has made it available as a free download on his website, for either personal or commercial use.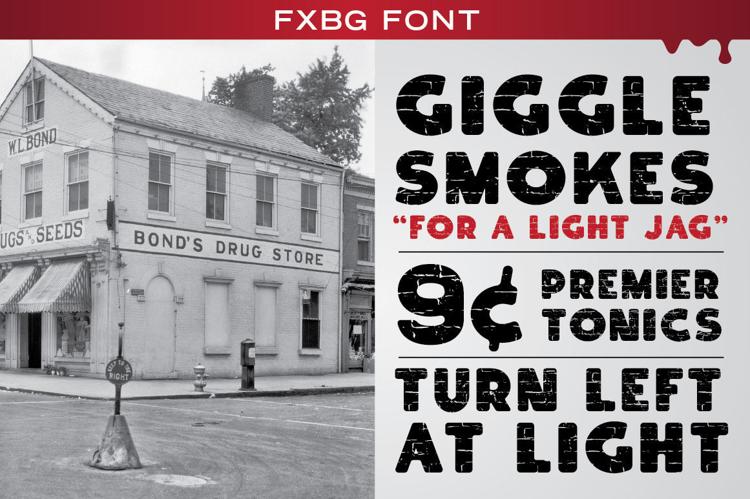 Morelewicz, who works both from home and at Liberty Town studios ("People always think I'm the accountant when they see a guy working on a computer"), had wanted to design a font for some time as a way to learn something new. Studying photos of historic Fredericksburg from the Library of Congress and the Central Rappahannock Heritage Center, he began sketching letters by hand.
"There was a Wrigley's sign on the side of the John Paul Jones house that had a distinctive K that I basically stole," he said. From there he took pictures, uploaded them to his computer, and continued refining the letters. "Refining is really about the negative space between letters. When we see letters, we're really seeing the space between."
Clearly, there is more to the subject of fonts than meets—or doesn't meet—the eye. And if the deep thoughts about seeing and not seeing don't impress you yet, consider the artists of the past.
"Today, we have computers to use as a reference tool for lettering styles, but back then, artists needed to keep their entire arsenal in their heads," said Morelewicz, noting that these sign painters would have probably also painted name plates, placards, certificates and anything else people needed. "And some were itinerant. All those "Chew Mail Pouch Tobacco" signs you see on barns in rural areas—many towns didn't have full-time painters, so the company hired people to go around painting them."
His own interest in lettering is probably rooted in the past, as well, but in a different way.
"My mom was a calligrapher and commercial sign maker, and I used to sit at the kitchen table, watching her work," he said. But before his image of domestic bliss grew romantically blurry around the edges, he added, "I used to bump the table on purpose and mess up her work. But from that, I learned that everything can fixed, can become a flourish, a swash, whatever."
The past is not to be glorified at the expense of the present, but Morelewicz believes today is a Renaissance period for fonts and lettering.
"The '80s were a very staid time for typeface, but the expressiveness of today is fantastic. It's exuberant. The old rules—like not using more than two typefaces at a time—are out. We're mixing serif and sans serif. Our understanding of type has really increased."
Morelewicz also has a line of note cards portraying various buildings in Fredericksburg as though they had been featured on postage stamps. These are sold at the visitor's center and in downtown stores. He's also often commissioned by businesses to do design work for them, and is currently designing a book, which pays the bills better.
"I used to work for corporate America, and I'm still trying to find that nexus between what I want to do and what people will pay for," he said.
In the meantime, he's found a unique way to give a little back to a community that he says is very welcoming to artists.
"You don't have to schmooze here. People really appreciate art," he said. "If a new restaurant opens, they want local art on the walls."
Wendy Migdal is a freelance writer in Fredericksburg.