This past weekend was the last of a special milestone in our family of four daughters. Each has now been to the American Girl Store for a fanc…
Two weeks ago, I was in bed feeling pretty sorry for myself as I battled a COVID-19 infection. I felt horrible, was sad that my family had to …
Government. It is a concept that I have been thinking about a lot lately. What is its role and purpose? What does healthy versus unhealthy gov…
It was the eyes that did it. I had no intention of getting another dog anytime soon. We wanted to wait at least a year after the passing of ou…
On Jan. 15, 1919, a storage tank filled with 2.3 million gallons of molasses burst open. Sin can be a lot like that molasses tank and subseque…
I fear that our Americanized version of Christianity has led us to an incorrect understanding of religious persecution.
The Glasgow farm is no longer just a wedding venue. It is now the Glasgow Farm Church.
Break out the bar cart and bring in the spirits. Halloween has us celebrating with all things spirits, from industry trends and killer cocktai…
The pandemic shifted and amplified trends in how, what and where people drink, from portable options to low-ABV concoctions.
Start off a wicked fun party with three signature Feast and Field cocktails.
As you explore options to stock your home bar or ponder your next cocktail, here's a short glossary of terms to turn pro. 
From Minnesota gin to Virginia whiskey, it's an excellent time to celebrate the best of craft distilling in the U.S.
Embrace the essence of fall flavors with these four cocktails, each featuring its own unique spin on a classic.
An insulating window film provides protection from the sun' s damaging effect on furnishings, especially in a south-facing room. Unless you' v…
Using ratings from the Environmental Working Group (EWG), scientific studies, and other authoritative sources, here's a closer look at 10 toxi…
Take a peek at fixer-uppers with potential to beautiful old homes around Fredericksburg
It's a time to explore all the things we love about autumn. Here are a few ways to incorporate some top seasonal decorative accents in your home.
It can be easy to forget to keep your gutters clean, but gutter cleaning is a vital step in home maintenance.
Check out modern homes in new communities around Fredericksburg
The pandemic has made some people spend more time cleaning. Buzz60's Keri Lumm shares the results of a new study conducted by OnePoll on behal…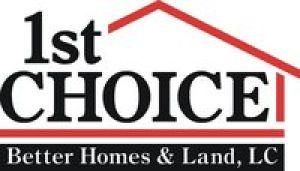 1st Choice Better Homes & Land LC