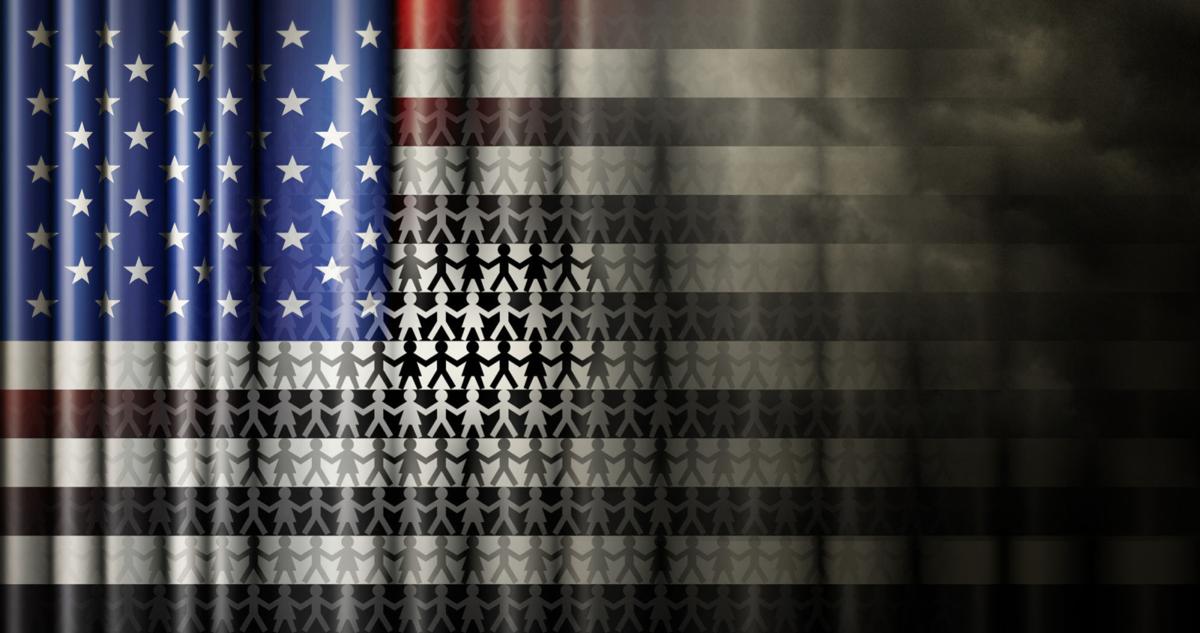 I would be lying if I didn't admit that I struggled with "The New Jim Crow."
For 80 percent of the Michelle Alexander thesis on black American oppression and its evolution from slavery to civil rights to mass incarceration, I marinated on her examples. I couldn't get over that the same stories she used to expose the disproportionate impacts on black America were things that I had equally seen to unfairly impact a countless number of white neighbors, often homeless, mentally ill or living through some level of economic disadvantage.
I even stood in the courtyard of Philadelphia's historic Eastern State Penitentiary, often attributed as the first of the world's modern-day prison system. Four times taller than I can stand, a life-size bar graph made crystal clear that the United States imprisons more people than any other country in the world and a disproportionate number of its prisoners are people of color.
I still didn't get it, because there were more people on that graph who were white than were black.
What got it for me was sitting in a room of black inner-city young adults and listening to them tell their story. Not one of them had a childhood story that lacked encounter with the police. Most had a story of visiting one or more family members in prison. And the narrative of systemic challenges they faced in work, school or simply driving a car or owning an item "unbefitting to them" had left them mistrustful, guarded and, in some cases, purely traumatized.
On the other hand, the white folks listening into that discussion had never wondered if calling the police would result in anything other than help. I never set foot in a jail until I took a job working with the street homeless. And the systemic challenges that dominated our black friends' lives were simply not our reality.
It is true, I believe, that injustice itself does not segregate. But coming to grips with how much the racial inequities in this country are still leading that narrative is what I find profoundly frightening about this season in American history.
As Walter Wink alludes in "The Powers that Be," we live in a myth by which "the powers" put the people to sleep such that even the oppressed cannot see the very ways in which they are being held back.
It is this myth that allows even a white woman like me who loves the poor to take far too long to view mass incarceration as a byproduct of racial injustice and not just a symptom of broader poverty issues. It is this myth that blinds us to statistics that stop short of a disproportionate impact of societal ills on black America.
We could say, for instance, that 42 percent of homeless in our community are black so race must not play a role in the housing crisis. It's easy to stay asleep when "just as many if not more" white people fall victim to the same failures of the system. But when we consider that only 20 percent of our region's residents are black, we must begin to ask the hard questions.
Why do a greater number of black Americans experience poverty, incarceration, homelessness and otherwise? Because the powers have convinced us, over and over again, that an entire group of people brought to the United States against their will has been set free. Yet, that freedom came in the shadows of new ways to oppress people.
There is a deep humility in coming to grips with this reality.
For myself, I have to acknowledge my sin—all those moments where someone did something or said something completely socially acceptable in my presence, but in no shape or form embodying the reconciled kingdom I believe in. My sin can lead me to a place of despair; or it can lead me to a place of hope and promise in how I can do better in choosing to no longer be captive to the powers that once kept me silent.
In Romans, the sixth chapter, Paul writes that the baptism, death and resurrection of Jesus Christ is somewhat of a roadmap for how we live our lives in a way that draws us closer to the kingdom God desires for us. "We have been buried with [Christ] by baptism into his death, so that just as Christ was raised from the dead by the glory of the Father, so we too might walk in the newness of life."
It is our duty as a baptized people to confront the sins of ourselves and the world. We do so by seeking all things right and good.
Just because Christ has died and our sins have been forgiven does not absolve us of following Christ into the process of lowering ourselves to places of vulnerability and humility. As we seek to understand and make right the ways in which we may not have realized we were contributing to the powers' existence, we too will find resurrection.
Meghann Cotter is executive director of Micah Ecumenical Ministries, a faith-based nonprofit that offers holistic care to the Fredericksburg's street homeless.