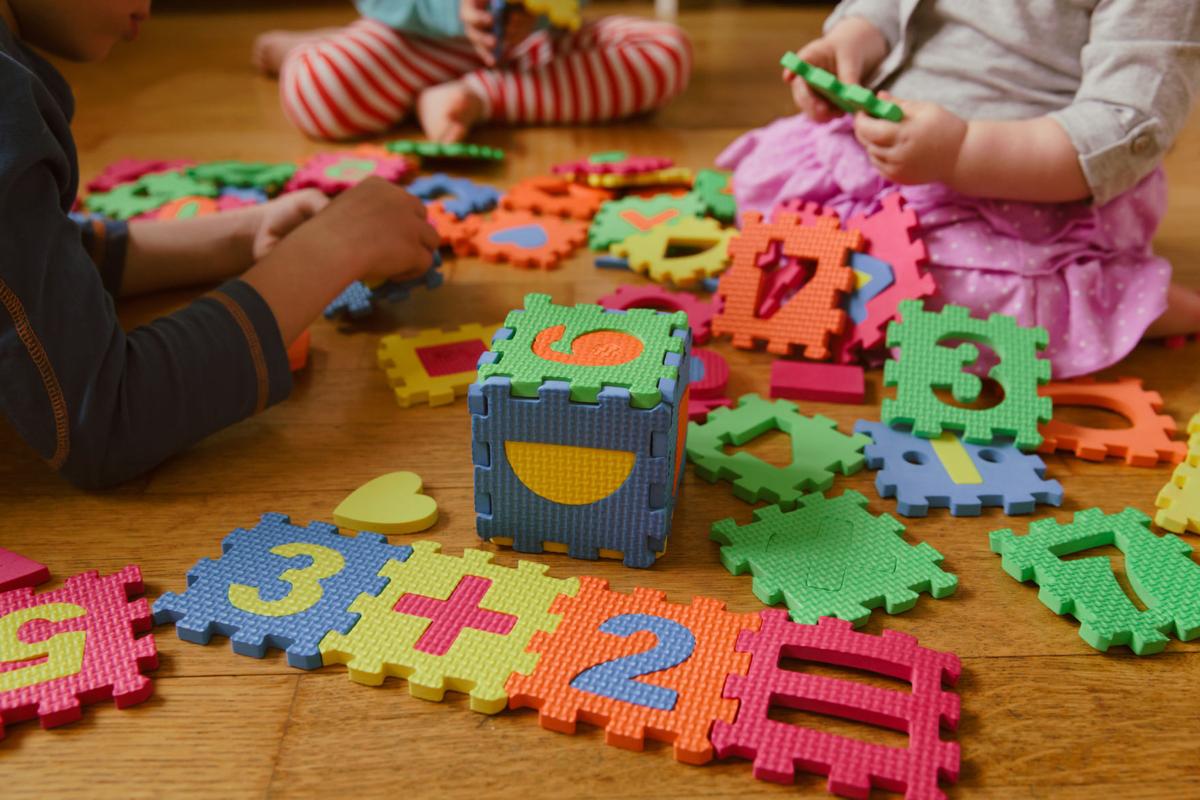 One year ago, Serena Burla closed her licensed Stafford County in-home day care. The pandemic was in its early days and local schools had shut down.
"I followed what Stafford County was doing," said Burla. "We went on spring break and I was looking forward to a little break, but my kids never came back."
Over the spring and summer of 2020, Burla received unemployment insurance, like hundreds of thousands of other Virginians.
"We survived," she said of getting by without the income from her business.
But Burla hated seeing the families of the children she'd cared for struggle without the child care they'd relied on, and she felt called to return to work in the fall, despite the risks.
"We had a discussion [with the parents] of 'I know how difficult this has been,' " she said. "I told them, 'It's in your boat whether you want your kids to come back or not.' And everyone came back."
Burla reopened in August. She said she is grateful to have been able to help her families by caring for their children, and to have been able to give the kids—who range in age from 14 months to 4 years—a support system of peers. But she has found it stressful to operate during a pandemic.
"The biggest thing is ... you live a little bit on eggshells," Burla said. "Every decision I make is—Is this protecting the children and families in my care? You're just always worrying. As careful as you can be, there is always that 'what if?' "
Navigating the pandemic has been challenging for all child care facilities in the area and many have had to close either temporarily or permanently.
According to statistics from the Virginia Department of Social Services, about 21 percent of child care providers in Planning District 16—which includes Fredericksburg and Stafford, Spotsylvania, Caroline and King George counties—had reported COVID-19-related closures as of March 16.
Forty-two out of 204 licensed providers in the state's database reported closing.
"We've had closures due to COVID, especially in small, independent businesses," said Carol Clark, executive director of Smart Beginnings Rappahannock Area, a coalition of local agencies and businesses working to strengthen early childhood education. "Trying to stay afloat in a pandemic where there are class-size restrictions and critical staffing shortages has been extremely challenging."
Clark said there are some pandemic-related challenges that child care providers are well qualified to meet.
Facilities that provided before- and after-school care for elementary-age students before the pandemic have, in some cases, been able to expand their programming to full-day care for students attending school virtually or on a hybrid schedule.
"[Providers] have been doing an extraordinary job with virtual and hybrid learning—getting numerous ... children online daily at the different school divisions and making sure their devices are charged and they have the right passwords," Clark said.
She said child care providers are also well positioned to meet enhanced cleaning and sanitizing requirements.
"Health, safety and sanitization—this is something child care is equipped to do," she said. "Pre-pandemic, it was part of regulation and good practice, and that's why [child care providers] have been largely successful in keeping the numbers of cases down in their programs."
PANDEMIC'S IMPACT
According to the Virginia Department of Health, there have been three COVID-19 outbreaks—defined as two or more lab-confirmed positive tests associated with a facility—in child care settings in the local health district, which covers Planning District 16.
The three outbreaks had a total of 14 associated cases.
Statewide, there have been 1,028 cases of COVID-19 related to outbreaks in child care settings, the fewest number of cases related to outbreaks in any other facility type, including K–12 education.
But even as Clark said providers are "just tirelessly working to ensure that as the workforce returns, there is a place available for their children," the pandemic has made clear how inadequate the country's child care system is, a September report by the U.S. Congressional Joint Economic Committee found.
According to the report, titled "We Need to Save Child Care Before It's Too Late," half of all families with young children live in "child care deserts," where demand for care far outpaces local supply. The report also found that families spend on average 23 percent of their income on child care, a cost that often exceeds rent.
The report also noted that the cost of child care has increased twice as fast as inflation since 2000 and that parents—usually women—who choose not to work because of the cost of child care lose a combined $35 billion in income.
The findings applied before the pandemic and grew worse last year. Nationwide, more than 370,000 child care workers—often women of color—lost their jobs in the first months of the coronavirus recession and 80 percent of providers said they won't survive without government assistance, the JEC report found.
"The child care system needs an estimated $9.6 billion a month in public aid in order to avoid the economic destabilization that could result from permanent closures of child care providers," the report states.
Enrollment is down by 67 percent on average since the pandemic and operating costs—for personal protective equipment, cleaning supplies and facility upgrades—have risen, meaning providers may be forced to raise prices even more.
Meanwhile, 13 percent of parents—again, mostly women—had to cut their working hours because of a lack of child care during the pandemic."The cyclicality of the child care crisis is already forcing women to drop out of the workforce, and at a time when women had just passed the milestone of comprising more than half of the U.S. workforce right before the pandemic began," the JEC report states.
GOALS FOR IMPROVEMENT
Recognizing that the child care industry would need help recovering from the COVID-19 recession—and that the recovery of the rest of the economy is dependent on its recovery—the Virginia Early Childhood Foundation in April 2020 established the Back to Work Virginia child care taskforce.
The goal of the taskforce, which met monthly from May to November and was made up of representatives from business, government and philanthropy, was to develop an "assertive" strategic plan for stabilizing and strengthening the child care industry.
In December, the taskforce announced a "bold goal" that all Virginia families should have access to quality child care regardless of income by 2030.
It also announced the formation of the Virginia Promise Partnership, a coalition of leading organizations committed to working together to accomplish the goal by developing a plan and advocating for it.
"In order to achieve the bold goal, we need to create structures and processes that will sustain focused commitment," said Karin Bowles, vice president of strategy for the Virginia Early Childhood Foundation. "The Partnership will be developing a clearly structured road map for building this child care system."
Bowles said it will take a "portfolio" of financing and policy strategies to achieve the goal.
"No single revenue source is going to do the trick," she said.
Bowles said several bills that came out of the 2021 Virginia General Assembly session are designed to help stabilize the child care industry and begin "laying the groundwork" for achieving the 2030 promise.
One bill, which had bipartisan support, establishes a pilot program that would provide funds to participating child care programs that meet higher standards of quality and requires the state Department of Education to identify financing strategies that can be used to support the cost of high-quality child care.
Another expands eligibility in the child care subsidy program to more families, including those in the job search process.
"I believe child care and early childhood education are bipartisan issues," Bowles said. "Because of the pandemic, everyone is aware of how critical child care is to a functioning society. The goal is to have everyone be supportive and understand that access to quality and affordable education for all of Virginia families is something that benefits everyone."
Crucial to making child care available to all families is ensuring that there are enough people to provide that care.
The JEC report found that child care workers earned a median hourly wage of $11.65 in 2019.
"It is primarily a female workforce and again, many of the women are women of color," Clark said.
Bowles said that fair compensation for the early childhood workforce must be part of Virginia's 2030 plan.
"They are the real heroes of the pandemic," she said. "They have been on the front lines since Day 1. [We have to ensure] that they have access to training and education and professional development to boost their competencies and that they're fairly compensated and recognized for the role they play."
Clark said the VDH's inclusion of child care providers in one of the first groups to be eligible for the COVID-19 vaccine shows an understanding of how essential they are.
"We are fortunate that the state of Virginia recognizes the importance of child care and that it is the backbone of our economy and our workforce," she said. "Child care workers are in the same 1b tier as school teachers. Yet in some states, that is not the case."
Clark said Smart Beginnings Rappahannock Area staff have been contacting local child care providers directly to help them get their staff members registered to receive the vaccine.
"We're raising awareness ... because we know there is still reluctance and hesitancy," Clark said.
One year after the pandemic forced her to shut down, Burla was "so happy" to be receiving her COVID-19 vaccine.
"I've never been a person who has lived in fear. I'm a two-time cancer survivor—things don't throw me that much," she said. "But COVID has been really hard because so much is out of control and you can't focus on next step because don't know what that is or when that is.
"Hearing that I could get the vaccine, I thought, OK, that's my next step. The next step is doing my part," she continued. "It just gave me hope. That is something I can control and I can be part of a solution."
Adele Uphaus–Conner: 540/735-1973
@flsadele