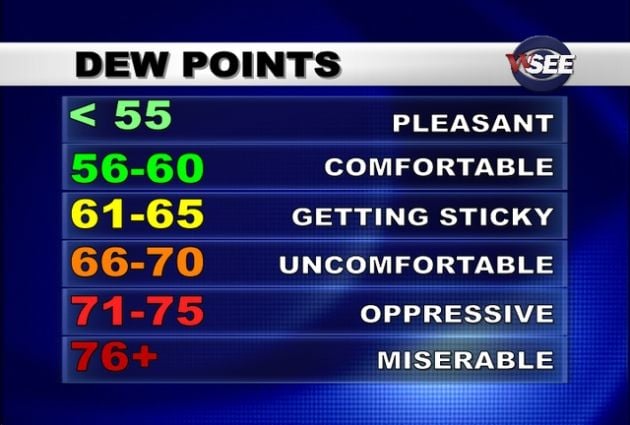 Wednesday's weather for Fredericksburg in a word: springlike!
As promised a cold front swept across the region yesterday, bringing dryer and eventually cooler temperatures. The humidity was scoured out early yesterday so even though thermometers topped out at or near 90 around the 'Burg the afternoon wasn't really sticky. It was just hot!
But with summertime mugginess approaching it's time to reintroduce the dew point, the true measure of humidity. The more commonly used relative humidity parameter is a percentage that roughly parallels the difference between the air temperature and the dew point. The closer the latter two values get the higher the relative humidity becomes, reaching 100% when temperature equals the dew point.
However the relative humidity is 100% when both the air temperature and dew point are 40 degrees. Most folks would call that chilly, not sticky! Conversely in summertime a day will feel very muggy when the air temperature is 90 degrees and the dew point is 70, providing a relative humidity of (only!) 52%.
So the best way to measure summertime muggies is to focus on the dew point. The chart in the graphic provides a look at how the dew point affects the "feel" of the day. For comparison the dew point at the Stafford Regional Airport as I write this is 38 degrees...pretty dry stuff!
Thus both today and Thursday will be dry, sunny, and very springlike with air temperatures maxing out in the low 70s. Northwesterly winds will continue to kick up today with gusts over 20 mph. Overnight those winds will calm a bit and Thursday's breezes will be gentler.
At the moment the upcoming weekend looks more summery with both temperatures and – yes – dew points climbing back up the scale. More on that in the next blogpost.
Be the first to know
Get local news delivered to your inbox!