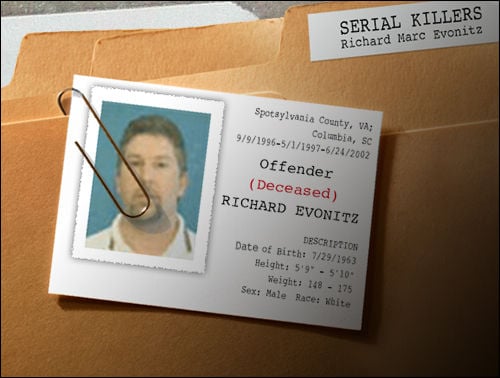 The FBI this week used the tragic disappearance of Spotsylvania County teenager Sofia Silva to launch an online series on serial killers.
Sofia, 16, disappeared from in front of her home 17 years ago, the FBI noted in its piece, launched one day after the anniversary.
In Serial Killers, Part 1: The FBI's Role Takes Shape, the FBI mentioned her case because it introduced the series with her killer, Richard Marc Evonitz. Evonitz, who lived in Spotsylvania at the time of Sofia's 1996 death, committed suicide in June 2002 as police were about to arrest him in Florida.
He was linked by forensic evidence examined at the FBI's lab in Quantico to Sofia's death and that of two other Spotsylvania County girls who were abducted in May 1997.
The article states that Evonitz "is suspected of more homicides and other attacks."
The statement is interesting in light of a Special Report by The Free Lance-Star in 2007 that showed officials with the FBI and Virginia law enforcement stood in the way of using forensic science to evaluate whether Evonitz was responsible for a series of unsolved slayings in central Virginia in 1996.
Their failure to conduct the forensic exams was in direct contradiction to  statements in August and September 2002 after Evonitz was linked to the Spotsylvania slayings. Authorities with the FBI and Virginia State Police said then that evidence from Evonitz would be evaluated to see if he had committed other unsolved crimes, including those in Virginia.
That made sense in light of a statement Evonitz made to one of his sisters while fleeing police that he had committed "more crimes than he could remember."
Law enforcement became aware of Evonitz in June 2002 after a South Carolina teen he had abducted and sexually assaulted escaped from his apartment.
The following unsolved slayings occurred in central Virginia while Evonitz lived in the region and was known to troll the area for victims.
Alicia Showalter Reynolds, 25, abducted from Culpeper County on March 2, 1996. Found dead in the Culpeper community of Lignum on May 7, 1996.
Julie Williams, 24, and Lollie Winans, 26, killed at their campsite at Shenandoah National Park in May 1996.
Thelma Scroggins, 74, killed in her home in the Culpeper County community of Lignum on July 13, 1996.
Anne Carolyn McDaniel, 20, left a group home in the town of Orange on Sept. 18, 1996 and was found dead in Culpeper County, not far from Lignum on Sept. 22, 1996.