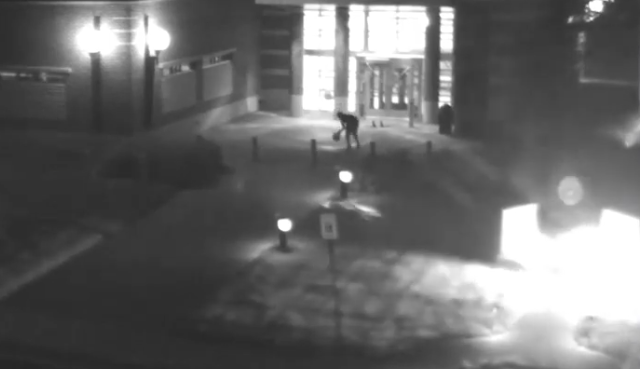 An anonymous Fredericksburg resident has made information regarding a May 31 arson at the Fredericksburg Police Headquarters worth considerably more than it was.
City police were already offering a $1,000 reward for information regarding the identity of a man who set two small fires outside the building at 2200 Cowan Boulevard early May 31. City police spokeswoman Sarah Kirkpatrick said Friday that the city resident, a former member of City Council, has added another $5,000 to the pot.
"We are truly grateful for the support to our agency," Kirkpatrick said. "This individual's generous donation is in honor of our fallen officers and our current men and women in blue."
In videos released by police, a man can be seen walking up to the Fallen Officer Memorial between the parking lot and the front door at 12:35 a.m. and pouring some sort of accelerant. He then started a fire.
The man then moved quickly to the front door and did the same thing. The two fires were quickly extinguished by the city fire department and the damage was minimal. No one was injured.
The fires appeared to have been part of a nationwide reaction to the George Floyd slaying in Minneapolis several days earlier. One of the first major protests in the city took place that night near the police station; tear gas was used on the protesters, something they insist was unnecessary.
Anyone with information should call city police a 540/373-3122. To make an anonymous tip, send a text to "847-411" and text "FPDtip" followed by the tip.