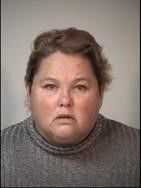 A former Stafford School Board member was ordered Tuesday to serve a year in prison for stealing money from a county elementary school's Parent Teacher Organization.
Emily Morgan Fallon, 41, was sentenced in Stafford Circuit Court to a total of 30 years, with all but a year suspended. Judge Michael Levy's sentence exceeded the recommended state sentencing guidelines, which called for a maximum sentence of six months to serve.
Before learning that she was going to jail, Fallon handed over an official check for $13,263. Combined with the $10,200 she had already repaid, that represented full payment of the $23,463 that investigators determined she had pilfered as head of the Anne E. Moncure Elementary School PTO.
Fallon resigned from the School Board on April 29, three days before she was indicted by a county grand jury and just four months after taking over as the Griffis-Widewater representative on the board. She was convicted in July of three counts of embezzlement and three counts of obtaining money by false pretenses.
According to court records, the money was taken from PTO accounts between 2013 and 2015 when Fallon headed the organization. Records indicate that purchases were made at such places as Target, Wal-Mart and hotels.com.
The Stafford Sheriff's Office began an investigation after others associated with the PTO noticed discrepancies in the organization's accounts. The investigation revealed that Fallon was diverting PTO funds to her own American Express account.
Fallon initially blamed health issues for her resignation from her elected School Board post. She later denied stealing any money and blamed the situation on poor bookkeeping and honest mistakes.
On Tuesday, Fallon said depression and her bipolar disorder were reasons for her actions. She said she was sorry for what happened and asked Levy for mercy, saying she wouldn't be able to continue getting the medical help she needs if she were put behind bars.
Prosecutor Ryan Fitzgerald argued that Fallon deserved a lengthy prison stay, saying that she was, in effect, stealing from children.
"These parents were donating money thinking that they were bettering their children's educational experience," Fitzgerald said. "Emily Fallon took advantage of that for her own benefit."
Defense attorney Thaddeus Furlong asked for no prison time, saying Fallon was under mental stress and pointing out that she had no prior criminal record.
Be the first to know
Get local news delivered to your inbox!