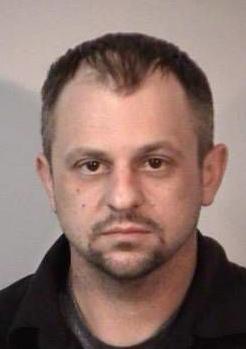 A man who knocked out a police dog with a shovel while trying to avoid arrest for multiple break-ins last year in Stafford County was ordered Thursday to serve three and a half years in prison.
Kevin Wayne Garner, 38, of Stafford pleaded guilty to multiple charges in Stafford Circuit Court, including malicious wounding of a law-enforcement canine and animal cruelty. He was sentenced to a total of 17 years, with all but three and a half years suspended.
As part of a plea agreement, prosecutor Jennifer Lindsey dropped several other charges.
According to the evidence, Garner's grandmother called the the Sheriff's Office on July 4, 2020, to report that Garner had come into her home on Ferry Road in southern Stafford and assaulted her boyfriend.
He was gone by the time deputies arrived, but police got another 911 call the next day from a resident on McCarty Road who reported that she'd come home after being away for the holiday to find a stranger in her home wearing her T–shirt.
The intruder had already eaten some of the woman's food and had thrown dirty clothes into her trash can. He ran out of the back door, but deputies quickly determined that the intruder was Garner, who was already wanted in connection with the incident at his grandmother's home.
A short time later, the grandmother called 911 to report that Garner had again broken into her home. She expressed fear that he was going to kill her, Lindsey said.
Deputies J.H. Truslow and D.A. Earp arrived and found Garner near the Ferry Road home. They ordered him at gunpoint to surrender and threatened to release the dog, but Garner refused to comply.
Truslow finally turned the dog named Rip loose. Garner picked up a shovel with a nail in it and smashed the dog's head, knocking the animal out for several minutes and leaving a large gash in his head.
Most of the active time Garner got Thursday stemmed from the attack on Rip, who has since returned to duty. Lindsey said she wanted to send a message that abuse of the county's police dogs will not be tolerated.
After striking Rip, according to the evidence, Garner fought with the deputies, but was finally taken into custody.
Garner's case was delayed in part because of concerns about his mental health. He claimed such things as hearing voices.
But in a taped phone call from jail, Garner was heard bragging about fooling the doctor and was later declared competent to stand trial.