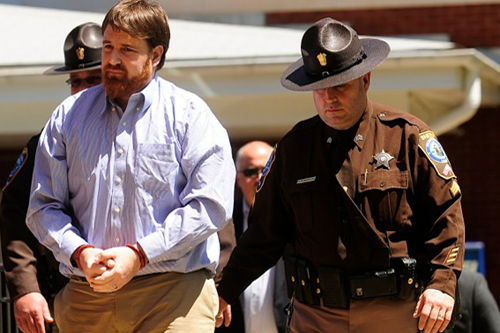 BY DONNIE JOHNSTON / THE FREE LANCE-STAR
A judge today sentenced a former Culpeper police officer to three years in prison for killing an unarmed woman. 
Daniel Harmon–Wright was given 12 months each for voluntary manslaughter and two lesser felonies in the Feb. 9, 2012, shooting death of Patricia Cook. Judge Susan Whitlock imposed the sentence after rejecting a defense motion to throw out the conviction on the grounds that three similar counts constituted double jeopardy.
Harmon-Wright was also given three years of supervised probation after his release from prison and a total of 10 years probation. Before being sentenced, Harmon-Wright apologized to Cook's family, but said his actions were justified. The prosecutor said the statement showed he wasn't truly remorseful.
Harmon-Wright fatally shot Cook after confronting her in a parking lot of a private school in downtown Culpeper. At his trial earlier this year, the former officer said he fired his gun after Cook rolled up her Jeep's window on his arm and tried to drive away. But witnesses said the officer's arm wasn't caught in the window and that he chased the vehicle into the street to fire the fatal shots.