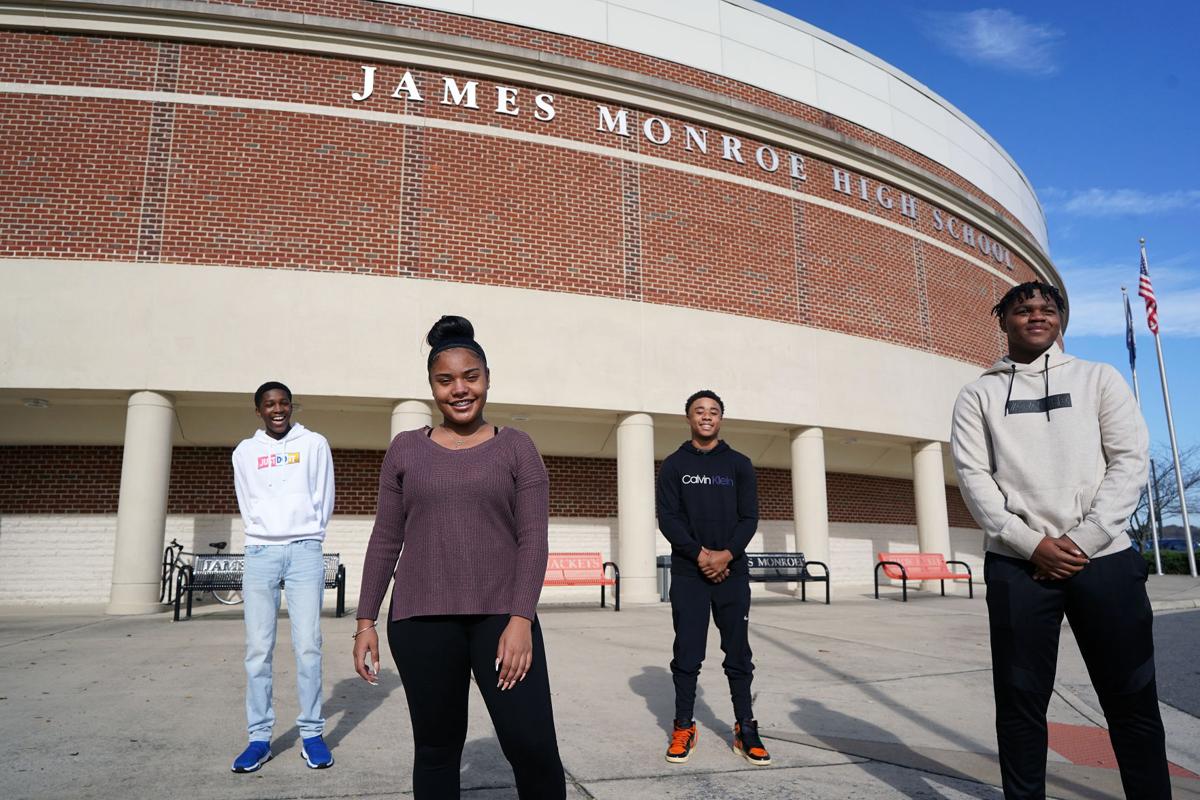 Students at James Monroe High School in Fredericksburg are partnering with Harvard University to document their experiences of living through the COVID-19 pandemic and its disproportionate effect on people of color.
Black Americans are twice as likely to die of COVID-19 than whites, according to the COVID Tracking Project. With this statistic in mind, faculty of Harvard's Graduate School of Education and the Harvard Library created Black America and COVID-19 to collect stories of the pandemic's affect on Black communities.
James Monroe cosmetology teacher Delia Clayton–Fulcher learned of the effort through an acquaintance with Corine Rosenberg, who works with Harvard's Graduate School of Education.
"We started talking during the pandemic," Clayton–Fulcher said. "I was looking for something to give our kids during this virtual learning that would help them emotionally and physically."
James Monroe is the only high school the Harvard team is working with, Rosenberg said.
"The hope is to build a structure for other students to do these types of projects," she said. "James Monroe is the model school for how this can look and be impactful throughout the country."
Students were recruited to the project through an email blast and through personal recommendations from English teachers and basketball coaches, Clayton–Fulcher said.
"These are mostly the kids whose voices no one ever hears expressing themselves through writing," Clayton–Fulcher said.
City School Board member Elizabeth Rehm is also participating in the journaling project.
The students meet weekly in virtual classrooms with Harvard Library-affiliated writing coach Janay Graham and Boston-based television producer Bob Glover—representing JustFlix, a program of Harvard Law School's Charles Hamilton Houston Institute for Race and Justice that trains students to make short films about social justice in their communities.
"They're thinking about identity, environment and what happening with the pandemic," Rosenberg said. "They're building the skills to tell their stories of the Black experience of COVID."
At the end of the project, each student will have completed a handmade journal of their pandemic experiences.
Harvard librarians will teach a class in book-binding, so the students are "not only learning how to document their experiences but are also physically making the books that they'll be writing," Rosenberg said.
They will also each make a short documentary film exploring the intersection between identity, the pandemic and the environmental challenges they face as a young generation. Harvard has provided each student with filming equipment, including a camera, microphone, tripod, basic lighting and even modeling clay so they can try their hands at stop-motion animation.
The students' journals will become part of the Harvard Library's archives of the Black America and COVID-19 project. Their documentary films will be exhibited virtually through the Charles Hamilton Houston Institute.
Sophomore Romel Turner learned about the opportunity from his basketball coach. He said participating is giving him a chance to "develop into a better person."
The message he wants people to take away from his final project is that, "In tough times, you have to stay strong and keep pushing."
DaNiya Johnson, another 10th-grader, said she was recruited to the project by Clayton–Fulcher.
"I knew it would get my voice heard about the issues [racism and social injustice]," she said.
She said she's learned that, "Even though you can be young, you have a voice and your voice matters."
Angela Hinrichs, assistant principal at James Monroe, said she's grateful the students have the opportunity to work with "such a prestigious team."
"It is very easy to get focused on the negativity of what's going on with COVID and schools not looking the way they've looked before," she said. "So it is nice to see that there continues to be outreach for our students, because that social-emotional piece is so important for them to feel connected."
Other James Monroe students participating in the project are Alexander Broughton, Kayla Clinkscale, Christian Hamm, Cailey Loomis, Tyler Pettis, Mackenzie Smith and Jason Whittaker. More are expected to join.
Adele Uphaus–Conner:
540/735-1973
@flsadele