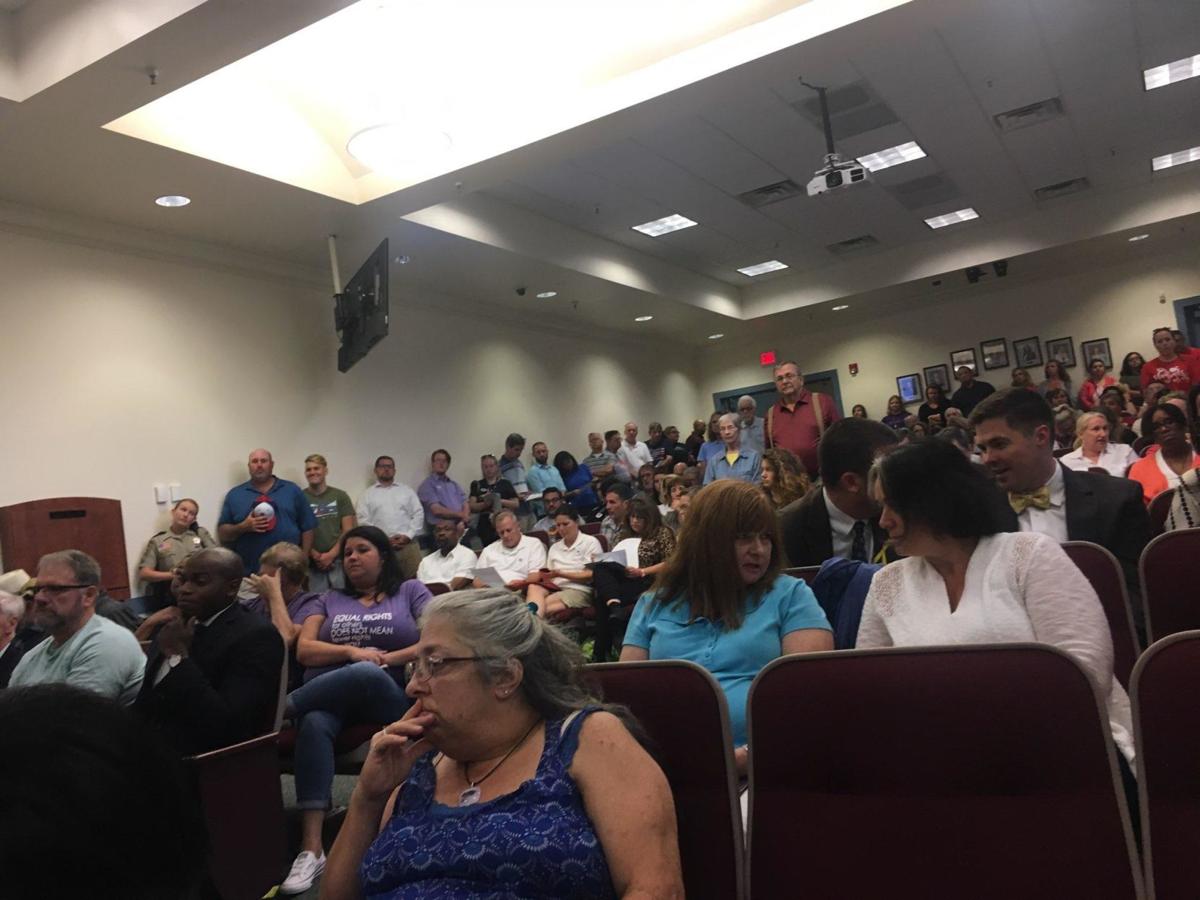 The Stafford County School Board has approved two new policies that add sexual orientation and gender identity to the list of categories protected from discrimination.
The vote came shortly after midnight Wednesday, following four hours of public comments both for and against the policies, which include an expanded equal opportunity employment policy for staff and a new "equal educational opportunity" policy covering students.
Both policies passed on 4–3 votes, with Vice Chairwoman and Falmouth representative Sarah Chase, George Washington representative Dewayne McOsker, Garrisonville representative Pamela Yeung and Griffis–Widewater representative Jaime Decatur voting in favor.
Board Chairwoman and Rock Hill representative Patricia Healy, Aquia representative Irene Hollerback and Hartwood representative Holly Hazard voted against the policies.
Stafford now joins 13 other Virginia school districts that have passed similar nondiscrimination policies.
Both policies add sexual orientation and gender identity—as well as pregnancy, childbirth or related medical conditions, marital status, mental or physical disability and genetic information—to the list of categories protected from discrimination. The policies do not include any specifics about how they would be implemented or how they would apply to bathrooms, locker rooms and showers.
The language approved early Wednesday morning and found in both policies states, "It is the intent of the School Board of Stafford County that every policy, practice, regulation, and procedure shall reflect this commitment [to increasing the scope of nondiscrimination]. Behavior that is not unlawful may nevertheless be unacceptable for the workplace."
It continues: "The superintendent/designee shall be responsible for developing a plan that implements the intent of the board as set forth in this policy and ensuring that it is reviewed periodically. Such plan shall be shared with the board for input and review."
Superintendent Scott Kizner said in an interview Wednesday morning that the policies mean that if students or staff members in any of the newly protected categories feel discriminated against, their concerns must be heard. He said that previously, whether or not the concerns were addressed would be up to individual principals or administrators.
"This doesn't mean we automatically do what is asked," Kizner said. "It clarifies that if a concern is raised, it will be heard. It can't be decided by a principal."
He stated that any changes to school facilities resulting from the new policies would not be division-wide, but on a case-by-case basis.
"I will be reaching out to School Board members over the next few weeks as we develop an implementation plan," Kizner said.
The audience at the meeting packed the School Board chambers and spilled into four overflow rooms set up by staff in an adjacent building.
At least 200 people signed up to speak, though some left before their names were called. Deputies from the Stafford Sheriff's Office intervened in at least one minor altercation between audience members.
Among the speakers in support of the policy was Gavin Grimm, a transgender man who as a former student in Gloucester County sued the School Board under Title IX, arguing that he should be allowed to use the boys' restroom.
Other speakers in support included Joshua Cole, a local pastor and candidate for the House of Delegates seat representing parts of Fredericksburg and Stafford counties; the president of the Virginia Education Association; and numerous parents, teachers, current and former students of Stafford schools—including the brother of the transgender female student who was prevented from entering either the boys' or girls' locker rooms during an October 2018 lockdown drill at a Stafford middle school.
Among those who spoke in opposition to the policies were the Rev. Robert DeMartino, pastor of St. William of York Catholic Church, and members of the congregation; representatives of the Virginia Family Foundation and the Virginia Catholic Conference; parents, community members and one middle school student.
Explaining his vote in favor of the policies, McOsker said, "I see good in this policy."
"This is a one-page policy," he said. "It is not about bathrooms. This is a policy that will show we support our students and staff and show our kids that we care. If I can prevent just one suicide of one of our precious kids through the approval of this 240 words, for me this vote is an easy yes, yes, yes."
Chase said she believes the School Board holds responsibility for the October incident and has created a culture that discriminates against LGBTQ individuals through its 2015 reversal of school staff's decision to allow a transgender female student to use the girls' restroom at a Stafford elementary school.
Chase said she believes the board's decision and the release of personal information about the girl, including what school she attended, amounted to a violation of her rights.
"Given the board's failure to respect a transgender student's privacy four years ago, confusion about how to protect a transgender student during an active shooter drill last year and the many negative emails directed at transgender students which I received, I have reached the conclusion that we need to include LGBTQ students in our nondiscrimination policy," Chase said.
In response to concerns that the policies could leave students vulnerable to assault in restrooms or locker rooms, Yeung said, "There isn't statistically significant evidence to support fears that protecting these groups would lead to un-protecting others. We will protect every child."
Decatur said her vote in support was the result of much prayer and research.
"It's not an easy conversation to have," she said. "It's one that I find required opening ourselves up to acceptance of all peoples, whose values aren't necessarily the same. I do believe that implementing these policies is the right thing to do for the children in Stafford County and for that reason, I'll be supporting it."
Hazard said she is not opposed to who is covered by the policies, but with how it is implemented.
"I'm concerned about the board's involvement and the public's involvement going forward," she said.
Healy and Hollerback both said they do not believe the majority of Stafford residents support the new policies and they think the board is now exposed to potential litigation because of conflicts that might arise with other policies already on the books.
Adele Uphaus–Conner:
540/735-1973
@flsadele