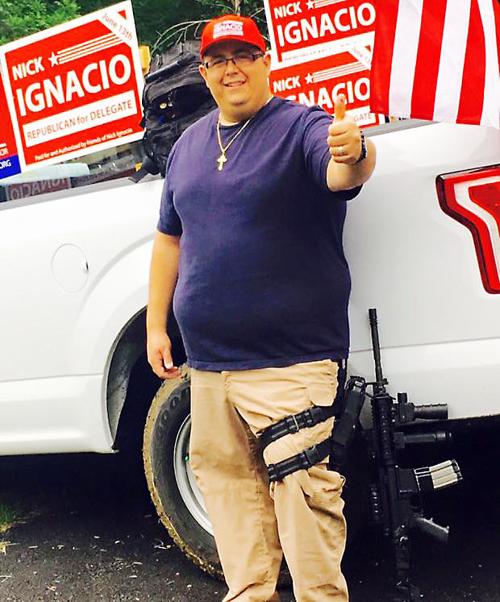 Nick Ignacio, who is seeking the Republican nomination for a Fredericksburg-area House of Delegates seat, has appeared in online videos that show him simulating sexual acts and making vulgar remarks.
An anonymously made video that includes some of those YouTube clips has been shared by Facebook users who oppose his candidacy.
Ignacio, a 32-year-old Spotsylvania County resident who describes himself as a "normal God-fearing guy" on his campaign website, criticized The Free Lance–Star for asking him about the videos and said he would not answer questions unrelated to policies or his campaign. He called The Free Lance–Star biased in an interview Friday and repeatedly referred to the article as a "hit piece" in a voicemail message Monday.
He did not immediately reply to an email and a phone call after his voicemail Monday.
"There are real stories out here, and you're talking about YouTube, you're talking about Twitter, you're talking about garbage," Ignacio said. "It's garbage."
The newspaper also asked him in an email why his @greatnessofnick Twitter account had been suspended, but he did not reply to that question.
Ignacio is challenging 27-year incumbent Del. Bobby Orrock, R–Caroline County, in Tuesday's Republican primary for the 54th District seat in the House of Delegates. The district includes parts of Spotsylvania and Caroline counties.
One YouTube clip uploaded in 2009 shows Ignacio, wearing a black wig, simulating a sexual act with a sex toy. He also makes anti-gay slurs and other vulgar remarks in a YouTube video uploaded in 2008.
The anonymously made video criticizing the candidate shows YouTube clips that include footage of someone who appears to light a bottle rocket from Ignacio's rear end. "What if we put one on my butt—could you light it off like they did on 'Jackass'?" Ignacio asks in the clip.
A "Concerned Spotsylvania Citizens" Facebook page posted the video Tuesday, and Ignacio remarked "look at your life!!!" in the comments section.
He told a Richmond Times–Dispatch reporter who asked about the videos that he did some "goofy silly dumb things in my youth."
He has also had some brushes with the law that led to misdemeanor charges, but would not discuss those.
Ignacio was supervised by the Alexandria Probation and Parole Office from March 18, 2011, until March 28, 2012, under an interstate compact with Maryland, according to the Virginia Department of Corrections.
He pleaded guilty in Maryland to charges of violating laws governing the possession and handling of firearms there, according to an Accurint background report. The report says he was sentenced to probation before judgment, which is not treated as a conviction and usually results in a dismissal.
An email Friday from Ignacio's campaign address said "the only thing Nick legally has on his record is speeding."
His speeding offenses include a misdemeanor reckless driving conviction in 2008 after an officer in Prince William County charged him with driving 100 mph in a 65 mph zone. In addition, he was charged with reckless driving in Fairfax County in 2010 and Brunswick County in 2015, but both citations were reduced to speeding, online court records show.
Ignacio also filed a $2 million lawsuit against the U.S. government, claiming a federal law enforcement officer he worked with threatened him with physical harm. Ignacio was a contracted security officer at the Pentagon at the time.
The lawsuit says Ignacio suffered post-traumatic stress disorder as a result of the federal officer's actions.
The parties reached an undisclosed settlement in 2012.
Chris Olmstead, a spokesman for Orrock, declined to comment on Ignacio's YouTube videos or misdemeanor charges.
"It's not our place to place any judgment on it, but we shall see what the voters think on the 13th," he said.
Ignacio criticized The Free Lance–Star for reporting on YouTube videos instead of real news such as homelessness. He talked about people living in their cars and said he met an elderly couple who could not leave their home for weeks until a church built them a wheelchair ramp.
Ignacio did not respond to an email survey from the paper asking for background information, including any criminal arrests, and his most important campaign issues. He referred a reporter to his website, which lists protecting and strengthening the Second Amendment, protecting the sanctity of life and states: "I will not allow us to be forced to go broke anymore by spending money on people who are not here legally."
"This campaign has changed me for the better," Ignacio said in an interview. "It's made me into the person I want to be that helps people and understands humanity."
Jeff Branscome: 540/374-5402