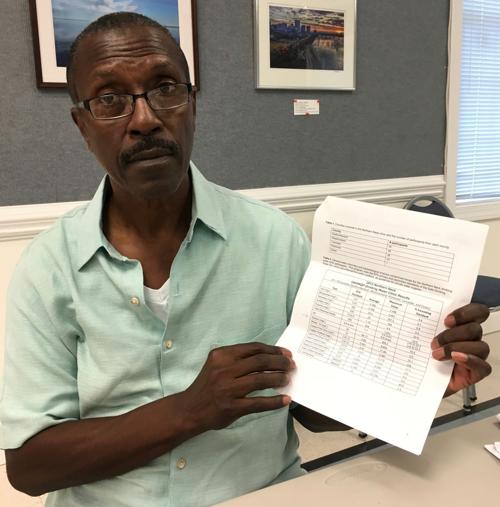 After 30 years of drilling drinking water wells in the Northern Neck, Todd Saunders can tell you about the biggest change to his business—the water table is dropping.
"Most of the wells are at the same depth, but over at least the last 10 years, the water table has probably dropped 20 feet in some areas," said Saunders, who owns L&H Co. in Montross. "The King George area has dropped real fast over the last 20 years."
When Saunders drills a new well, he's actually tapping into water pressure. When water is pumped from an aquifer, it reduces pressure in the areas around any particular well, reducing how high water will rise within a well.
Now, when Saunders drills a new well, where he might have found the standing level of water at 100 feet, it's at around 130 feet. He attributes it to increased development and industry.
Virginia's Office of Water Supply, which oversees water use, has been aware of the problem for years. Last year, the Joint Legislative Audit and Review Commission, which makes recommendations to the General Assembly, confirmed what the Department of Environmental Quality and United States Geological Survey had been saying all along: The Tidewater Region's (east of Interstate 95) deep groundwater supplies, such as the heavily used Potomac Aquifer, are insufficient to meet the demands of current and future users.
Industry in Virginia accounts for about 140 permits issued for groundwater withdrawals greater than 300,000 gallons of water per day. During the last 18 months, DEQ, through its water supply office, has been dialing back the amount of permitted groundwater withdrawal by the state's 14 largest users, according to water supply chief Scott Kudlas.
"Collectively, they represented 87 to 90 percent of the withdrawal in the region," said Kudlas. "The allocated withdrawal was in the neighborhood of 146 million gallons per day and now it's down in the neighborhood of 70 million gallons per day."
DEQ wants to reduce withdrawals, particularly in what they deem as critical areas, to the point that rates of water level declines are substantially reduced or reversed by 2025. The new permits include a 10-year drawdown plan by users.
Thirteen of the 14 have the new permits. The one holdout, the city of Franklin, has appealed.
How effective are these cuts to permits toward reaching that goal?
"The pressure response to either increasing or decreasing withdrawal is pretty rapid," said USGS groundwater hydrologist Randy McFarland. "It's pretty much a direct relationship. The more you pump, the more the water levels come down. If you decrease or stop pumping, the water levels come back in a proportional amount."
He uses the International Paper mill in Franklin as an example. The mill had been the largest permitted groundwater user, with average daily withdrawals of over 30 million gallons before closing in April 2010. During the mill shutdown, DEQ observed water level aquifers showing "a slow and irregular recovery" in the Potomac Aquifer.
But that declined when the mill resumed operations in 2012, despite switching to a different product that decreased withdrawals to about 13 million gallons a day.
Reported groundwater withdrawals from locations within groundwater management areas—which require a permit when more than 300,000 gallons per day is withdrawn—totaled about 75.5 million gallons per day for 2015, or approximately 56 percent of all groundwater withdrawals in the state.
And it's not just industry that's pulling out large amounts of groundwater.
"We're concerned about the unpermitted portion of the withdrawals because of its size and that it appears to be the fastest-growing portion of the withdrawal," said Kudlas.
Unpermitted and unmanaged
A 2008 USGS report estimated that all the unpermitted withdrawal combined draw nearly 30 million gallons a day. Kudlas said that may be up to around 40 million gallons a day this year.
"What that means is you have a bigger and bigger chunk of the withdrawal that is unmanaged," he said.
So who are those unpermitted users?
Kudlas says they are just regular folks.
"They are individual homeowners and people who live in a subdivision on a public system who have a private well to irrigate their landscape. They are [people with] geothermal heat pumps," he said.
Last year, DEQ reached out to a community of diverse groundwater stakeholders—from paper mills to environmentalists—and appointed an advisory committee to come up with ways the state might ensure the long-term viability of the aquifer system for future growth and development.
When the group, known as the Eastern Virginia Groundwater Management Advisory Committee, looked into unpermitted users, they found limited data on homeowner wells.
"The biggest data limitation is the pre-1990 and especially the pre-1982 wells because there was no permitting required—that is going to be a considerable number of wells," the committee noted during one meeting last year.
The panel also found that places such as Virginia Beach were allowing lawn irrigation systems that tapped into groundwater instead of the public water supply, to skirt drought prohibitions.
"Every new house in the last 15 to 20 years almost always put in a well for irrigation," the committee noted. "There is enabling legislation to govern/regulate these wells, but most localities have not opted to adopt the rules."
The group was also concerned with over-pumping leading to land subsidence, where land sinks from water being pumped out at rates faster than an aquifer can recharge. In parts of Virginia, water flows back in fairly quickly, but in the Coastal Plain, wells drilled into deep sand layers can intercept water that has traveled from recharge areas several counties away.
A study conducted by USGS in 2013 found that 25 percent of the land subsidence in the Coastal Plain could be attributed to the over-pumping of groundwater.
Groundwater remains contentious throughout the state, with issues ranging from a property owner's rights to drill to the responsibility of an unpermitted user for the health of an aquifer. The group did not reach a consensus on all the issues, according to one member, but agreed on 12 recommendations to DEQ that will make their way to the General Assembly Nov. 1.
That about 25 percent of the aquifer is used by domestic wells took members by surprise.
"There were a lot more there than was expected," members noted during one meeting. "The drillers know that the Potomac Aquifer can produce."
Too much salt
The potential for salt water entering aquifers that are drawn down is also a concern.
Regions that are closest to salt water, as the Northern Neck is with the Chesapeake Bay, have the greatest potential for what's referred to as salt-water intrusion, where declining levels of fresh water is replaced by nearby salt water.
McFarland said it takes a long time for salt water to move into the aquifer, and as far as scientists can tell, that hasn't happened in the Tidewater Region.
He also said people who live along Coastal Plain have naturally occurring sodium in their well water. And the deeper the well, the more salt. Some of Northumberland County's wells drill down some 800 plus feet to reach water.
Gerald Howard, a retiree who had moved back to his hometown in the Northern Neck, first noticed a problem with his well water in 2012. When he would wash his car, a white film remained. He joined 158 other homeowners around the Northern Neck in a state well-water testing clinic.
"I was shocked with the results," said Howard, referring to the high levels of sodium found. "According to EPA standards, it should be 20 milligrams per liter and the average was 90.17. It was 75.5 percent above the standard."
He went before the Northumberland Board of Supervisors with results to ask if they could do anything. Many on the board had heard the same complaints about salt from other residents.
They had no solution, with the exception of one board member, a plumber, who offered to sell Howard a reverse-osmosis filter.
Since then, Howard has bought his drinking water. But he's concerned for people in the community with high blood-pressure who don't know about the salt in their water. He said African–Americans like him are prone to the disease, which can be exacerbated by excessive salt intake.
"I think people should be informed, so they have a choice," he said. "Every family has somebody with high blood pressure."
Erin Ling, who coordinates the state household water quality program, said high levels of salt in well water is definitely a concern and should be taken seriously, especially by people who are most at risk.
"Most folks are consuming around 2,000 milligrams of sodium per day, so they'd have to drink a lot of water for it to impact their health," she said. "We do see a fair amount of naturally occurring sodium out in the coastal plain. It's mostly just a function of the sediment."
Seeking solutions
In a state where one of five people rely on well water, more monitoring needs to be done, Kudlas said.
Some of the solutions the committee discussed included providing robust funding for monitoring, establishing an annual state water resources forum where stakeholders can obtain and share information, banking and/or trading credits for water usage and injecting treated wastewater into aquifers.
Hampton Roads Sanitation District's Sustainable Water Initiative for Tomorrow (HRSD SWIFT) is currently underway as a pilot project that would inject treated wastewater into aquifers. Similar projects are being evaluated for New Kent and Hanover.
Still, for DEQ, the biggest problem may be the unpermitted wells.
"Without addressing unpermitted withdrawals, we could end up in a situation similar to the [Chesapeake] Bay program, where significant costs are incurred by permitted withdrawals," committee members said in a draft final report. "But, at the end of the day, it becomes apparent that the problem will not be solved without addressing unpermitted withdrawals."
The final report will be given to DEQ this month.