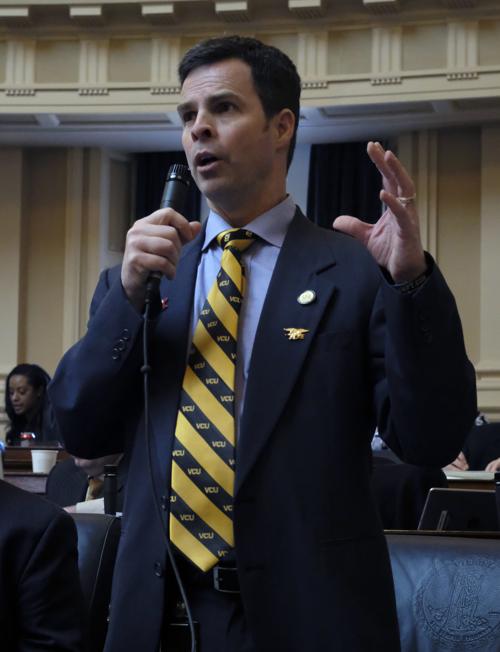 Three Republican candidates seeking the nomination to run against Rep. Abigail Spanberger, D-7th, in November want ranked-choice voting to decide the nominee.
Del. John McGuire, R-Goochland, Chesterfield nonprofit leader Tina Ramirez and Army veteran Andrew Knaggs issued a joint statement Thursday saying that at the 7th District GOP's nominating convention in July, the party should use ranked-choice voting to decide a candidate.
In ranked-choice voting, voters rank candidates from their most favorite to least favorite. A candidate who gets a majority of support of the first-choice votes wins the election. But if no candidate wins a majority in that first round of voting, the lowest vote-getter is eliminated. That candidate's supporters have their votes transferred to the person they selected as their second choice.
"It doesn't add any time or effort to the balloting process, it just allows for a process that ensures the strongest possible candidate emerges as the nominee and ensures the Republican Party remains unified ahead of a very challenging election," the candidates said. "Without that unity, without that majority, winning in the fall becomes extraordinarily difficult."
A ranked-choice voting pilot program is set to become state law next year, allowing local governments to use the practice.
7th District Republican Committee Chairman Ben Slone said last week that the committee is weighing a traditional in-person gathering, a drive-thru convention or a virtual convention. A decision will be made by June 18, he said, for how the more than 5,200 delegates will vote.
Also seeking the nomination are Del. Nick Freitas, R-Culpeper, Chesterfield County teacher Pete Greenwald and Coast Guard veteran Jason Roberge.
"Make no mistake about it, the Republican nominee in our district can beat Abigail Spanberger," the candidates said in their joint statement. "But to do that, we must all work to ensure the process to nominate our candidate is done with a goal of helping the eventual nominee come out of the process as strong as possible to help us win in November."
The 7th District Republican Committee was set to meet Thursday night to discuss the process for nominating a candidate. Slone canceled the meeting Thursday morning.
The district includes all of Orange, Culpeper, Goochland, Louisa, Nottoway, Amelia and Powhatan counties, along with large parts of Chesterfield and Henrico counties.
(804) 649-6012
Twitter: @jmattingly306