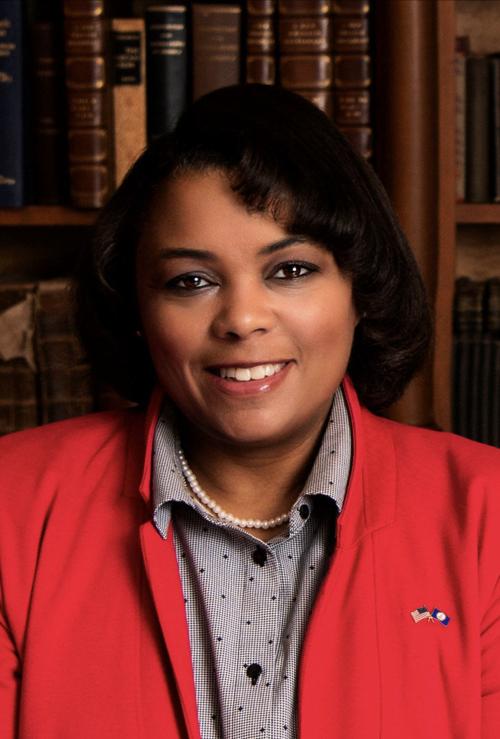 Two local Democratic candidates are preparing for Virginia's June 23 primary, each hoping to win their party's nomination to challenge Rep. Rob Wittman in November.
Amid ongoing protests in the wake of George Floyd's death under a police officer's knee in Minneapolis and the COVID-19 pandemic, both Vangie Williams and Qasim Rashid see a broader window of opportunity for change.
Wittman, who has represented the district that stretches from Prince William County through the Fredericksburg area and Northern Neck to Hampton Roads since 2007, is unopposed for the Republican nomination.
Williams challenged Wittman two years ago, losing to him by nearly 35,000 votes. Rashid lost to incumbent Republican Sen. Richard Stuart by about 10,500 votes in the State Senate District 28 race last year.
Here's a look at the candidates and where they stand on key issues:
Vangie Williams
Williams, a defense contractor at Dahlgren who lives in King George County, lists providing universal health care, expanding broadband and transportation in the region and "harmonizing" economic needs with environmental protection as her key issues. She also favors a tax break for first responders and front-line medical workers.
"One of my first proposals as your representative will be my INVEST initiative, that recognizes nurses, first responders, the military and their families, veterans, and other 'hometown heros,' by exempting the first $50,000 of their income from federal income tax by closing tax loopholes that corporations take advantage of," she said.
Williams believes 1st District residents need someone in Congress who will not only fight for the people, but who understands the needs of the community, looks out for the small business owner and keeps business and manufacturing jobs in the U.S.
"It's not about politics; it's about people," said Williams. "I want to focus my priorities on bringing jobs to Virginia, in the 1st District, especially in the rural areas."
Williams believes educators should not have to work a second job to make ends meet. She supports higher pay and benefits for all educators. She also proposes an infrastructure plan that includes building new technologically advanced schools, providing laptops to every student, and making broadband internet service available throughout the district.
"Education should be our No. 1 priority on Capitol Hill," said Williams. "This is our future; these are our future leaders."
Williams has a long family history of police service and supports law enforcement, but said Floyd's death has forced a closer look at how law enforcement agencies operate.
"I don't think the first thing you should do is drop someone to the ground and place their face to the ground. It's inhumane," said Williams. "We have to demilitarize our police departments."
Williams said police officers must be held accountable for incidents that happen in the community, including encounters with citizens who suffer from mental health or drug issues, or in situations that require them to be more sensitive.
"I'm a firm believer in accountability and police departments cannot police themselves," she said.
Williams believes citizens do have a right to own guns to protect their families and their homes, but she is against the personal stockpiling of weapons. She said Virginia's red-flag law allowing authorities to temporarily take weapons from those posing a threat to themselves or others needs further refining to ensure citizen's rights are not violated and that people are adequately protected.
"It has to go through a court system," said Williams. "I don't think any of us has the right to judge whether someone should or should not have a gun."
On national security, Williams, a defense contractor, believes in a robust military, but one with a different focus. Although she does not believe more ships are needed, she favors a more technologically savvy military force to help protect the country against cyber-attacks from abroad.
"I work in national security and I see the need," said Williams. "It's a new type of war, and we have to make sure we're protecting our county the proper way. I understand we cannot cut this force."
Qasim Rashid
Rashid lists providing quality health care, access to high-speed broadband internet and income equality as his top issues. A human rights lawyer and author who lives in Stafford County, he thinks high-speed internet should be treated like a utility and the federal government should help localities expand service into rural and underserved areas. He supports Medicare for All and increasing the federal minimum wage to $15 per hour.
"This is how we can improve the lives of Virginians and make sure that our working families are being supported and advocated for," he said.
Rashid said Republican-led tax cuts for billionaires and multimillionaires have resulted in a multi-trillion dollar national deficit, and also said the COVID-19 pandemic has revealed many cracks in the nation's health care system and left many Americans struggling financially.
He supports legislation that ensures working families and small businesses have either forgivable loans or the guaranteed income they need. He proposes a $2,000 per month stipend for all Americans through the pandemic—and for at least three months after it subsides—to help the middle class and small business owners recover.
"We can bail out multi-billion dollar corporations, we can certainly fight for the middle class and make sure they have the resources they need," he said.
Rashid wants to restructure police departments based on guidance from the NAACP, various civil rights organizations, and several law enforcement reform organizations. He'd also like to demilitarize the police by restricting their use of military-grade equipment.
"There's zero evidence [military equipment] makes any difference," said Rashid. "They're not in a war zone. They're not fighting terrorists and extremists. They are serving our local communities."
Rashid said the vast majority of police work is simply community policing, and he favors empowering mental health professionals and addiction experts, child psychologists and other specialists to handle the myriad of issues that police now manage.
Rashid supports independent bodies to investigate cases of police misconduct and wants to end qualified immunity for law enforcement officers, a legal doctrine that shields government officials from being held liable for discretionary actions performed while serving in their official capacity.
Rashid said he respects hunters and the use of firearms for self-defense, but does not believe in unlimited access to firearms, or access to them, for felons and other individuals with a criminal past. Rashid backs the Virginia General Assembly's decision to restore a law allowing only one handgun purchase a month and called the state's red flag law "a carbon copy" of legislation Vice President Mike Pence passed while he was governor of Indiana.
Rashid said he will value the opinions of defense experts to determine the actual needs of the military, instead of spending money on ships and hardware that might not ever be needed.
"Every nickel we spend on defense, we must prepare for 21st century threats," said Rashid. "This includes pandemics, climate change and terrorism.
"A strong defense doesn't mean more ships, it also means a stronger State Department and a stronger economy, and most importantly, not wasting lives of our U.S. soldiers who are making the ultimate sacrifice," he said.
Rashid said he places heavy emphasis on public education, and supports a four-year public college tuition program, as well as trade schools for graduating high school students to help them enter the work force.
"We have the financial resources and the tax base—if we tax billionaires at a fair rate—to provide four-year public college … or for those who want to go to trade school," said Rashid.
James Scott Baron: 540/374-5438