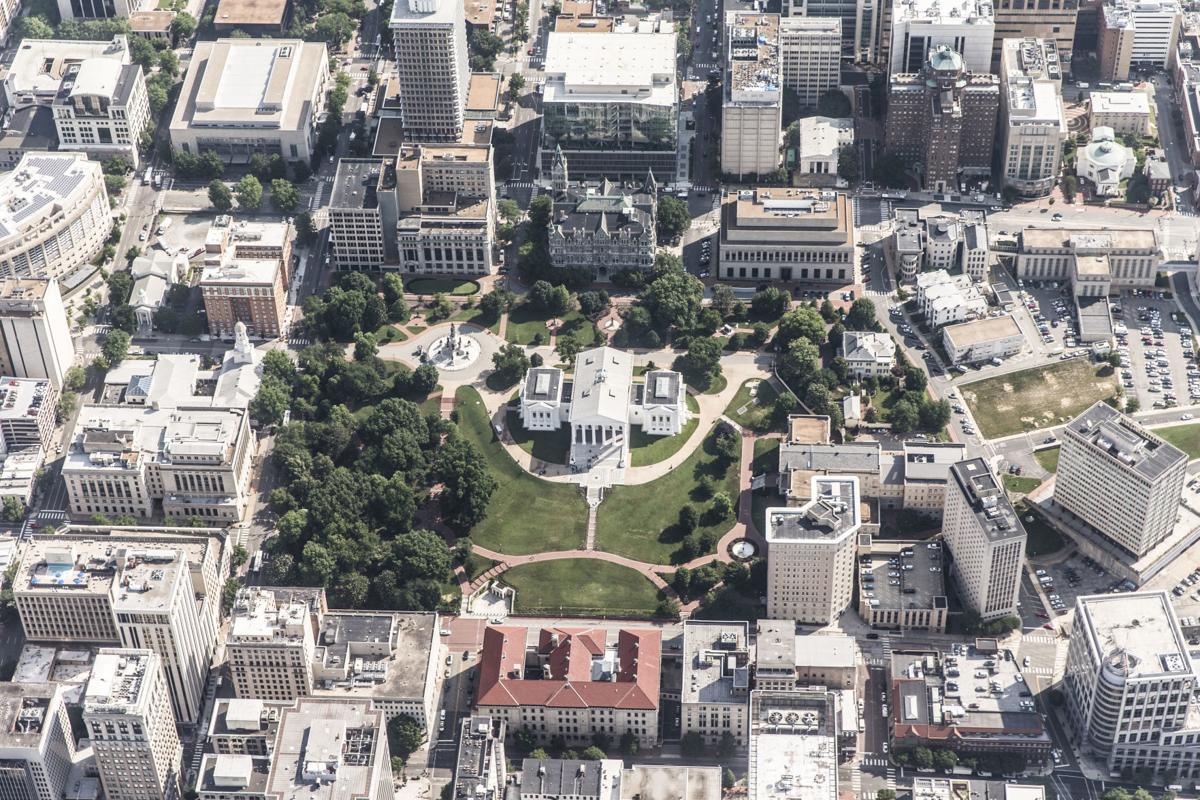 The General Assembly will reconvene Wednesday in Richmond to consider Gov. Ralph Northam's legislative recommendations, including proposals to move the date of the May municipal elections and changes to the budget.
Due to the coronavirus pandemic, the session will be unorthodox. Instead of meeting in the Capitol, the House of Delegates and Senate will meet nearly three miles apart in locations that will allow legislators to maintain distance between one another. The House will meet outside the Capitol building, and the Senate will gather at the Science Museum of Virginia.
Northam, a Democrat, amended about 100 bills for the legislature to approve or reject, some of which he changed because of the effects of the coronavirus. His recommendations include tweaks to gun control bills and delaying raising the minimum wage and when localities can give public sector employees the right to collectively bargain.
Legislators also will have to consider how to safely handle the May 5 municipal elections. Northam is recommending they be postponed to November to coincide with the presidential election. Any absentee ballots already cast would be destroyed.
The proposal has invited critics — Democrats and Republicans — who are troubled by extending terms of office for incumbents and destroying ballots.
"This would not be fair to citizens, candidates and registrars who have already focused much effort on a May election," Del. Joe McNamara, R-Roanoke County, said.
Democratic Sens. Mamie Locke of Hampton, Chap Petersen of Fairfax City, and Lionell Spruill of Chesapeake, will introduce a proposal to postpone the municipal elections to June 16. This would allow the elections to take place before elected officials' terms end June 30 and count absentee ballots that already have been cast.
Northam would have to call a special session for the legislature to vote for this proposal. Petersen said that special session could happen while legislators are in Richmond this week.
Democrats have a 21-19 majority in the Senate, so at least three Democrats favoring the alternative proposal doesn't bode well for Northam's recommendation. Petersen said he expects there will be bipartisan support for the option he will submit.
"There are fair and reasonable concerns that Virginia could be hitting the peak of its COVID-19 curve around May 5, and that we should therefore follow social distancing and other containment methods urged by the CDC and Virginia Coronavirus Taskforce," Del. Ronnie Campbell, R-Rockbridge, said. "I support postponing the May 5 date — but not to November."
The budget-writing committees held a virtual meeting Monday to go over proposed changes to the two-year, $135 billion budget.
"We are in unknown territory in regard to the financial implications of COVID-19," Appropriations Director Anne Oman said.
Finance Secretary Aubrey Layne said he expects that the coronavirus pandemic will cost Virginia $1 billion this fiscal year, which ends June 30, and it's likely that it would drain more than $1 billion from each year of the new budget. He said the state doesn't have a good indication yet on how quickly the economy will reopen in Virginia and how quickly and confidently spending will begin again.
"We don't know how long and deep this is going to be," he said Monday.
Northam and legislators are planning to suspend more than $2 billion in new spending, halting goals like pay raises for teachers and state workers and making tuition free for low-income students attending community college. Senate Finance Chairwoman Janet Howell, D-Fairfax, told her colleagues "it'll break your heart" to see priorities put on hold.
The committees reviewed more than 180 amendments from Northam to the budgets. His amendments include using his power to suspend spending so that agencies can't use the money unless the General Assembly and governor approve it.
Northam proposed cutting $10 million in the first year for the Commonwealth Cyber Initiative, a new Virginia Tech master's degree and research program centered on cybersecurity and other technology fields. The program is part of the new Virginia Innovation Partnership Authority to transform the way Virginia invests in higher education research and emerging technologies as well as startup companies and entrepreneurs critical to driving growth in the high-tech economy.
Northam is expected to call a special session later this year with a new revenue forecast.