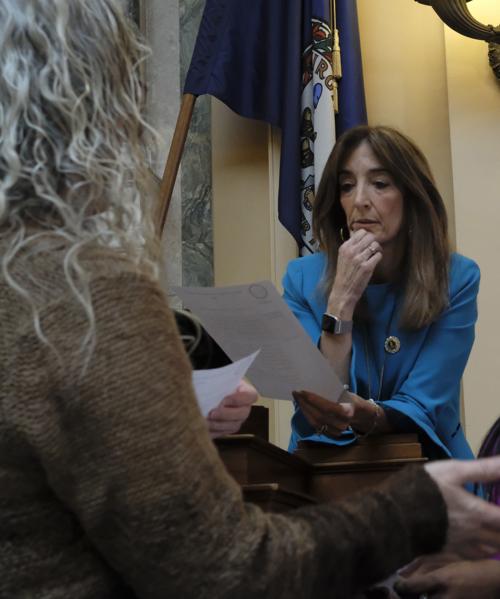 House Speaker Eileen Filler-Corn is exploring remote, online voting for the chamber's veto session and any special sessions that follow this year, in what would be an unprecedented set up for the 400-year-old chamber amid the COVID-19 pandemic.
Filler-Corn said in an interview with the Richmond Times-Dispatch on Wednesday that when lawmakers gather near the Capitol on April 22, she will ask members to vote on a plan that will allow members to cast votes on legislation from their homes or other remote locations.
The plans, she said, are still unresolved as staff work through the logistics of such a move, including the technology that would power it.
"It's my intention that we vote on the 22nd on a plan that would provide us the opportunity to do our business remotely, for reconvene and any special session," said Filler-Corn, a Democrat from Fairfax.
"It is possible that it cannot be done in time for reconvene. In that case, I want us to take that vote and preserve that opportunity for any special session beyond reconvene."
Lawmakers are due back in Richmond to review Gov. Ralph Northam's proposed amendments to the state budget and bills the Democratic-controlled General Assembly passed during the winter session.
Northam's proposed changes include amendments that would delay to May 2021 enactment of measures to increase the minimum wage, and to give localities the option of allowing collective bargaining for public employees.
Out of concern for the safety of lawmakers, staff and the press, the veto session was moved outdoors. Delegates will meet "in the area roughly bounded by the base of the Capitol's South Portico steps and the east entrance of the Capitol," Filler-Corn spokesman Jake Rubenstein said earlier this week.
Filler-Corn said Wednesday that if possible, she would favor gathering for a short amount of time to take up the remote-voting question, limiting the potential for exposure to COVID-19.
"If it can be done, I want it done. I'm going to fall on the side of safety. Members should not have to choose between fulfilling their responsibilities and duties, and their safety," she said.
Reached for comment, House Minority Leader Todd Gilbert didn't rule out support for the plan, but said many questions remained unanswered.
"While I appreciate the Speaker's concern for everyone's health and safety, I have expressed a number of questions and observations to her and to the clerk about the legalities and logistics that might be involved," said Gilbert, a Republican from Shenandoah. "Members still need to be assured that they can effectively carry out their constitutional duties."
During the reconvened session the Virginia Senate will meet in a different location: inside the Dewey Gottwald Center, a steel-and-glass building on the site of the Science Museum of Virginia in Richmond.
(804) 649-6254
Twitter: @MelLeonor_