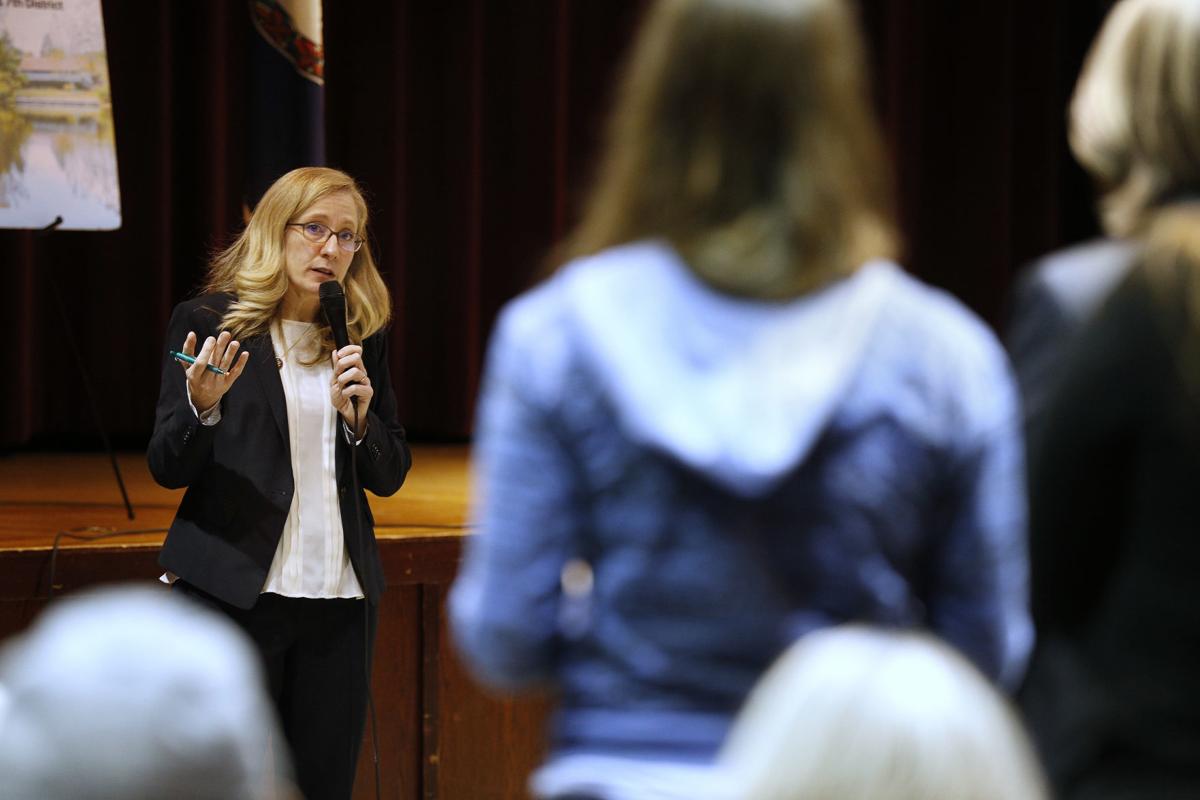 Republicans in the Richmond area will have a month and a half longer to pick a nominee to run against Rep. Abigail Spanberger, D-7th, in November.
A Richmond judge on Tuesday granted a request from the Republican Party of Virginia to push the deadline for nominating a challenger from June 9 to July 28. The party had been scheduled to hold a convention April 25 at the Arthur Ashe Center in Richmond, but is looking into other options with executive orders from Gov. Ralph Northam limiting large gatherings during the coronavirus pandemic.
Republicans are choosing from six candidates in a bid to unseat Spanberger, whose 2018 victory over Dave Brat helped flip the House of Representatives from GOP-led to a Democratic majority.
Candidates include Del. Nick Freitas, R-Culpeper, Del. John McGuire, R-Goochland, Chesterfield nonprofit leader Tina Ramirez, Army veteran Andrew Knaggs, Chesterfield County teacher Pete Greenwald and Coast Guard veteran Jason Roberge.
The 7th Congressional District Republican Committee filed last week for a temporary injunction on the June 9 deadline, which is set by state law. Judge Bradley B. Cavedo granted that injunction, citing Northam's executive orders.
The Ashe Center canceled its agreement with the committee, according to Cavedo's ruling, and backup facilities also "refused" to have the convention there, with the exception of West Creek Park. That would require an outdoor convention - possibly a drive-thru or drive-in convention - and Cavedo said that "it is unknown if this type of event" violates Northam's orders.
"The Committee and (7th District Chairman Ben Slone) are making substantial efforts to conduct a convention that complies with both (the Republican Party of Virginia's plan and state law), but it appears to the Court that a convention cannot be accomplished by June 9, 2020, due to COVID-19 and EO53 and EO55 issued by Governor Northam," Cavedo wrote.
He added: "Absent an injunction, the Committee's nominee for Congress will not appear on the ballot for the general election to be conducted on November 3, 2020."
Northam's executive orders, handed down in late March, bar gatherings of 10 or more people, among other things. His stay-at-home order extends to June 10.
The 7th District includes all of Orange, Culpeper, Goochland, Louisa, Nottoway, Amelia and Powhatan counties, along with large parts of Chesterfield and Henrico counties.
While the 7th District GOP committee is holding a convention to determine who runs against Spanberger, Republicans statewide will vote in a primary to decide who they want to try and unseat Sen. Mark Warner. That primary had been scheduled for June 9, the same date as the previous 7th District deadline, but Northam has pushed it back to June 23, citing the virus.
Under Cavedo's ruling, the 7th District committee will have until 7 p.m. July 28 to nominate a candidate.
"It gives us the opportunity now as a committee to reconsider the convention as a possibility," Slone said.
Slone said the committee is still "considering all options" on how to hold the convention, uncertain of when the public health crisis will end. That includes drive-thru voting, drive-in voting, mail-in votes, electronic voting or a combination of the ideas.
He added that, unofficially, there are 5,077 people who have signed up to be delegates for the convention, a number larger than a normal convention, Slone said.
(804) 649-6012
Twitter: @jmattingly306​