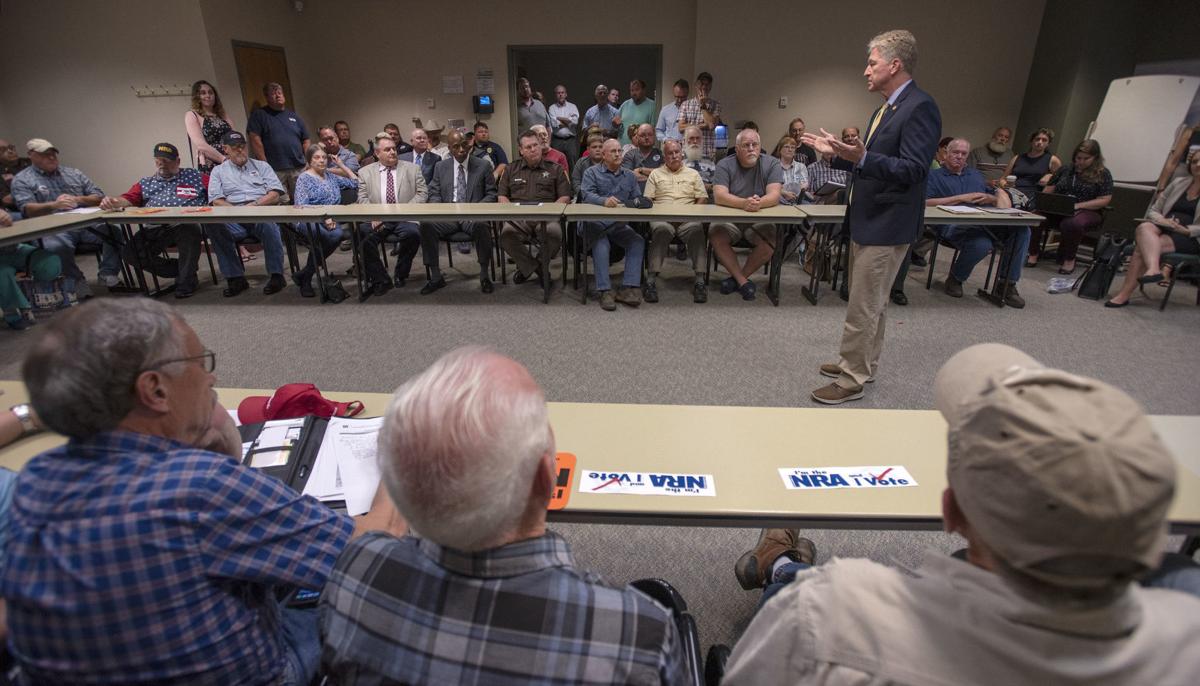 Pushing back on commonwealth gun control efforts, two Southwest Virginia counties are promoting militia training and threatening stiff fines on public employees who enforce restrictive laws.
The moves by leaders in Buchanan and Tazewell counties came last month as dozens of localities declared themselves to be Second Amendment "sanctuaries," a movement that has galvanized gun rights advocates across Virginia.
Buchanan County employees who participate in implementing an "unlawful act" while acting in their official capacity could potentially be fined up to $2,000 for a misdemeanor offense, according to the text of a "Second Amendment Preservation Ordinance" county leaders passed last month. An "unlawful act" is defined as a state or federal law that restricts the right to keep and bear arms.
The Board of Supervisors in neighboring Tazewell County approved a resolution "promoting the order of militia" by supporting concealed weapons training for county residents and firearms safety training in schools. Supervisors also expressed intentions to defund the enforcement of laws that infringe on citizens' gun rights. Nevertheless, County Administrator Eric Young issued a statement clarifying that the board "has not called any such militia to arms." Instead, local leaders just want to be prepared in case they see a need to do so.
Officials in both counties insist they are standing up for constituents' rights and letting lawmakers know the beliefs of their communities. Still, the actions raise questions about what steps localities might take beyond seemingly symbolic "sanctuary" resolutions to resist gun control measures that Democratic Gov. Ralph Northam and his party's new majorities in the Virginia General Assembly appear poised to enact this year.
November's historic elections gave the Democratic Party control of both chambers in the state Legislature for the first time in over two decades, with a 55-45 majority in the House of Delegates and a more narrow 21-19 advantage in the Senate. Some rural and conservative areas are deeply skeptical of what this "blue wave" will mean for gun rights, which were a key campaign issue in the wake of a mass shooting in Virginia Beach last year and a special legislative session Northam called on gun control that GOP leaders quickly adjourned.
"We're not trying to promote a civil war by any stretch of the imagination, I want to make that clear, but we want to exercise our right under the Constitution to regulate and promote the order of a well-trained militia, and we want to fund that," said Travis Hackworth, chairman of Tazewell's Board of Supervisors.
"Guns have never been the problem; it's the people that carry the guns."
The militia resolution "has real teeth," and county leaders believe it puts them in a stronger position for a court challenge against state laws that they believe violate the Second Amendment, he said.
In a phone call earlier this month, James Carroll Branham, Buchanan County's Board of Supervisors chairman, repeatedly said the county would not violate state or federal laws and that "we're just trying to make our voices heard on where we stand."
Branham said he wasn't able to answer specific legal questions about the ordinance, which the board adopted on an "emergency basis." Buchanan County Commonwealth's Attorney Gerald D. Arrington didn't return a message left with his office requesting an interview.
A.E. Dick Howard served as the executive director of the commission that wrote Virginia's current constitution. He believes a locality deciding which state laws to follow is, in his words, "inconceivable." Yet Buchanan and Tazewell leaders have endorsed language declaring "unlawful" acts to be "null, void, and of no effect" in their counties.
"As long as these resolutions are simply expressions of sentiment, political statements or the like, that's one thing — but to the extent that they purport to cordon a county off from state law, that simply can't happen," Howard, a University of Virginia law professor, said in an interview last month.
Virginia is a Dillon's Rule state, meaning local governments only possess powers that the General Assembly expressly grants to them. However, Howard said this doesn't change his response to what he calls a "fundamental question" in discussions about sanctuary localities.
"Does a local official — whether it's the board of supervisors, or a sheriff or some other official — have to respect state law? The answer is clearly yes," he said.
Northam supports legislation such as mandatory background checks, an assault weapons ban and the creation of an "extreme risk protective order" to allow authorities to temporarily separate a person from firearms if the person poses an immediate threat to themselves or others, also known as a "red flag" law.
Bills expanding background checks, limiting handgun purchases to one per month, creating a "red flag" law and allowing local governments to ban guns in public buildings and at certain events are already being debated in the Senate this week.
Supporters argue these kinds of bills will improve safety and reduce gun violence, but critics fear new laws could unconstitutionally infringe on citizens' rights. The Virginia Citizens Defense League, a pro-gun group, is planning a rally in Richmond on Monday that could draw thousands to the state capital.
On Wednesday, Northam declared a state of emergency in advance of Monday's demonstrations, citing "credible threats of violent extremism," white nationalist rhetoric and out-of-state militia groups planning to attend. Weapons will be temporarily prohibited on Capitol grounds from Friday night through Tuesday evening. Gun rights groups are challenging the temporary gun ban in state court. 
Other approaches in Southwest Virginia
In the face of hundreds of people filling public meetings and pressure from sanctuary advocates, nearly every Southwest Virginia locality has passed some sort of resolution.
Washington County's Board of Supervisors approved a "sanctuary" resolution similar to language adopted across the state. These resolutions typically express support for Second Amendment rights, along with an intent to not expend public funds to restrict gun rights and to use "legal means" like court action to oppose gun laws.
Other elected bodies, like Bristol Virginia City Council, avoided using the term "sanctuary" entirely.
Bristol Virginia City Council unanimously passed a more generally worded resolution in December opposing "any infringement on the rights of law-abiding citizens," without mentioning the Second Amendment.
Mayor Neal Osborne said the resolution did not take as much of an aggressive stand on the Second Amendment issue because of constraints Dillon's Rule imposes on local government. He said he and his colleagues wanted to express broad support for other rights, like freedom of speech and religion.
"I don't know what the vote would have been if we had just put up the same resolution as everyone else," he said in reference to some of the language used in other localities. "But I think when you're in a public position, you do need to try not to be incendiary; you need to be very measured in what you're going to say and consider the ramifications and repercussions down the road."
Northam responded to some of the concerns about gun rights in his State of the Commonwealth last week.
"This is all fully consistent with the Second Amendment. Every one of these proposals has passed constitutional muster," he told state legislators.
Virginia Attorney General Mark Herring, a Democrat, also issued an advisory opinion last month concluding that the sanctuary resolutions "have no legal effect" and that "localities and local constitutional officers cannot nullify state laws."
Second Amendment sanctuary advocates say they are adopting a similar strategy to more liberal "sanctuary cities" for undocumented immigrants. Robert Spitzer, a professor at the State University of New York College at Cortland who studies gun policy, said there's a key difference between the two kinds of "sanctuaries." One focuses on a community's voluntary cooperation with federal immigration authorities, and the other involves whether a locality follows its state laws, to which it must adhere.
"The Second Amendment, as the Supreme Court has defined it, does not give localities the right to ignore a gun control law in their state just because they don't like the law," Spitzer said.
He said he first became aware of the Second Amendment sanctuary movement when it arose in some western states in recent years. He is not aware of any communities that have followed through on refusing to enforce a law.
Howard, at UVA Law, is skeptical of some of the arguments sanctuary localities are using.
Tazewell County, for example, grounds part of its militia resolution in section 13 of the Virginia Constitution's Bill of Rights, which refers to "a well regulated militia" and states "in all cases the military should be under strict subordination to, and governed by, the civil power."
County leaders see that "civil power" as the local government and believe their resolution puts them in a better position for a court challenge against potential gun laws, Hackworth said.
That interpretation conflicts with Dillon's Rule and involves assuming an "implied" power for a locality from the state constitution, Howard said. This is difficult to do, he said, because the structure of Virginia's government grants all powers to the General Assembly not denied to it by the federal or state constitutions.
Other legal issues may arise if counties refuse to make expenditures in areas where local and state dollars are comingled, Howard said.
Another question is what kind of discretion law enforcement officials and prosecutors may try to exercise in response to laws with which they disagree. Northam hasn't weighed in on the specifics of obstacles to enforcement, other than to dispel rumors and conspiracy theories circulating among some pro-gun activists.
"We have no plans to involve the National Guard," Northam told the Bristol Herald Courier editorial board in a Jan. 9 interview.
"We don't plan to go door to door and confiscate people's firearms. We're not cutting people's electricity off, not cutting the internet off. So, a lot of these rumors that are really intended to intimidate people are unfounded."
He added, "I'm confident that these laws will be passed to make Virginia safer, and I'm also confident that our law enforcement will enforce these laws."
Second Amendment sanctuary advocates face more than just legal obstacles — statewide polling has shown broad public support for certain gun-related restrictions, like expanded background checks and "red flag" laws.
Leaders in more conservative communities say they hope the Second Amendment sanctuaries will send a visible message to Richmond. But, Hackworth admits, "the Virginia that we grew up in is not the same Virginia we have today."