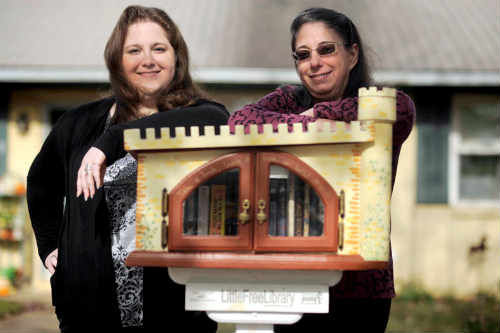 Nothing makes Elanor Kindred and Jackie Reader happier than when neighbors walk into their front yard and take something.
Well, not everything is fair game, but the books in the "castle" certainly are.
The Fredericksburg residents are part of an international movement called Little Free Library, a free book exchange hosted in peoples' yards. Neighbors are encouraged to take a book—in this case, from the castle-shaped repository—and leave one for someone else.
There are no membership cards or late fees. Participants hope the effort will get people excited about reading and give them the chance talk to each other in the process.
"It's always nice to encourage communication in a world where we've gotten really used to not communicating with each other," Kindred said.
She sees plenty of people in Normandy Village who don't make eye contact as they jog or push strollers. They walk by, nose to the phone.
"We've become conditioned to that," she said.
But since she and Reader put up their little castle in mid-October at 603 Hanson Ave., they've noticed neighbors breaking routines.
Some stop to pick up a flier about the project. A few have knocked on the door to ask questions and comment about how great it is.
And, residents occasionally open the castle's glass-paned doors, trimmed in burgundy, and pick a selection.
"It's always a victory when people walk away with a book," Kindred said.
Kindred's father, John, built the castle—bigger than an extra-large mailbox—and she painted vines of ivy climbing along the turrets.
She's a big fan of medieval literature. She's not only read it, but also has written a seven-part series about a mythical kingdom called Etheria.
Kindred was featured in a Free Lance–Star story two years ago about her books, for which she also creates the artwork. She's a graphic designer at the Central Rappahannock Regional Library.
Reader—who has the perfect name for someone who loves books—works from home, answering questions about health insurance for public and labor sectors in Pennsylvania.
The two filled their little castle with books they've enjoyed or those purchased at thrift stores for the specific purpose of giving them away. They included some kids' favorites, such as "The Joy of a Peanuts Christmas" and "Felicity's New Sister." Reader couldn't resist adding "The ABCs of Fruits and Vegetables."
"I can't pass up an opportunity to put an educational book in there," she said.
There are also popular titles from best-selling authors, ranging from Jodi Picoult and Rita Mae Brown to Stephen King and John Grisham.
The Little Free Library in Normandy Village is one of several in the region and more than 15,000 worldwide, according to the project's website.
The concept began in 2009 when Todd Bol of Hudson, Wis., built a model of a one-room schoolhouse as a tribute to his mother. He filled it with books and put it on a post in his front yard.
The idea was so popular, it spread across continents. Some people build little libraries that are mini models of their homes; others have ones that look like Amish schools or British phone booths.
The one at Gari Melchers Home and Studio at Belmont resembles the artist's studio and was built by Stafford County resident Tim Smith.
"It is extremely popular," said Marketing Manager Susan Taylor–Schran. She estimates 1,000 books have passed through Belmont's little library in 18 months.
People from other states learn about the library system for the first time and go back home and start their own, she said.
Taylor–Schran liked the project because she loves books, but it also is in keeping with the charitable works of Gari and Corinne Melchers, who regularly gave books to area children.
The Little Free Library's website is filled with how-to information for those interested in starting their own project. More information is available at littlefree
Cathy Dyson: 540/374-5425
Be the first to know
Get local news delivered to your inbox!