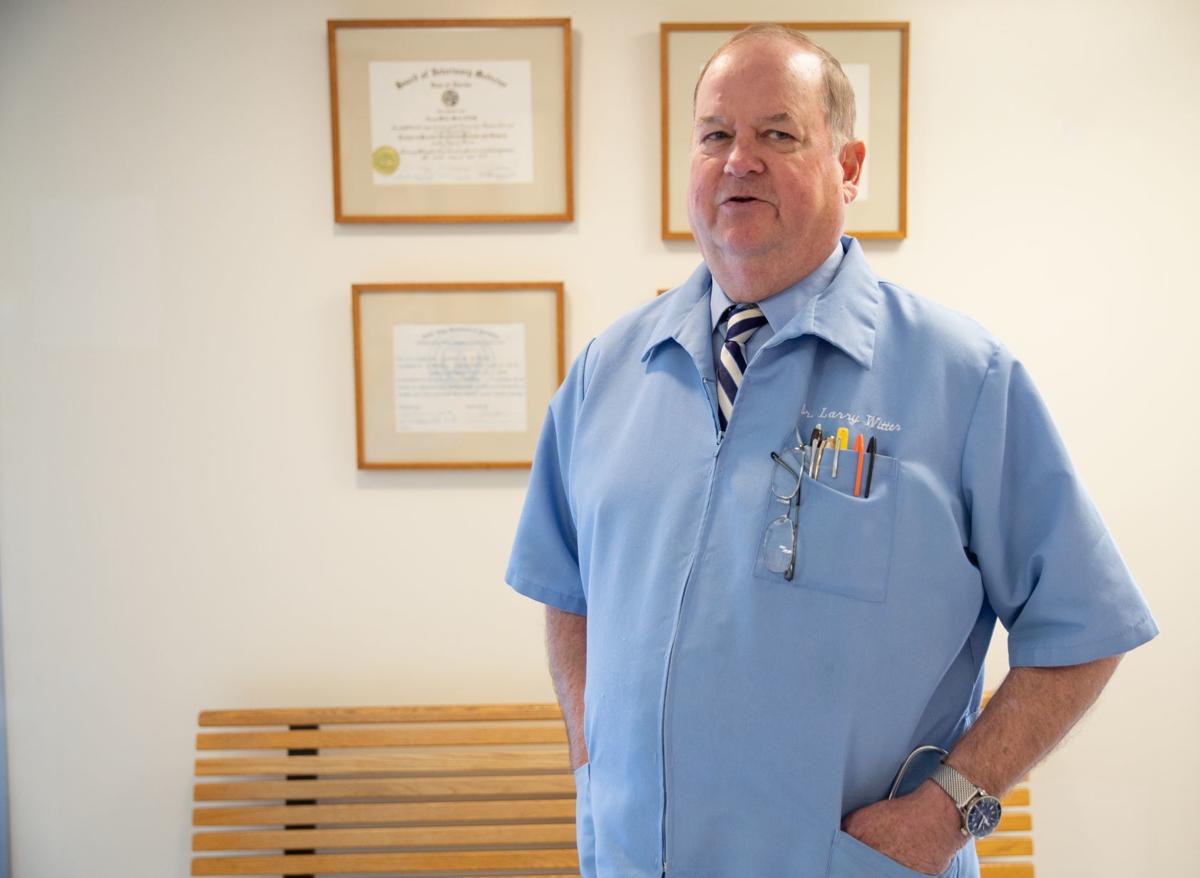 Dr. Larry Witter has a simple remedy if he's had a bad day.
He goes home and talks to his dog.
"He doesn't care if my hair is combed, and it's as close to unconditional love as you'll ever get," said Witter, the owner and senior veterinarian of Ferry Farm Animal Clinic.
"Our lives revolve around them, not the other way around," said Witter.
For 47 years, Witter has brought unconditional love to dogs, cats and other small animals to his thriving southern Stafford clinic.
"I try to look at every patient's pet as if it were mine," said Witter.
Witter's last official work day is Feb. 28. The longtime Argyle Heights resident plans to officially retire March 1, and settle on the Rappahannock River, just south of Warsaw. There, he plans to spend time with his wife Betty, his three daughters, four grandchildren, and Daisy, a long-haired Dachshund.
"She's absolutely rotten, everything revolves around her," laughed Witter. "I call the wife and ask her, 'How's the baby?' Obviously, we know who that is."
Witter has been surrounded by animals his whole life, and there are seven veterinarians in his family.
"It's something I've always been around and grew up around, and it's all I ever wanted to do," said Witter.
Witter, 72, began his veterinary career in Woodbridge in 1973 and three years later, opened a local practice in the 200 block of Kings Highway.
He said because of so many farms and open areas in the county nearly 50 years ago, trauma cases were frequent at his new Stafford clinic.
"I'd see four [animals] hit by cars in the morning alone, or being shot by a gun or an arrow, you name it, because they ran loose," said Witter.
In 1986, years before the Blue and Gray Parkway opened, Witter moved his practice to 386 Kings Highway.
Since then, Witter has focused his entire career on helping small animals. Some of them have been larger and more unusual than others, including a 283-pound English Mastiff and a 40-pound caracal lynx, a medium-sized wild cat native to Africa, the Middle East, Central Asia and India.
"I took care of it for years," said Witter. "It belonged to a police officer who moved to Florida."
Witter said he even looked after rabbits and skunks early in his career.
"But all I really do is dog and cats," said Witter.
When longtime client Bonnie Baker of Stafford first learned of Witter's upcoming retirement, she cried.
"I'm going to cry right now," she said.
Baker, who describes her relationship with the doctor as "a friendship beyond his practice," was referred to Witter 44 years ago when euthanasia was recommended as the only option for her pet dog.
Witter saw the pet and recommended insulin injections as a treatment, and taught Baker how to administer the drug at home.
"He had compassion that you could clearly see for helping animals," said Baker. "He listened to me with compassion and empathy."
The dog lived four more years after its visit to Witter, and Baker has been a client ever since.
Two weeks ago, Baker's 13-year-old dog suffered a stroke at her home. Baker couldn't transport the animal, so she reached out to Witter's practice for help. Although Witter was not working that day, members of his staff came to Baker's home to take the animal to the clinic.
"His compassion and empathy has made a mark on his entire staff," said Baker.
"It's a sad day. He's a great doctor, a great friend," said Sheri Angerer, who has worked with Witter for 33 years. "Everyone loves Dr. Witter, all the clients, and they're going to have a hard time when he's gone. They are already having a hard time with him being partially retired."
Dr. James Hart will lead the clinic after Witter's retirement. He has practiced at Ferry Farm Animal Clinic for the last 28 years. 
Over the years, Hart said Witter taught him a lot about surgery and how to treat patients and clients with patience and empathy.
"He's been a great guy to work for," said Hart. "People trust him, and animals trust him. He has set the standard for the practice. … It'll be difficult not having his wisdom around to bounce ideas off of."
Witter admits he may have difficulty sleeping at night after retiring because so much of his life has involved his practice. He credits his wife of 48 years for her undying support over his long career.
"[Betty] put up with me and never interfered with my dreams," said Witter. "She had faith in me and let me do what I wanted to do. I couldn't have asked for anything more, or for anything better."
James Scott Baron: 540/374-5438
Get local news delivered to your inbox!
Subscribe to our Daily Headlines newsletter.